Wildcat (1962)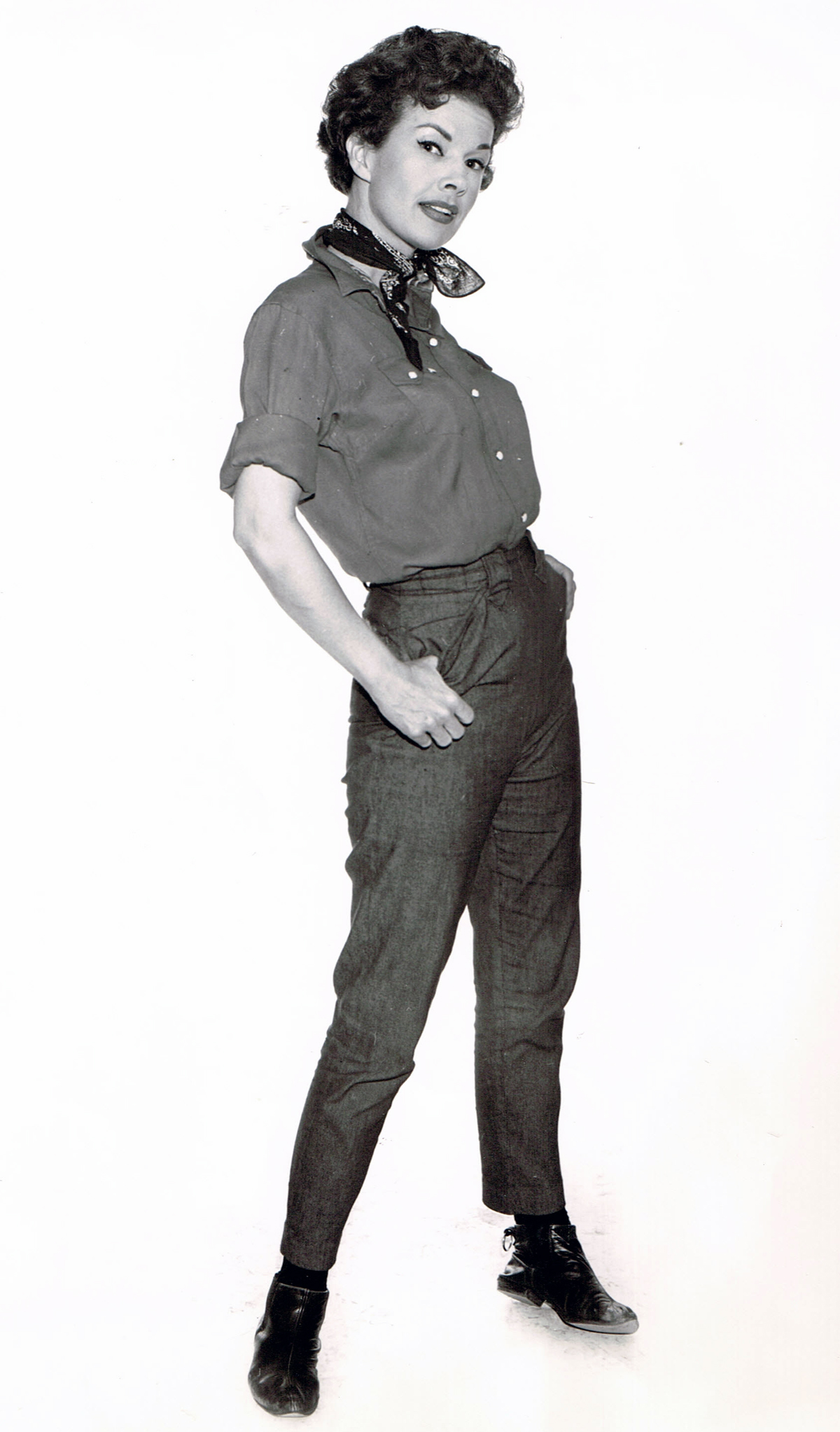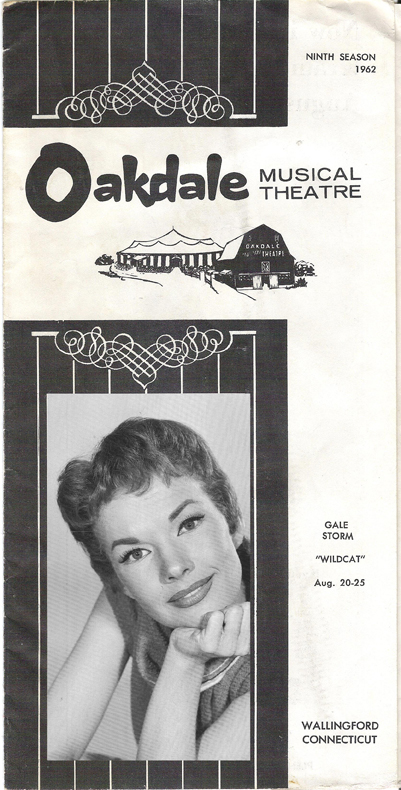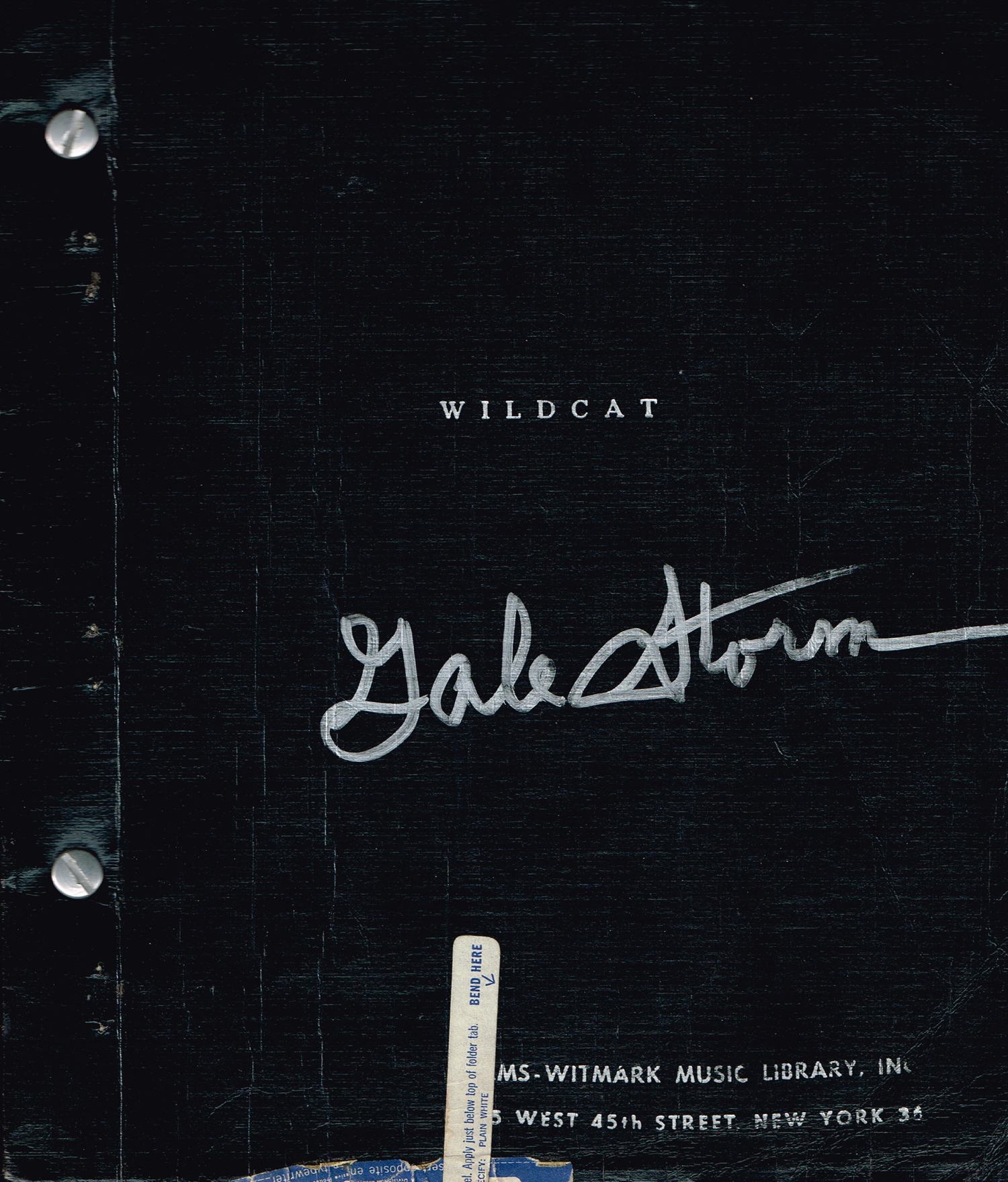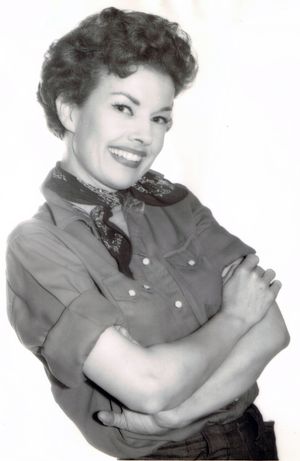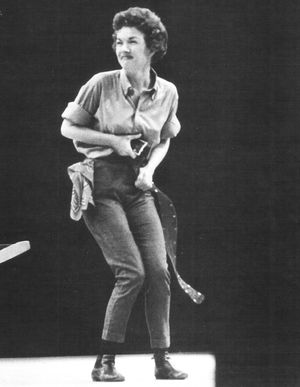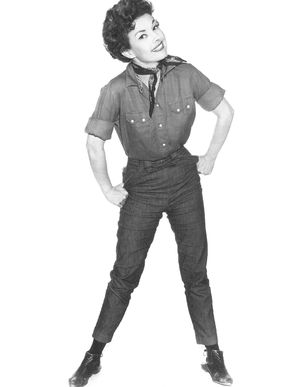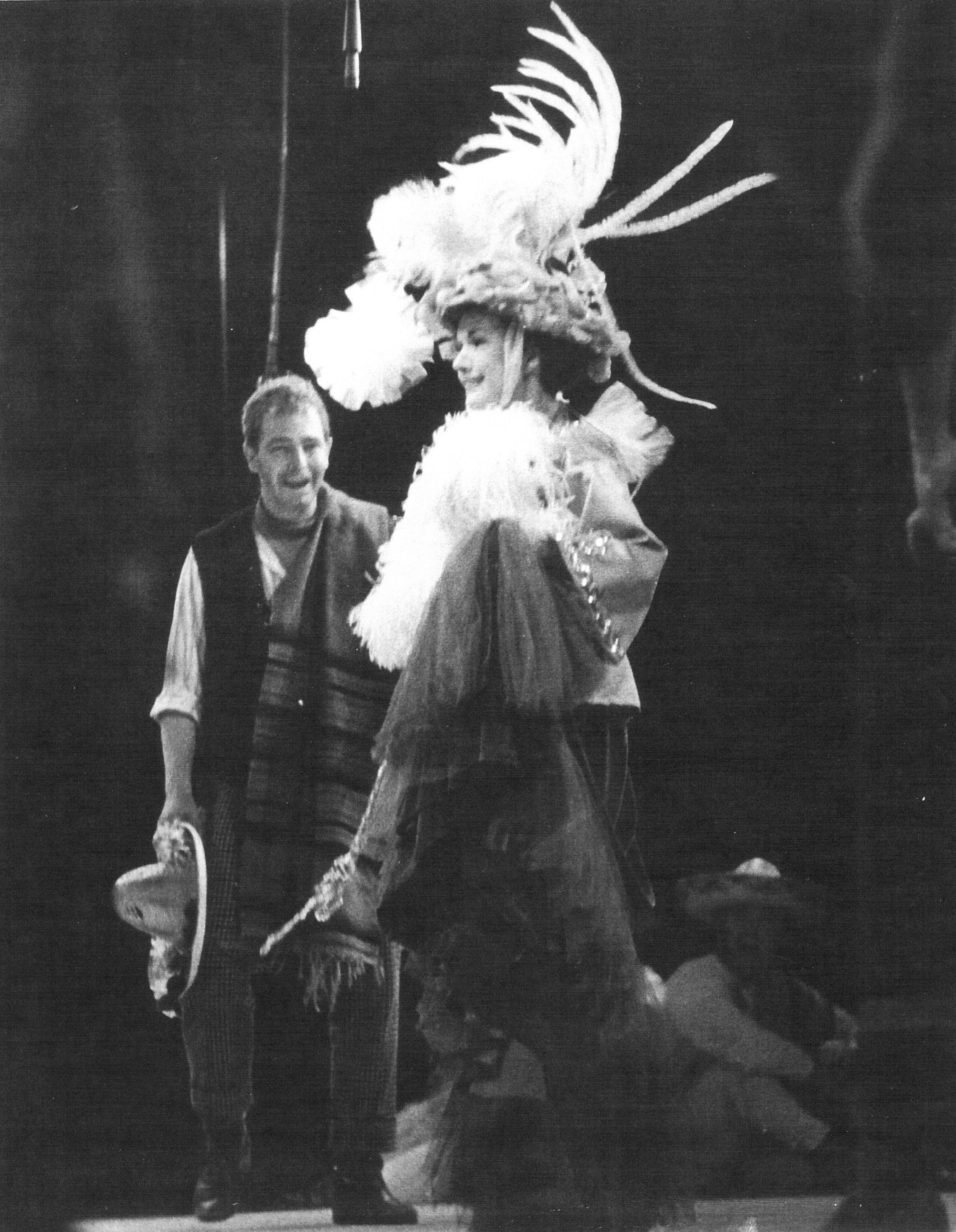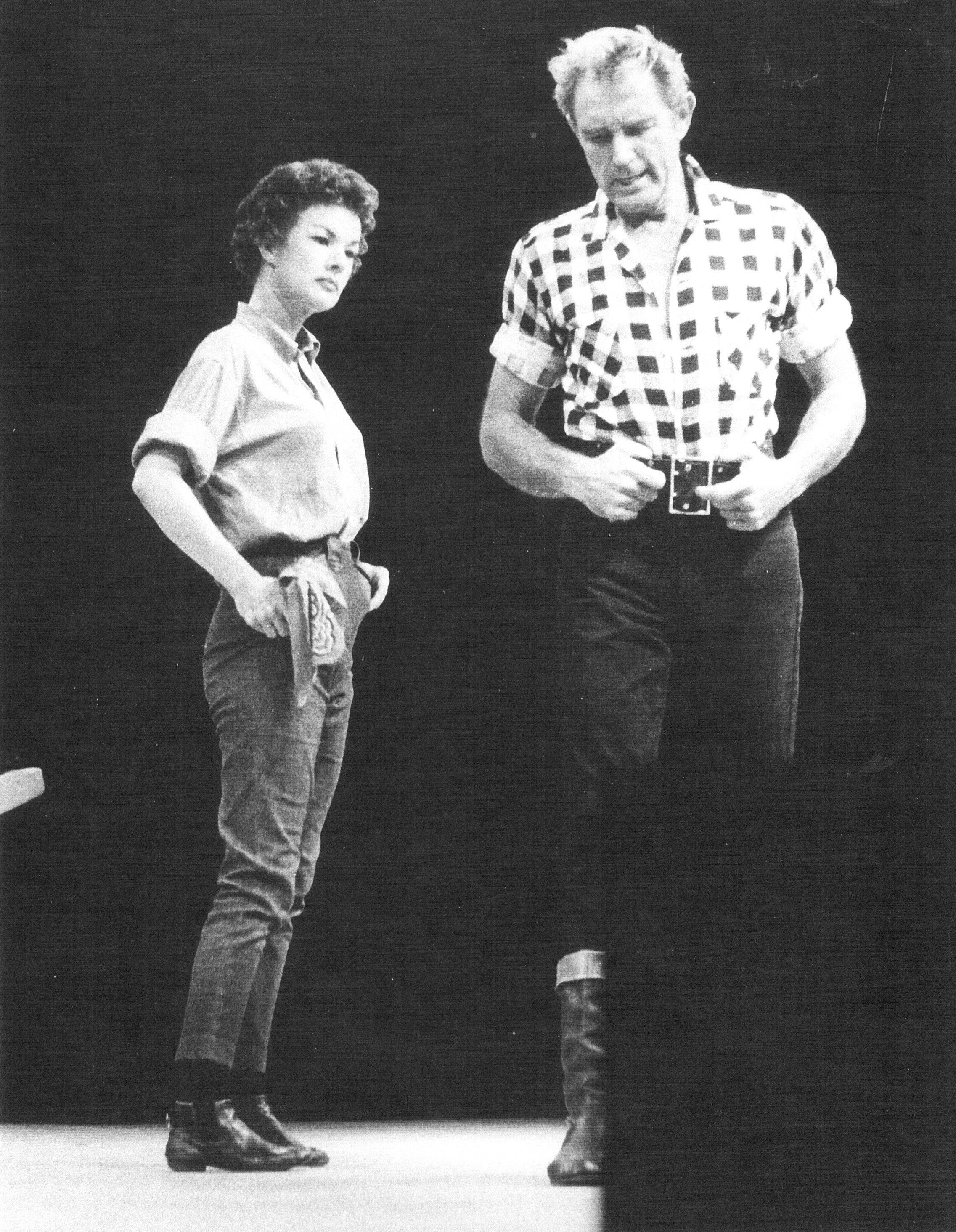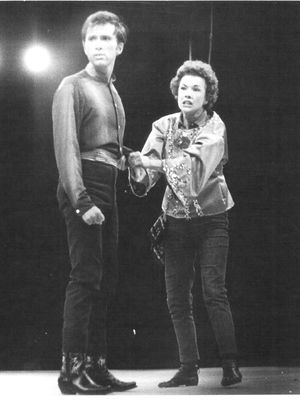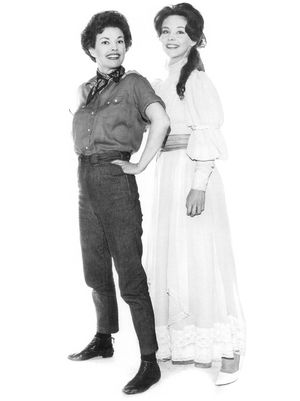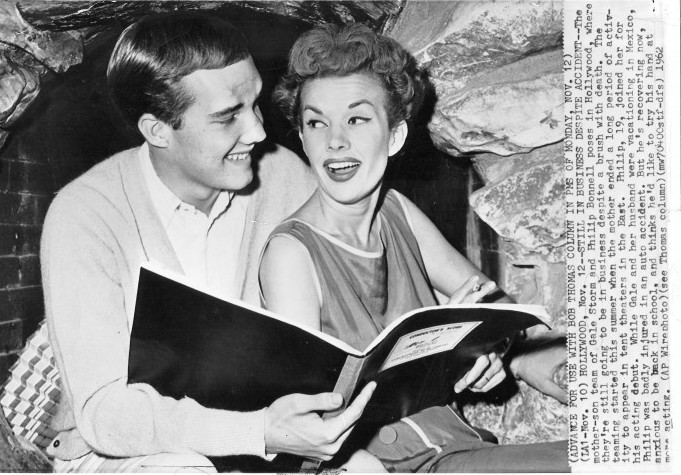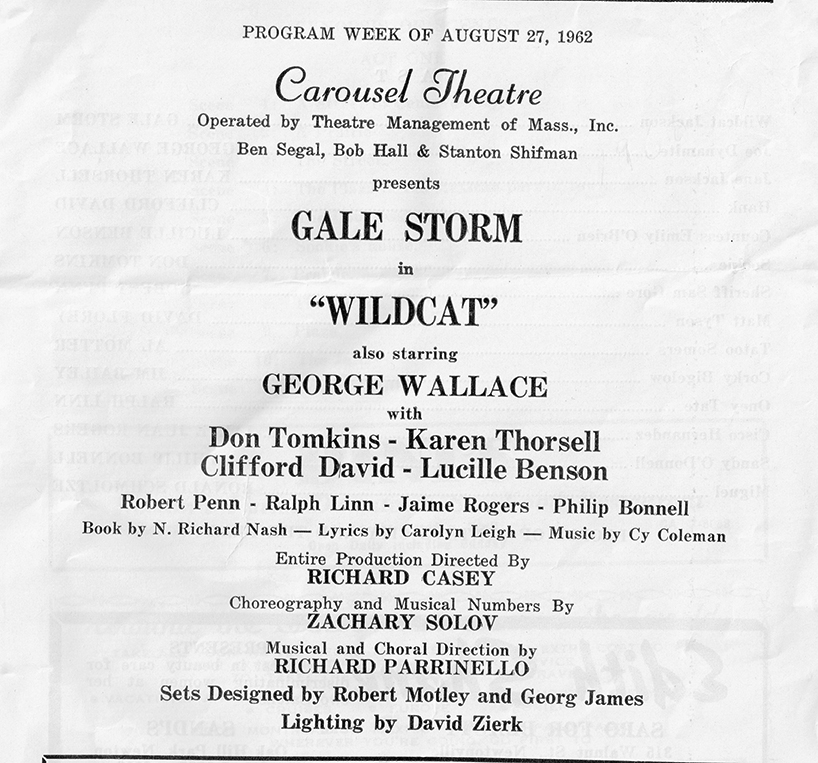 Gale sang the following songs in "Wildcat"
Hey Look Me Over, What Takes My Fancy, You're a Liar,
Give a Little Whistle, Dancing on My Tippy Tippy Toes, El Sombrero
---
Finian's Rainbow (1963)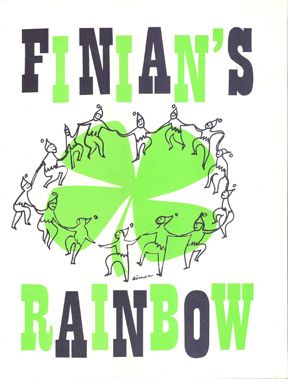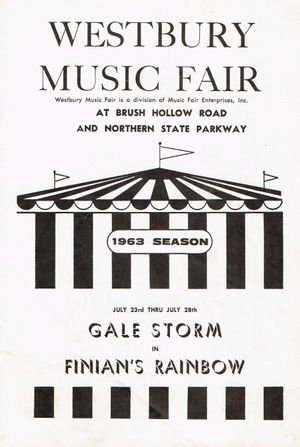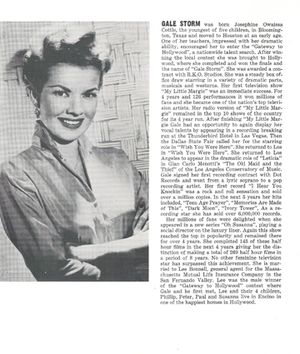 Gale sings the following songs in "Finian's Rainbow"
How Are Things in Glocca Morra, Look to the Rainbow, Old Devil Moon, Something Sort of Grandish, If This Isn't Love, Great Come-and-Get-It-Day, When the Idle Poor Become the Idle Rich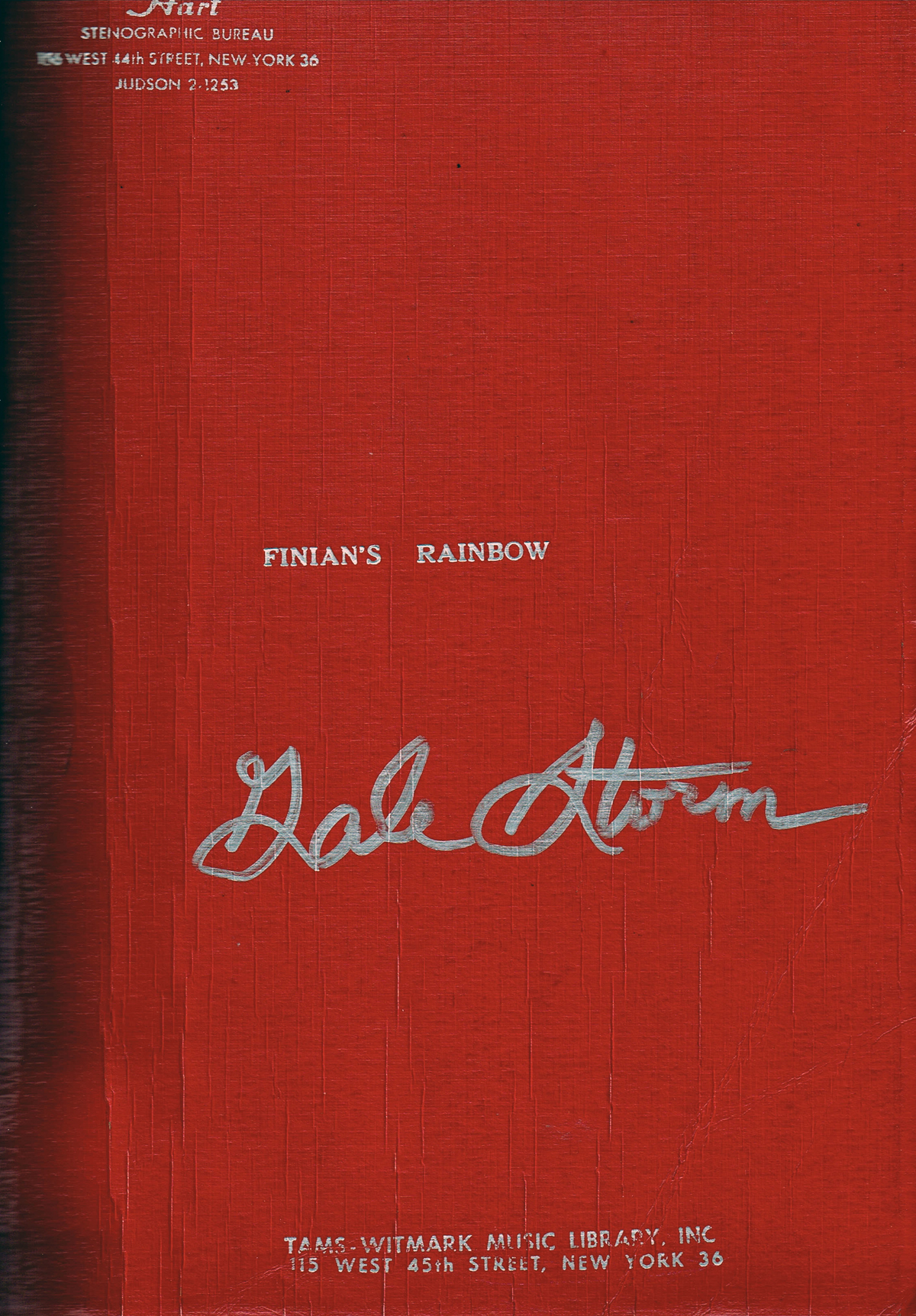 ---
Gramercy Ghost (1952)
with William Eythe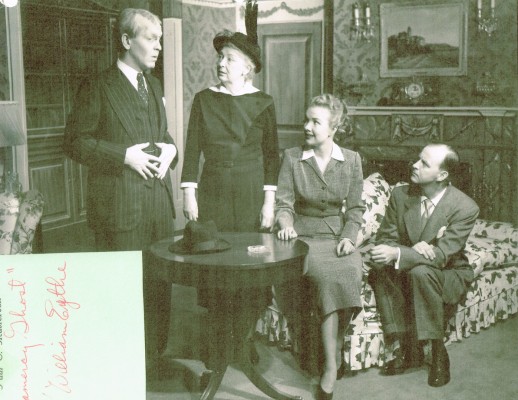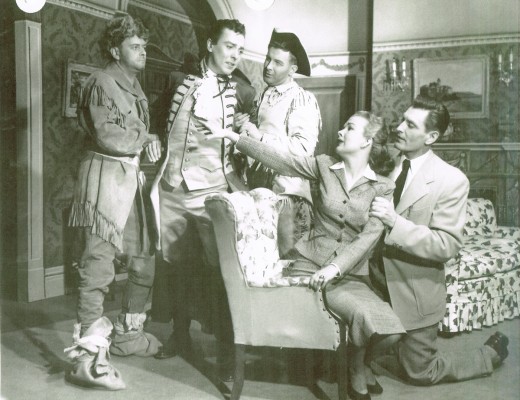 (photos courtesy of Jon Ramsey)
---
The Derelict (1954)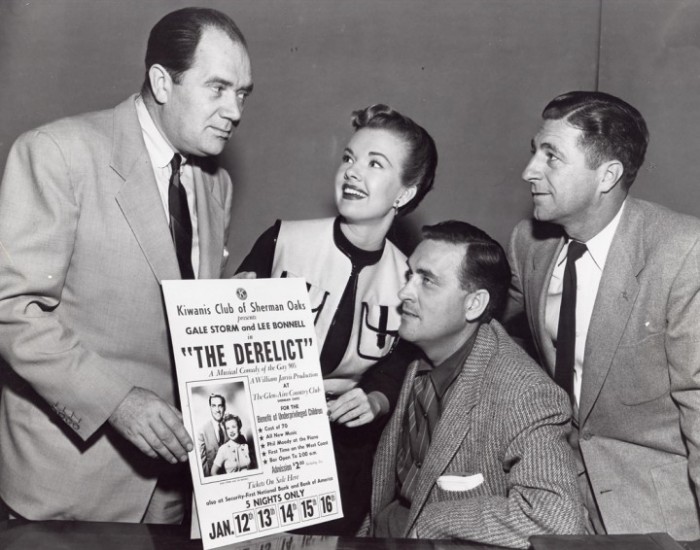 ---
Wish You Were Here (1954)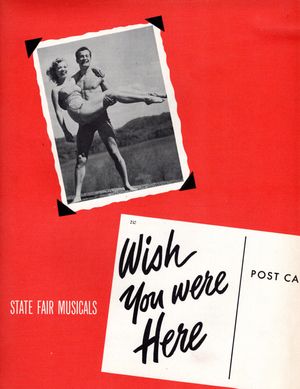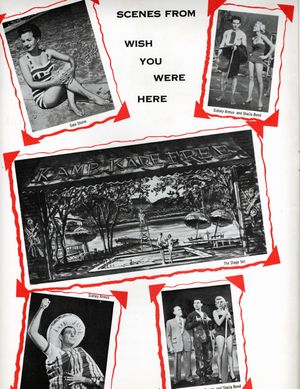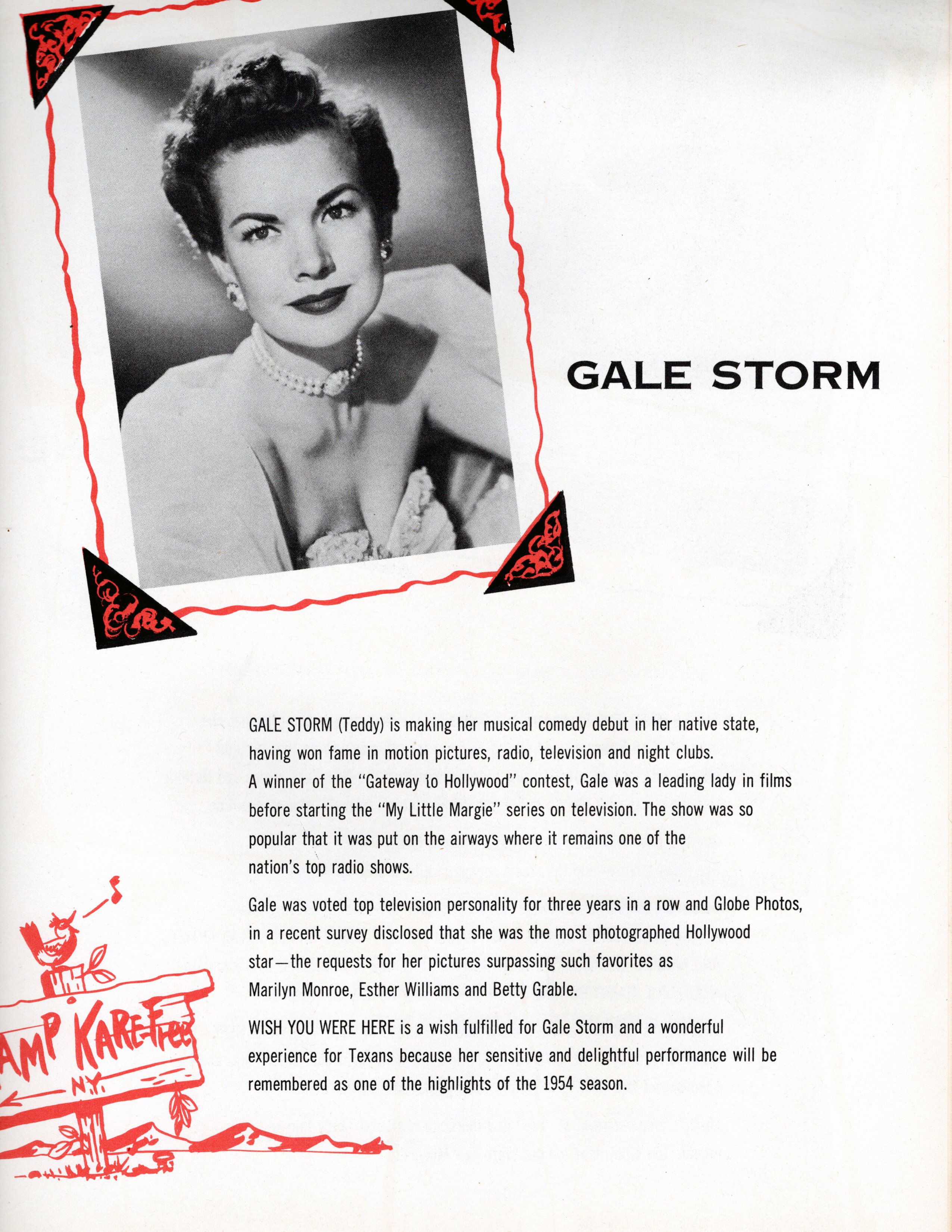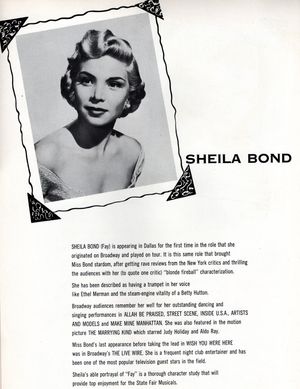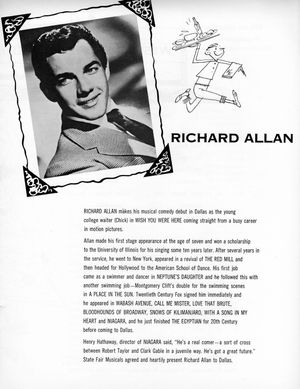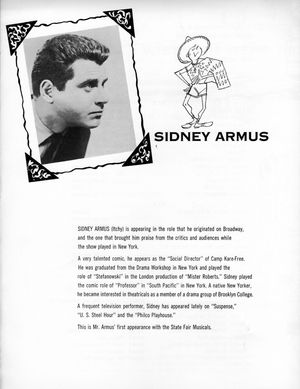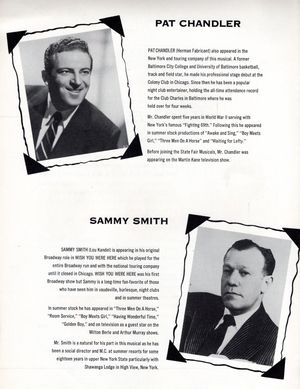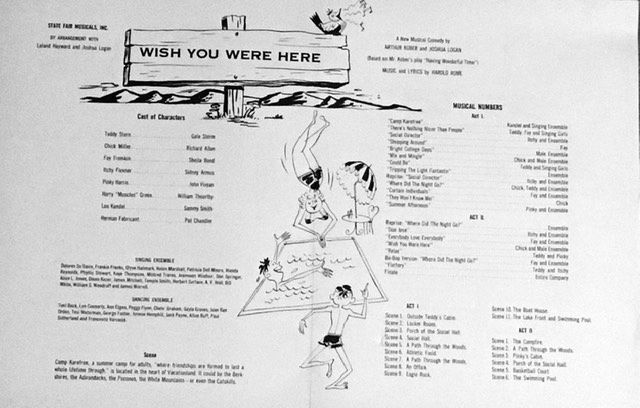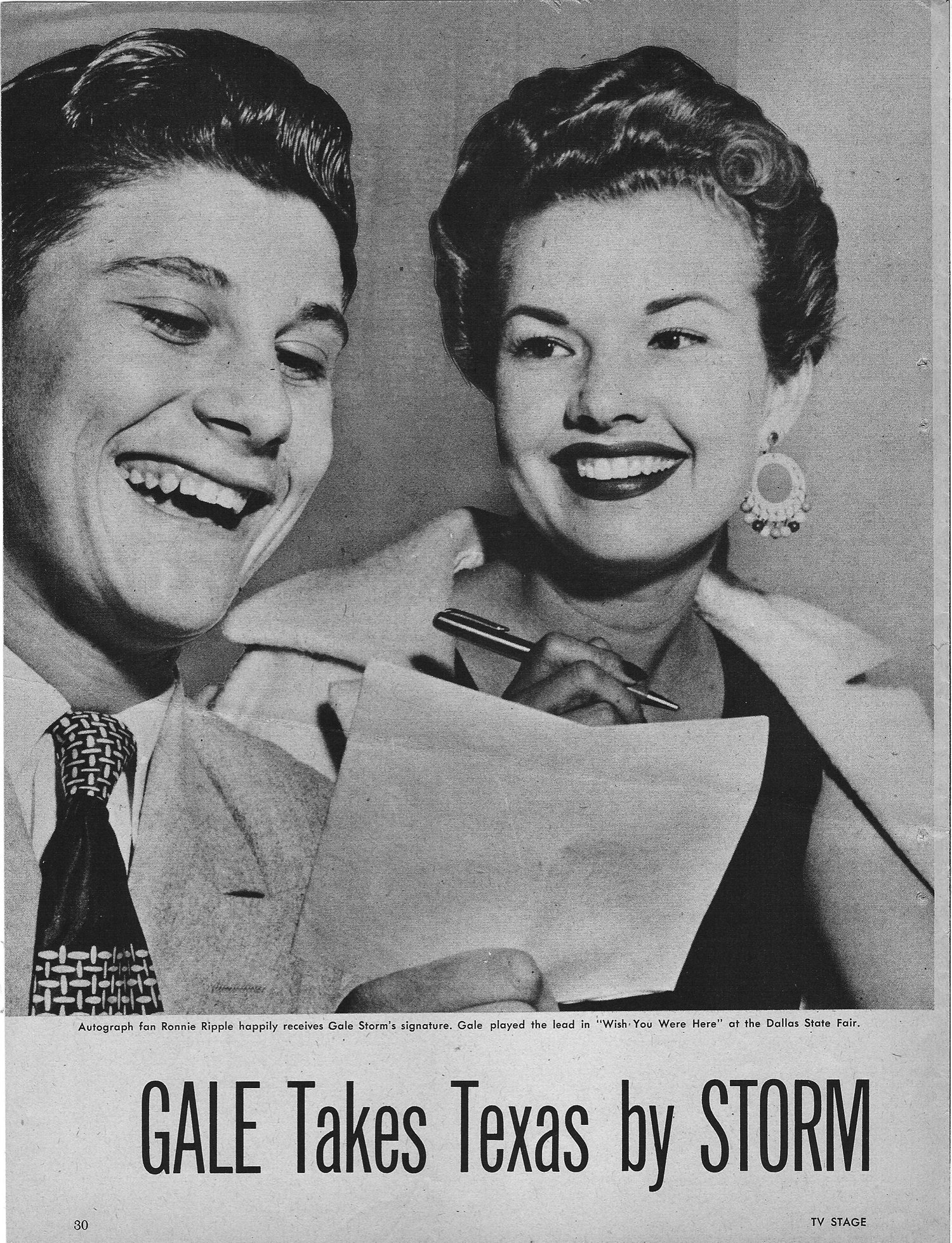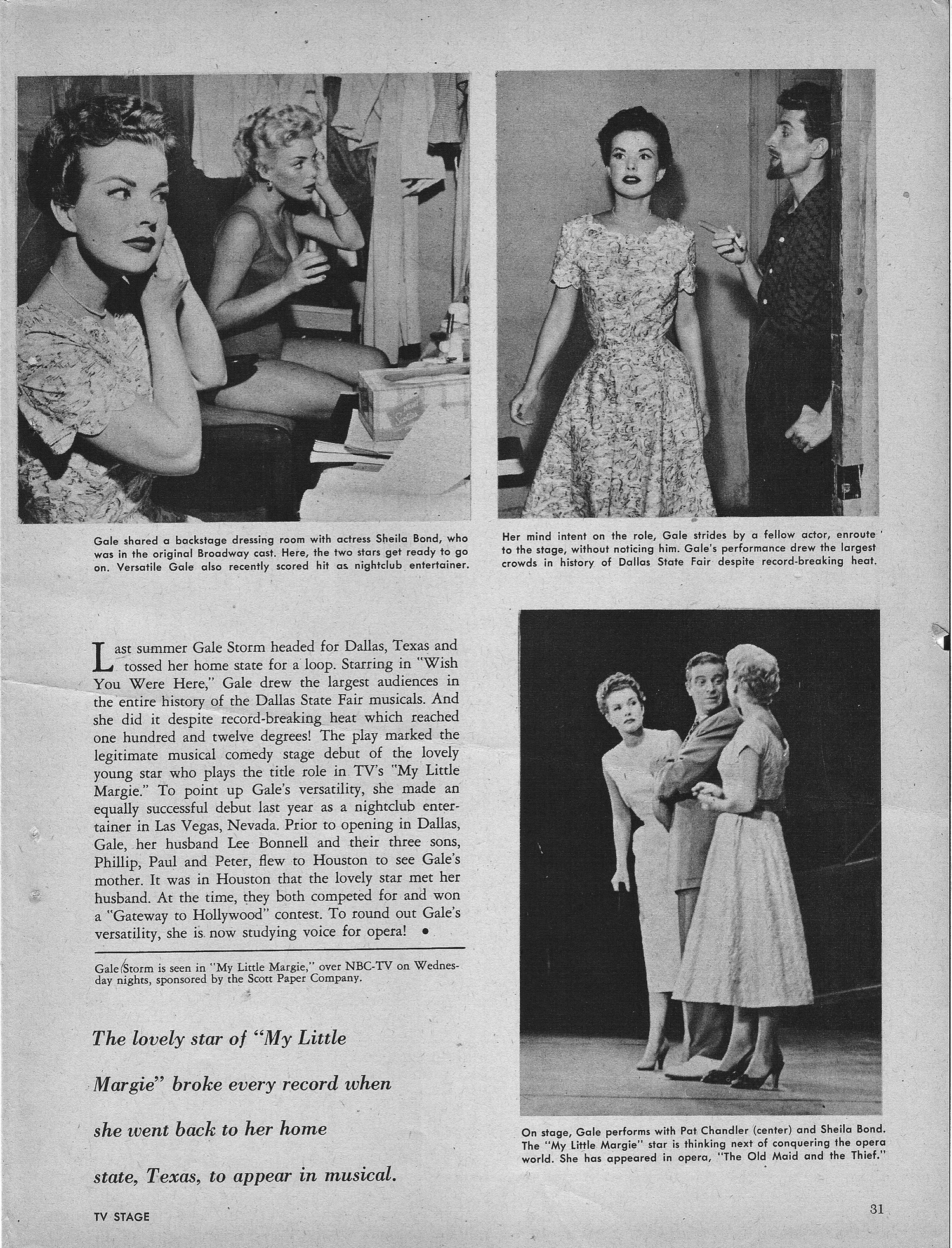 The text of the article reads:
Last summer Gale Storm headed for Dallas, Texas and tossed her home state for a loop.  Starring in "Wish You Were Here," Gale drew the largest audience in the entire history of the Dallas State Fair musicals.  And she did it despite record-breaking heat which reached one hundred and twelve degrees!  The play marked the legitimate musical comedy stage debut of the lovely young star who plays the title role in TV's "My Little Margie."  To point up Gale's versatility, she made an equally successful debut last year as a nightclub entertainer in Las Vegas, Nevada.  Prior to opening in Dallas, Gale, her husband Lee Bonnell and their three sons, Phillip, Paul, and Peter, flew to Houston to see Gale's mother.  It was in Houston that the lovely star met her husband.  At the time, they both competed for and won a "Gateway to Hollywood" contest.  To round out Gale's versatility, she is now studying voice for opera.
Gale sings the following songs in "Wish You Were Here"
Could Be, Tripping the Light Fantastic, Wish You Were Here, Where Did the Night Go?, Relax, Flattery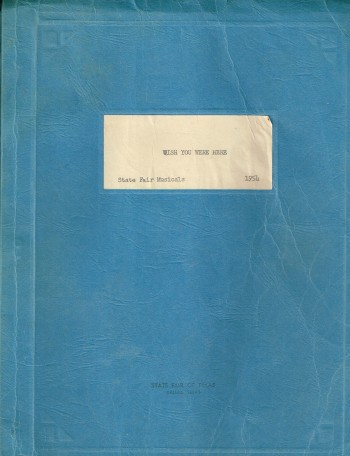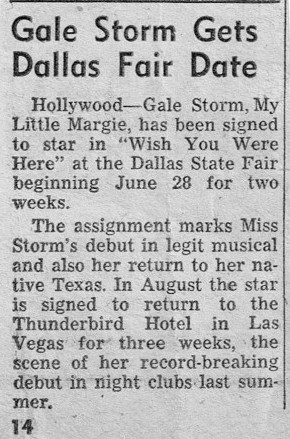 Gale's script for "Wish You Were Here"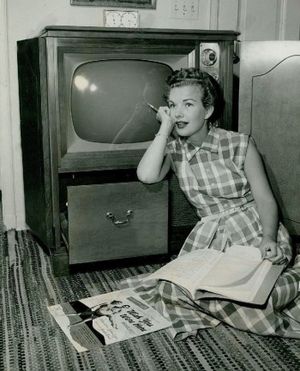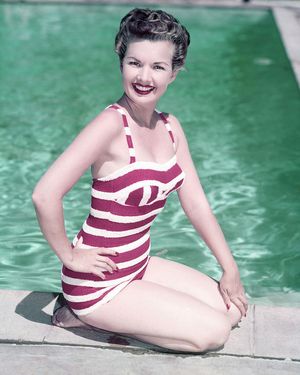 ---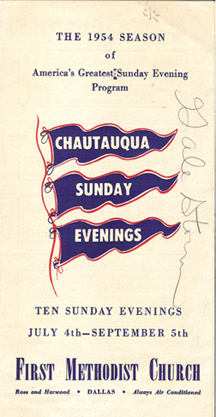 Gale's performance was on July 4th and was titled "Songs of America"
---
Grand Prize (1967)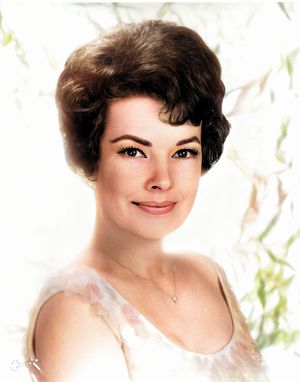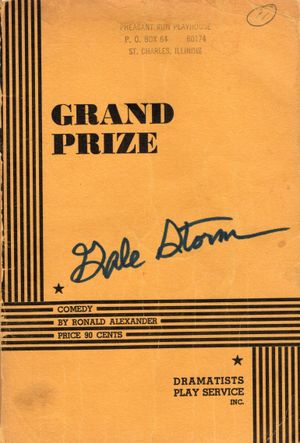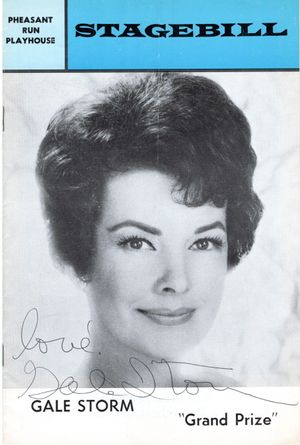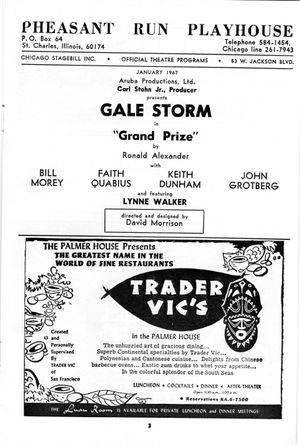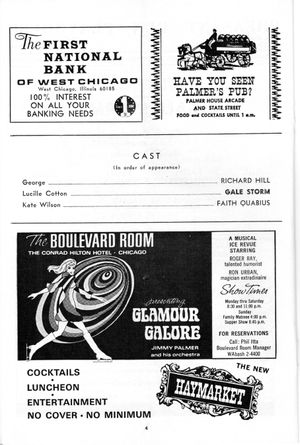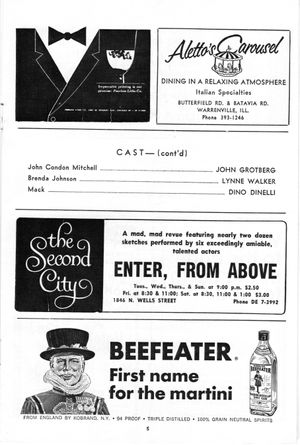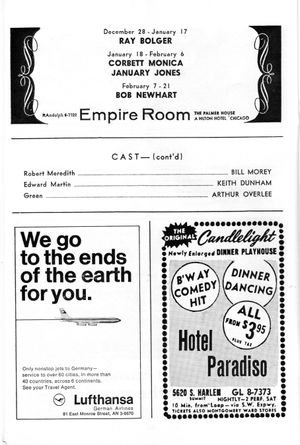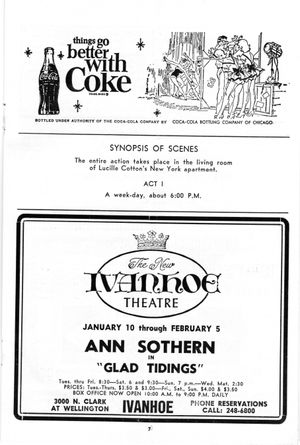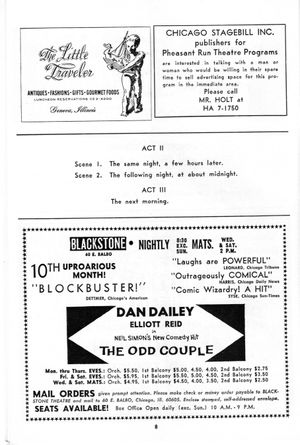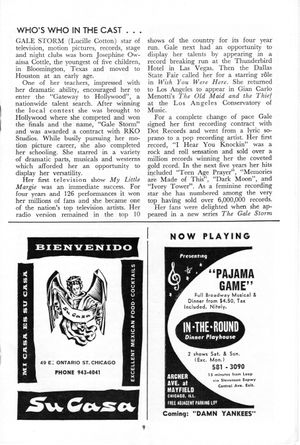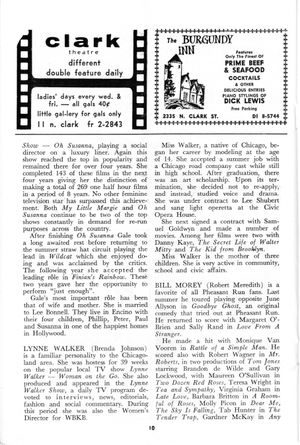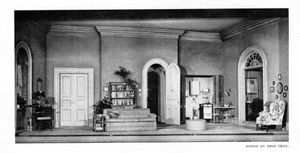 ---
South Pacific (1967)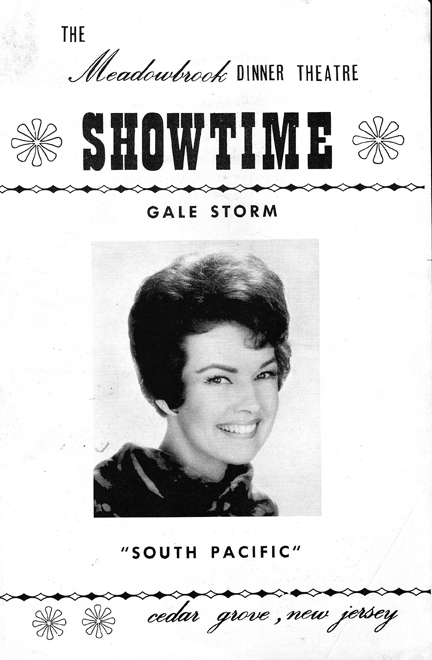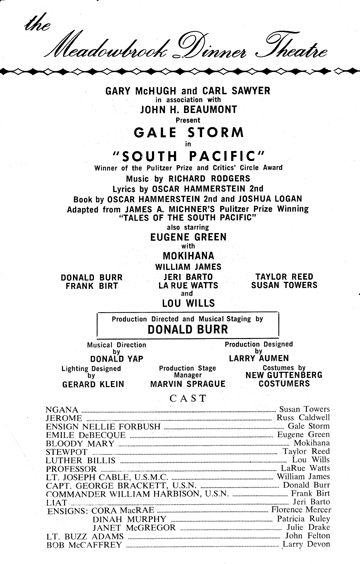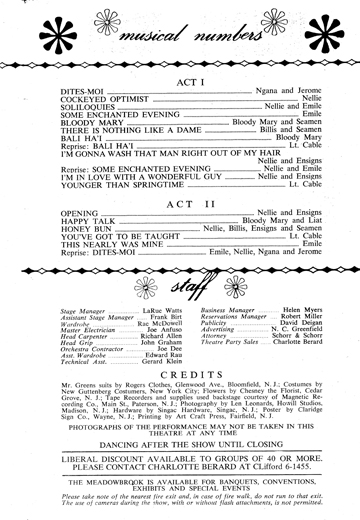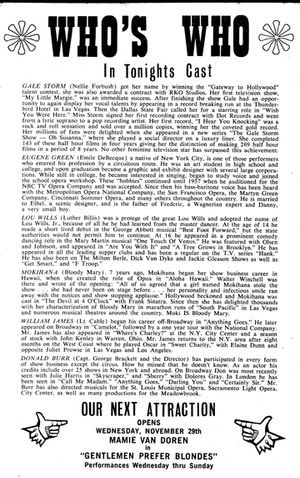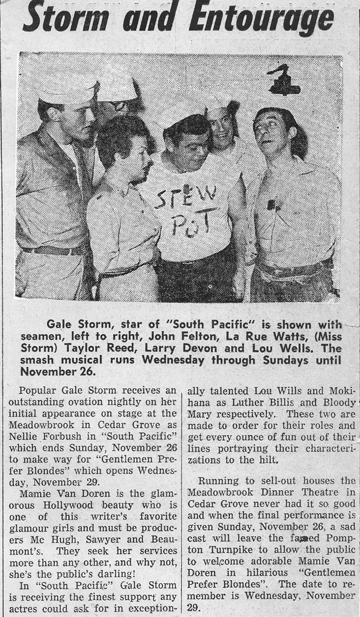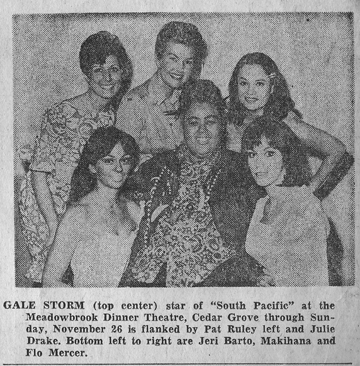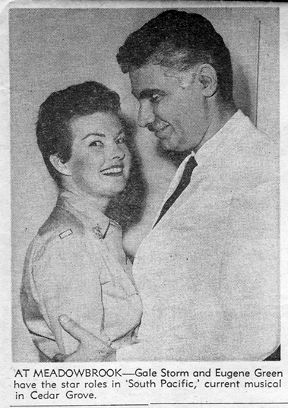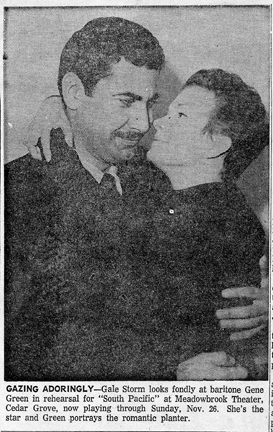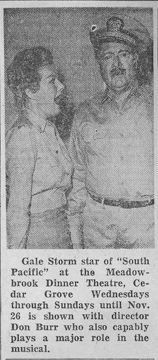 For a fantastic set of photographs from this production, click here
---
The Unsinkable Molly Brown (1970)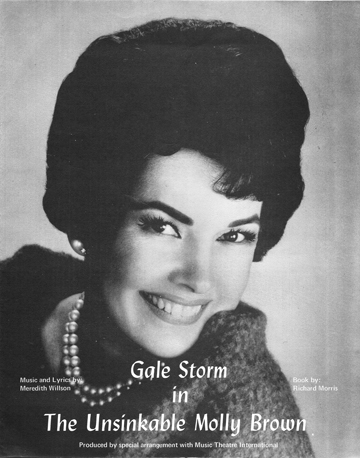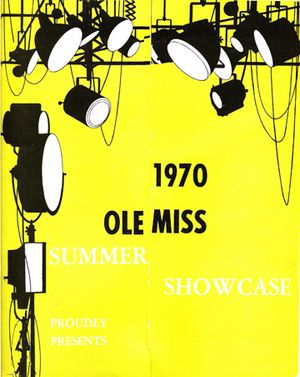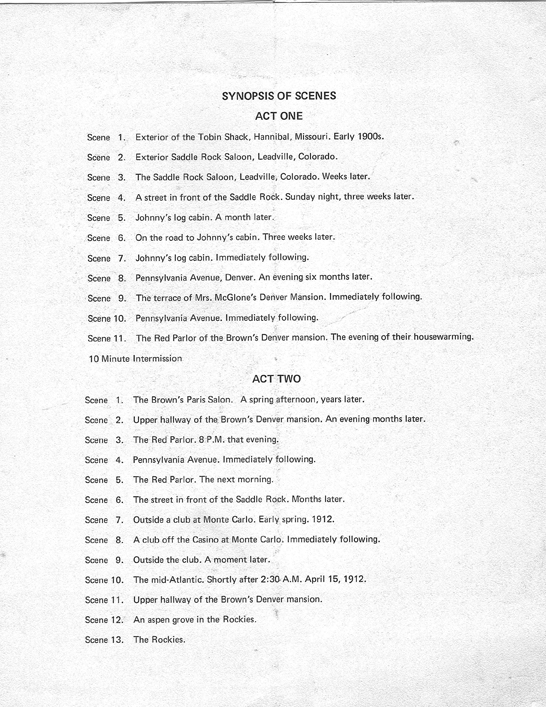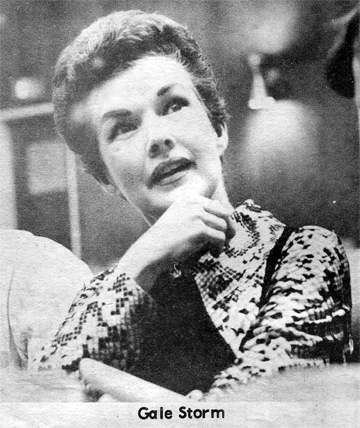 (from The Daily Mississippian, Friday, August 7)
Energetic actress
Gale--storms Ole Miss
By CAROLINE POKRZYWINSKI
Gale Storm is not "really that nutty or scatterbrained," said her husband Lee Bonnell.  "She's not my little Margie!"
Gale Storm is at Ole Miss for the Summer showcase production of "The Unsinkable Molly Brown."  Eager to begin work, she spent her first night in Oxford watching the cast rehearse.  "I'm certainly looking forward to working with the students; there's some fine, fine talent here," she said
"I've always wanted to play Molly Brown," said actress Storm.  "I adore the role of Molly Brown, but it's hard to say why.  Molly's a tough gal who got what she wanted and was a real person in Denver," she said.
When Gale Storm memorizes dialogue she says that "sometimes it doesn't flow naturally.  But I found that I wanted to memorize the Molly Brown dialogue word for word," she said.  "'Molly Brown' is very real and beautifully written."
In late June, Miss Storm played Molly Brown in Wichita.  "I couldn't bear to stop, I loved it so much," she said.
In 1964, she saw Tammy Grimes do the role, in Los Angeles.  "She turned to me with tears in her eyes and said, 'this is my part.  I'm going to do it someday'," said Gale Storm's husband.
After a performance of "Molly Brown," Miss Storm is tired, "but it's a good kind of tired.  This show is possibly the most demanding and strenuous show!"
"She has aches and pains and her feet kill her after the show, but the next day she's fine," said her husband.  "This is one show she'd like to do a long time," he added.
"A lot of the gossip about the wild life of Hollywood is true," said Gale's husband, Lee Bonnell.  This swinging life doesn't apply to Gale and her family, who live in Encino, California.  Gale is a member of her church's little prayer group, and Lee is an Elder in the church.  They are both active in politics.
Gale and Lee have four children, three sons age 27, 24, and 23, and a daughter, 13, who came to the Ole Miss with her parents.  Their oldest son studied acting.  When asked if she approved of this, Gale said, "I don't think that parents should decide things for their children."
When Gale started her family she was under contract to do three motion pictures.  Even with her filming schedule she was home with her children when they were little.  "Most housewives are gone from home, playing bridge and shopping, more than Gale," said Lee Bonnell.
Gale and Lee have been married for 29 years, "and we still speak to each other," Lee says jokingly.  Le, who is a general agent for the Massachusetts Life Insurance Company, was a movie actor.  He quit show business in 1949, and "it saved my life," he said.  "I get vicarious pleasure watching my wife do all the work.  I enjoy it and I really have the best deal," he said.
"I like Gale to be home; I don't know if I would let her do a Broadway play," said Lee.  However, "Gale is marvelous when she works, but she's pretty hard to live with when she doesn't work, I believe in women's rights," he said.
Susie, Gale and Lee's thirteen year-old daughter had a comment to make about her mother's old TV programs, "when I watch, I get nervous seeing Mom in some of those predicaments!"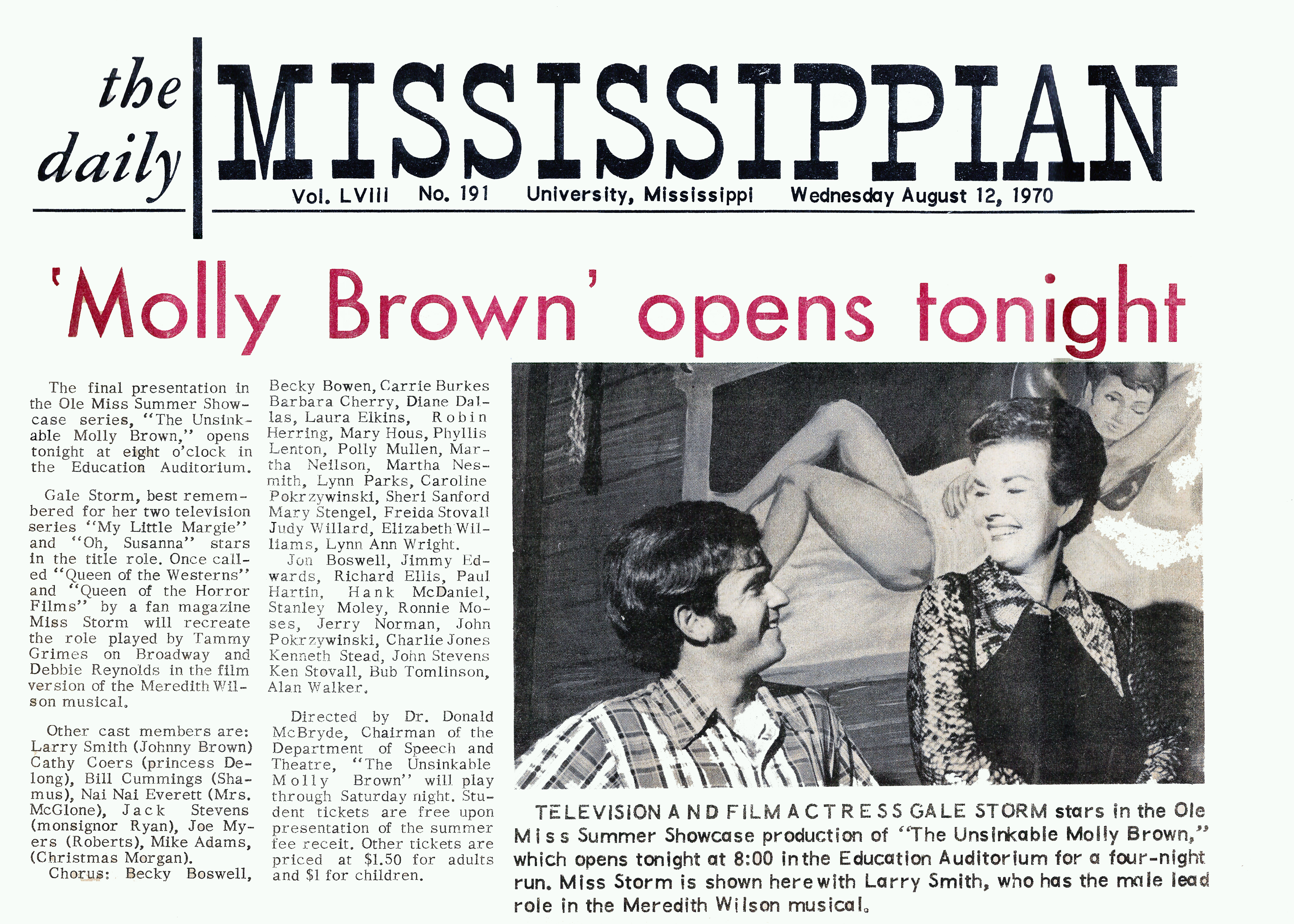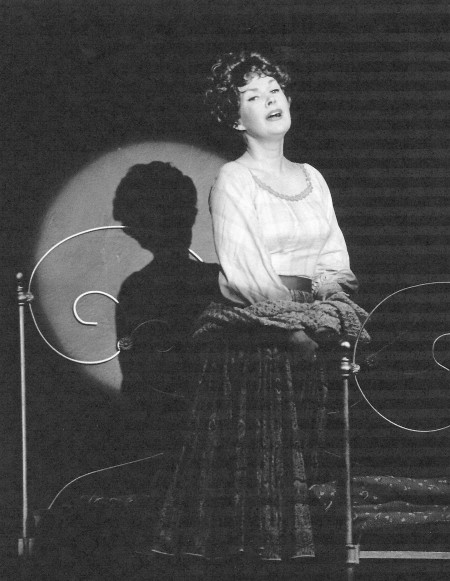 ---
Rainy Day in Newark (1972)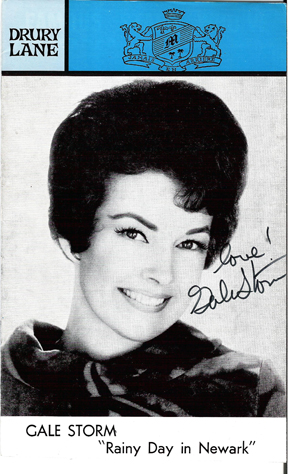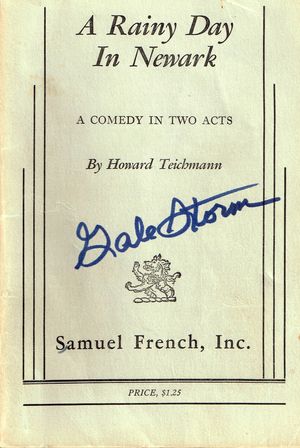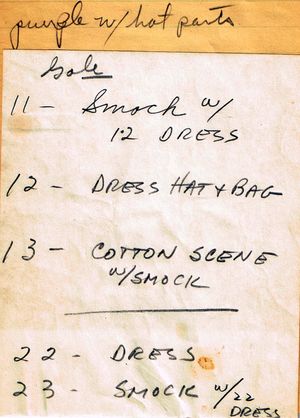 Gale's script for "A Rainy Day in Newark"                       Gale's costume list for "A Rainy Day in Newark"
---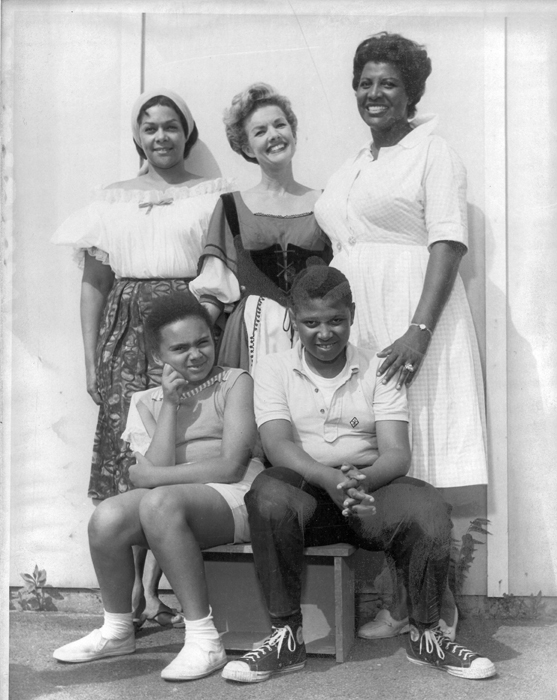 ---
Cactus Flower (1971-1977)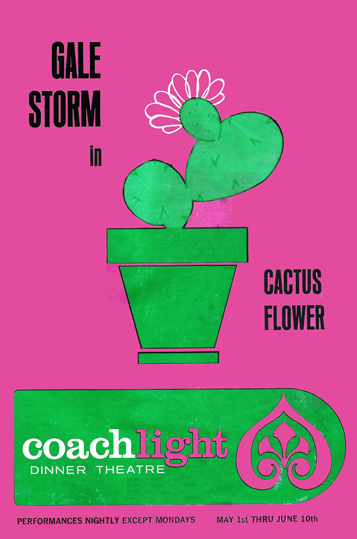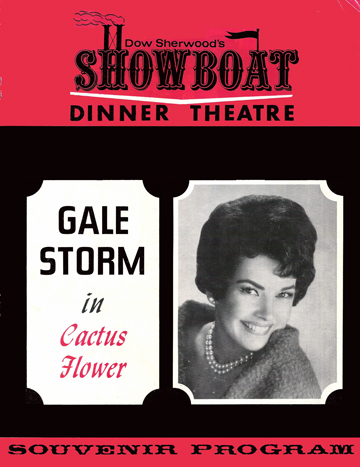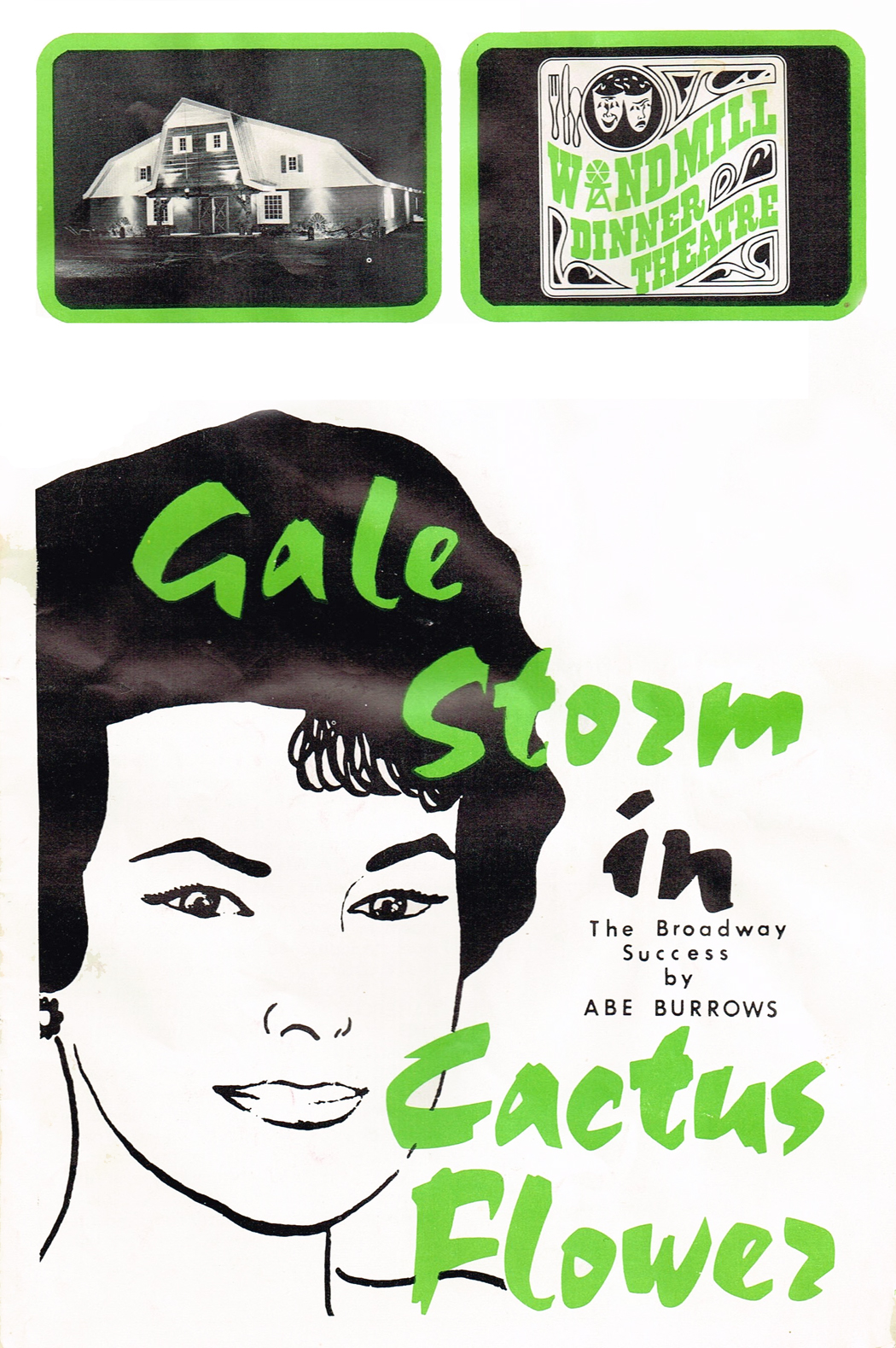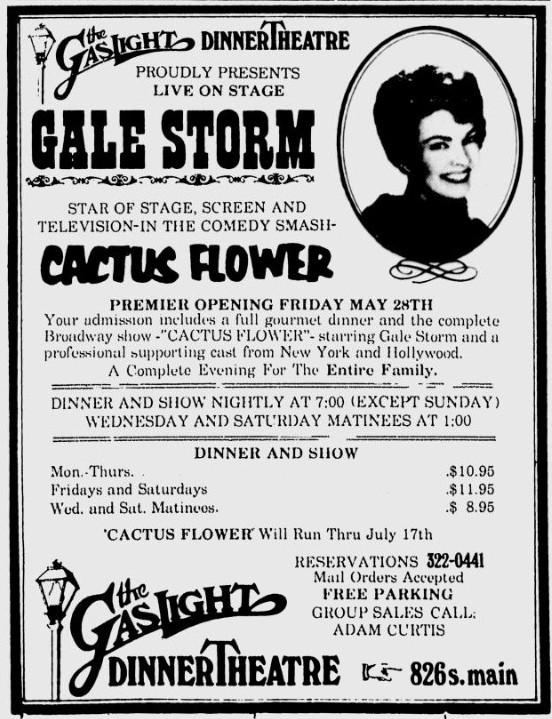 Opening day ad for the Gaslight Dinner Theatre, with Gale Storm in Cactus Flower.
Gaslight Dinner Theater, , Utah
Deseret News, page A17, 28 May 1976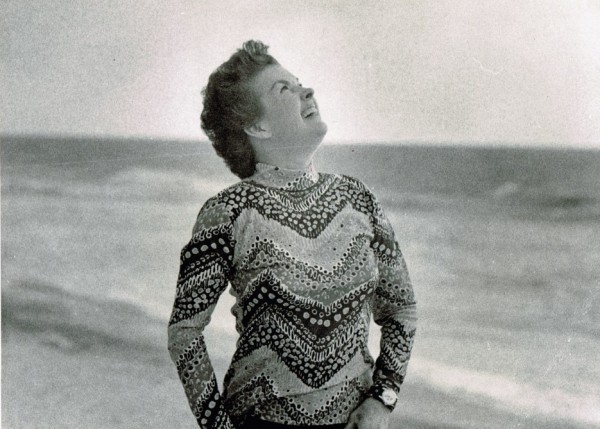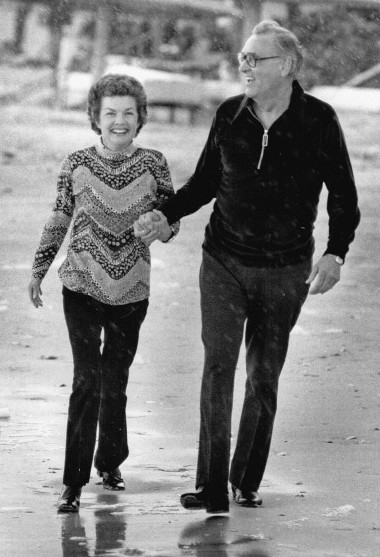 (above 2 photographs:  February 18, 1972)
TIMELINE 1972:  On February 14, Gale flies to St. Petersburg, Florida for "Cactus Flower" rehearsals.  Rehearsals start on February 15th and continue until February 22nd's dress rehearsal and press preview.  "Cactus Flower" opens on February 23 and continues through March 26th.
---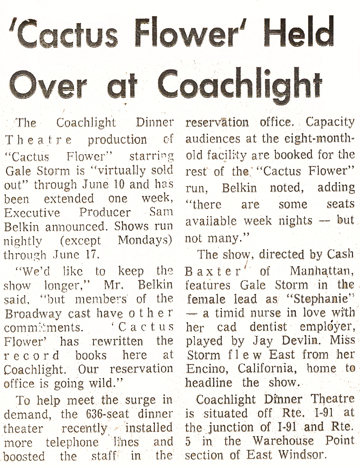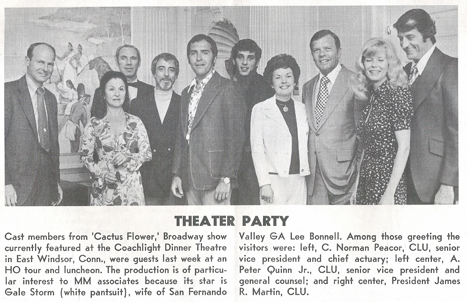 To hear an interview that took place during Gale's Connecticut run of "Cactus Flower" click here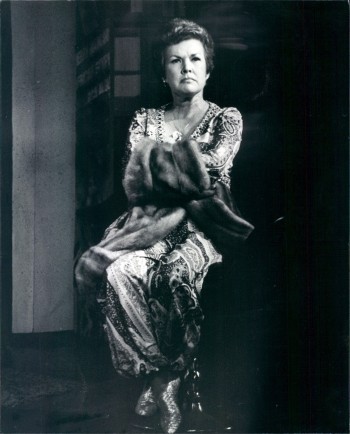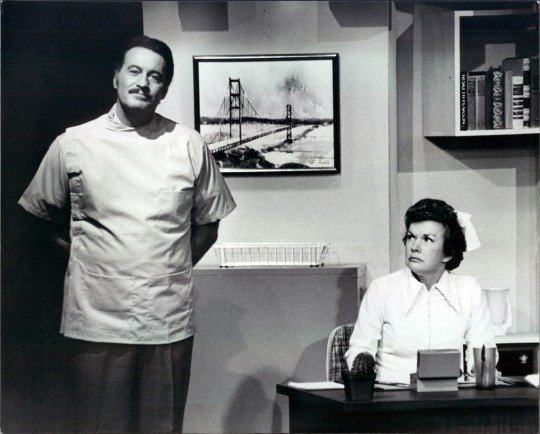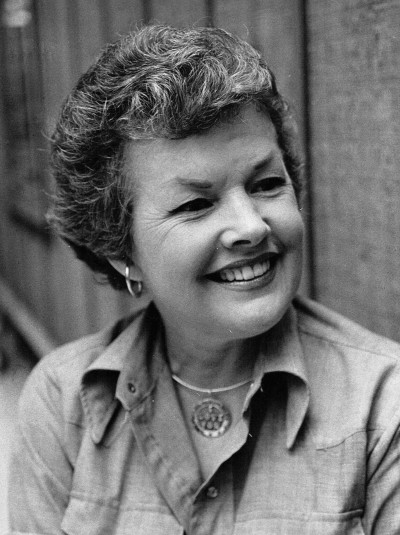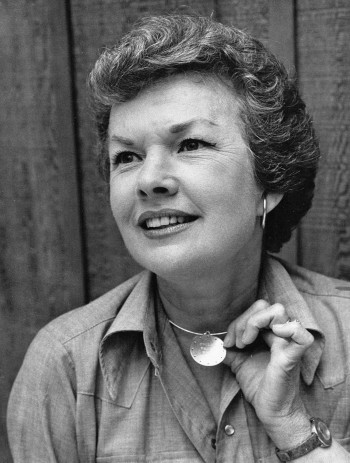 (from the St Petersburg Times, Dec. 28, 1976)  These shots were used to promote "Cactus Flower."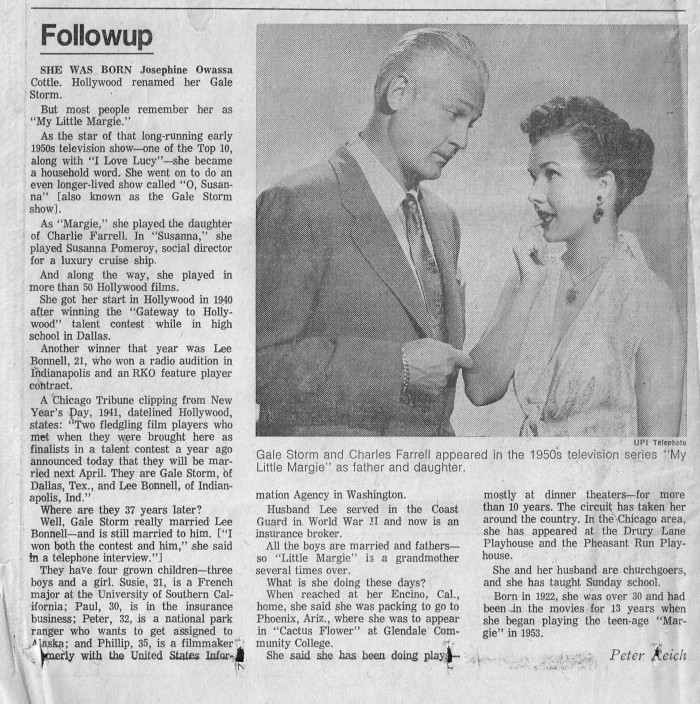 (from the Chicago Tribune, March 20, 1978)  One of Gale's most popular plays running into the late 70s.
---
Marriage-Go-Round (1972)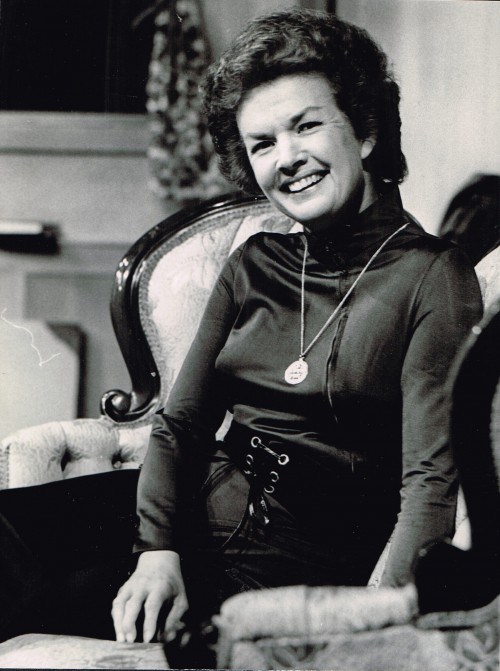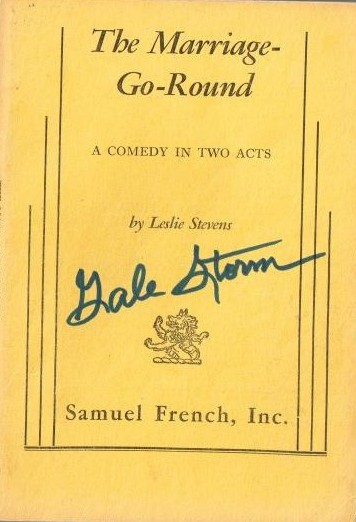 from Gale's dayplanner:  Monday, July 3, 1972...leave for Denver.  July 4: Start rehearsals for "Marriage-Go-Round"
Opening night is Wednesday, July 12...closing night is Sunday August 13 (Gale performed two shows on that date).
---
Plaza Suite (1973)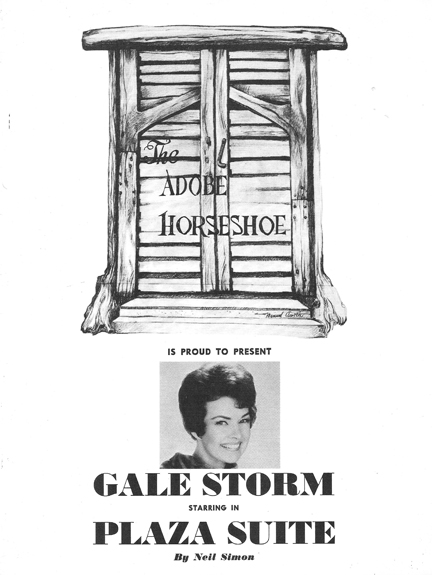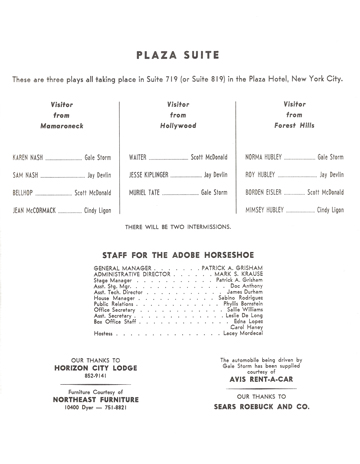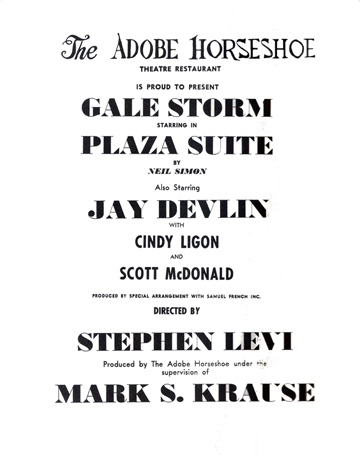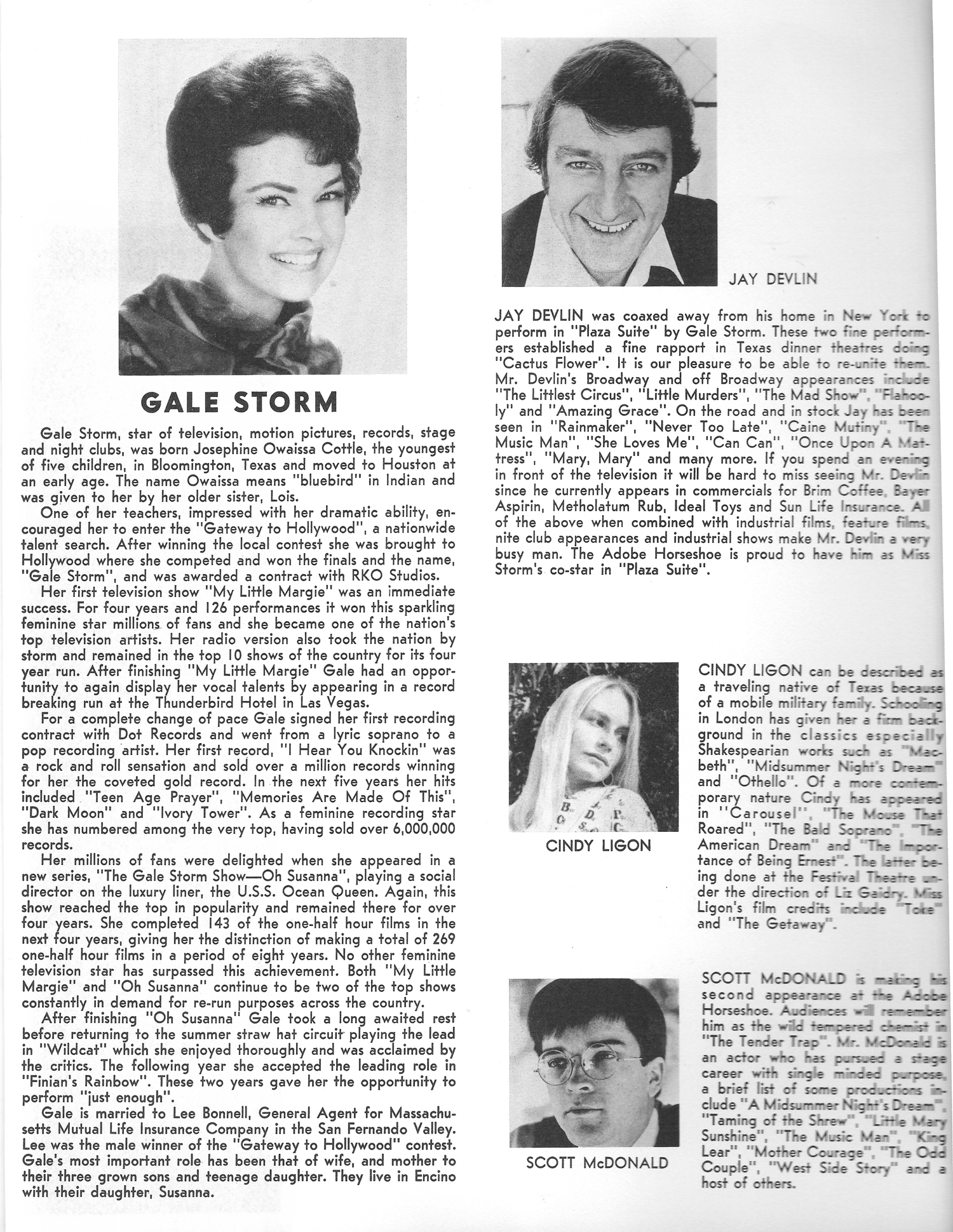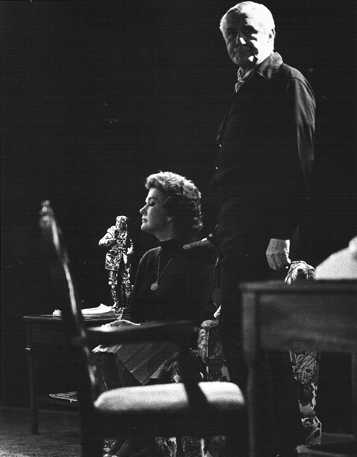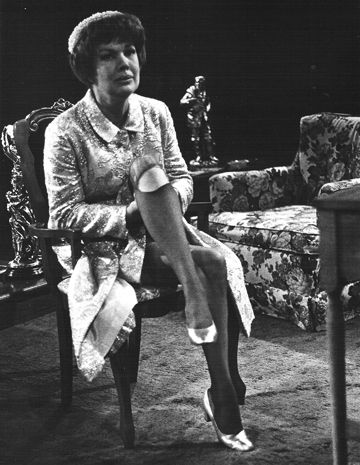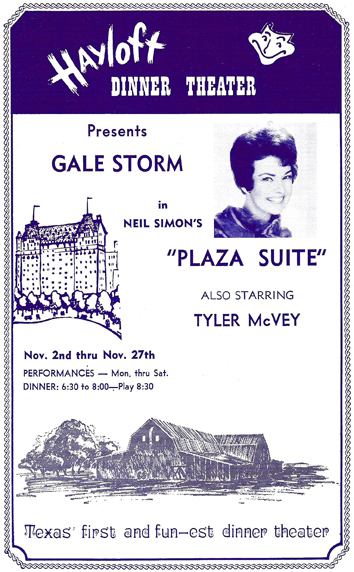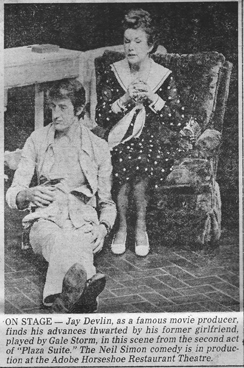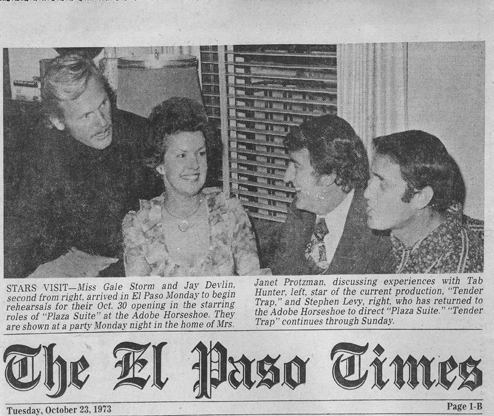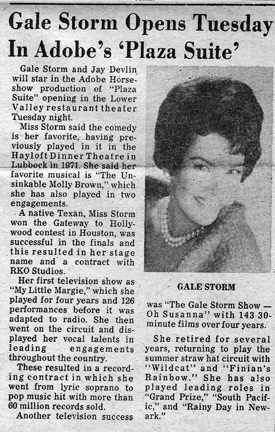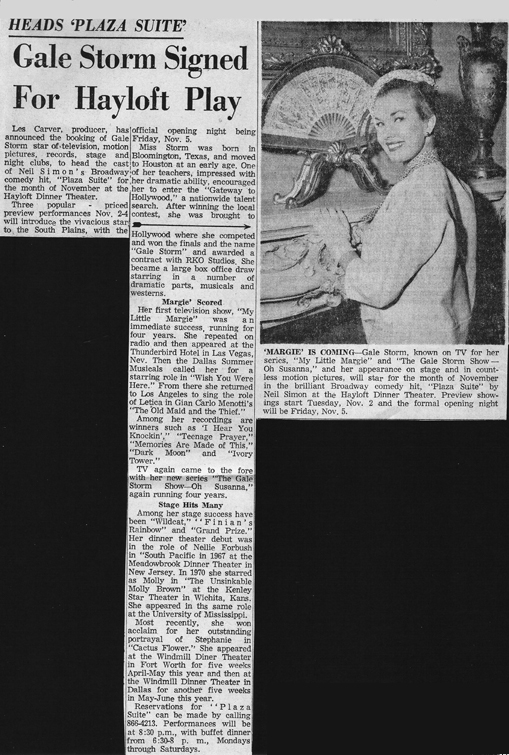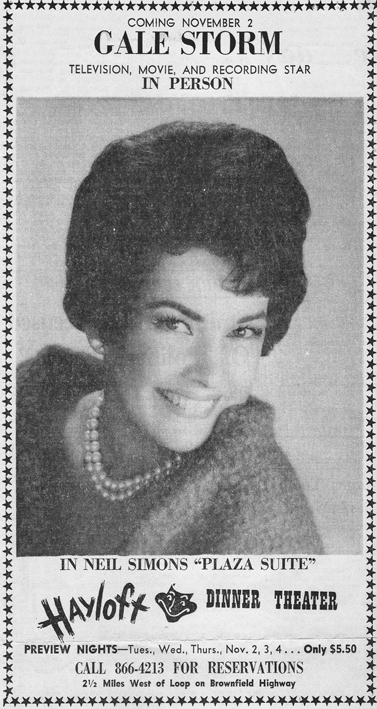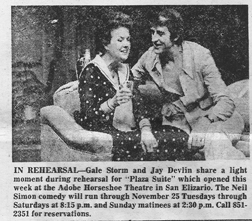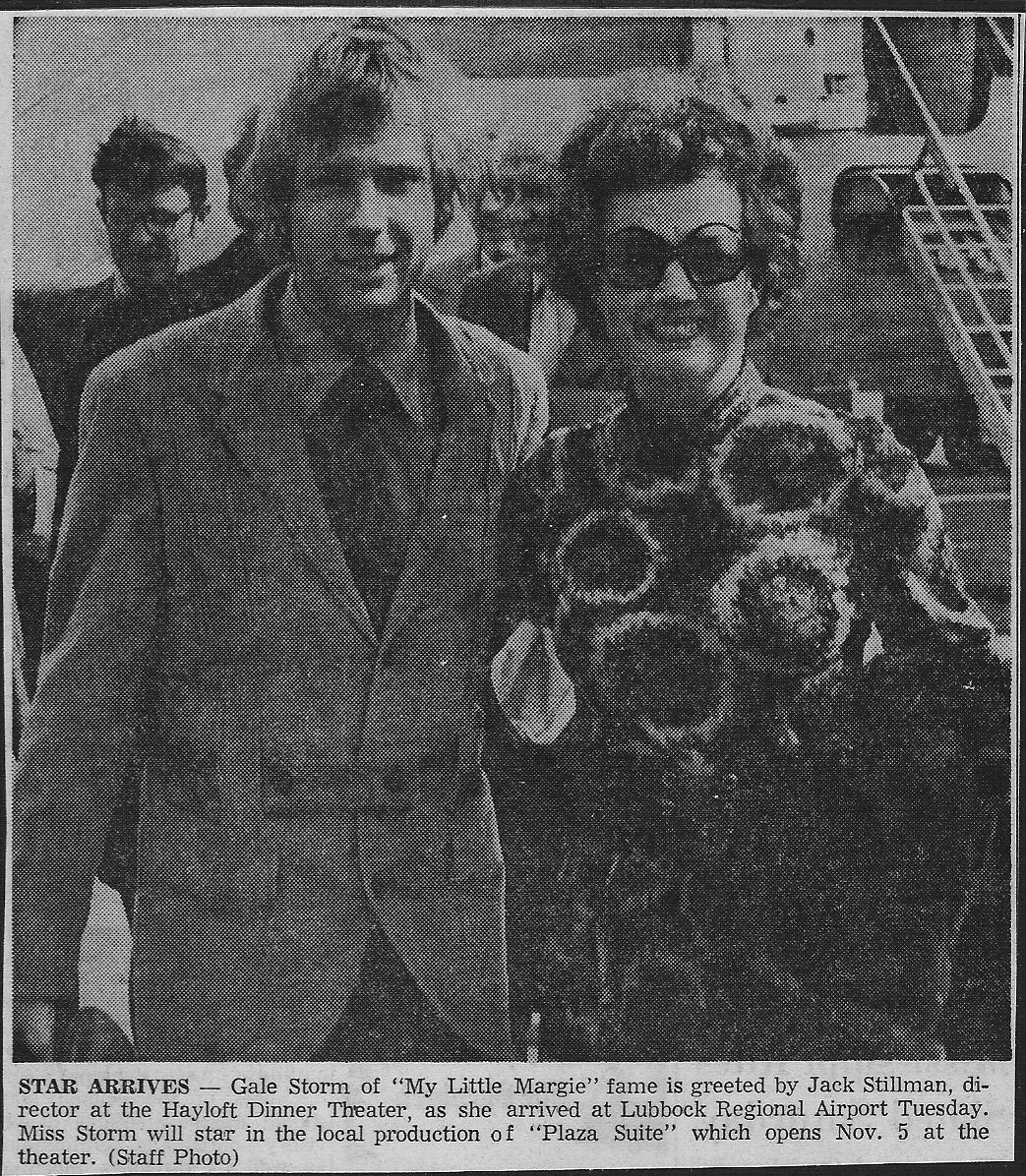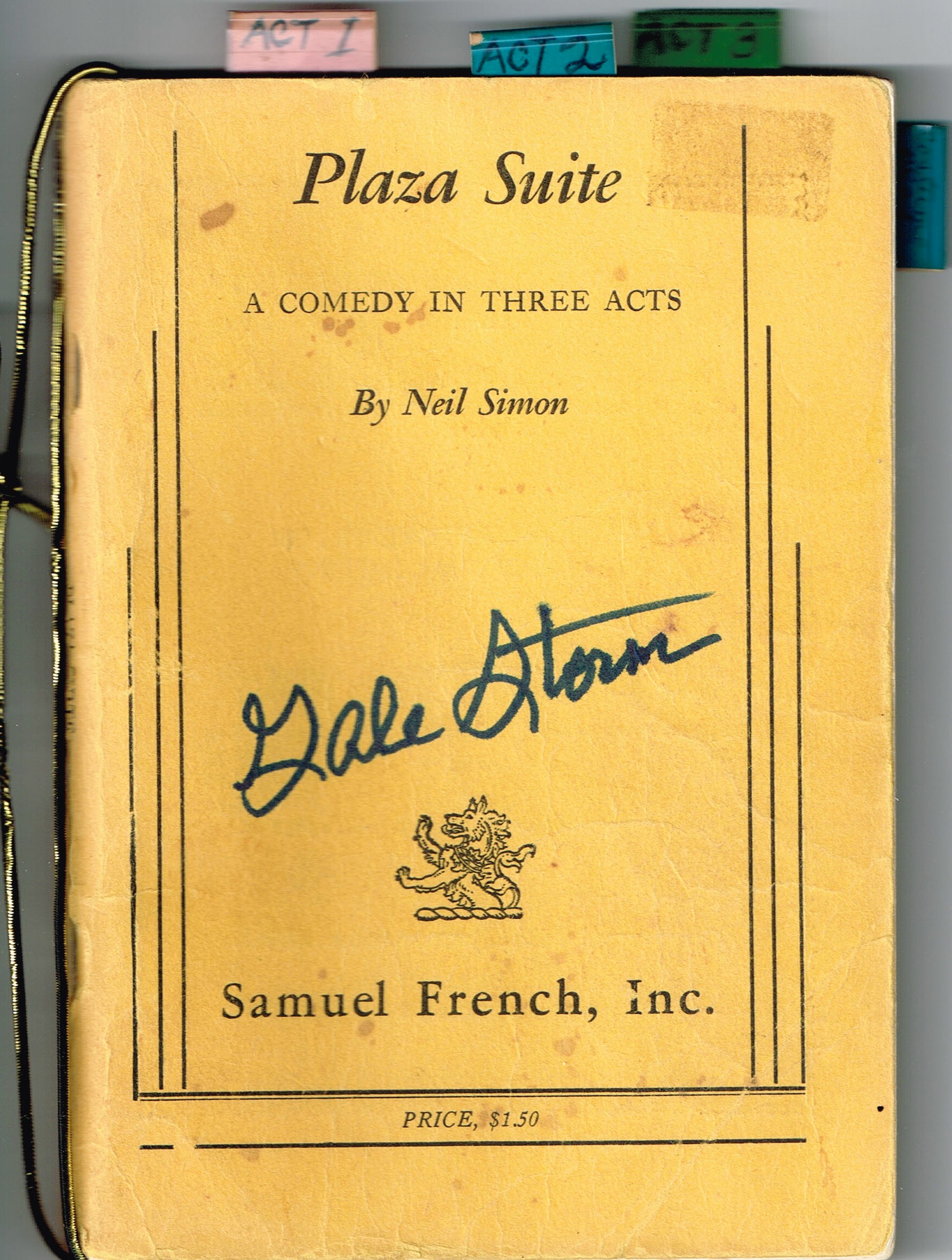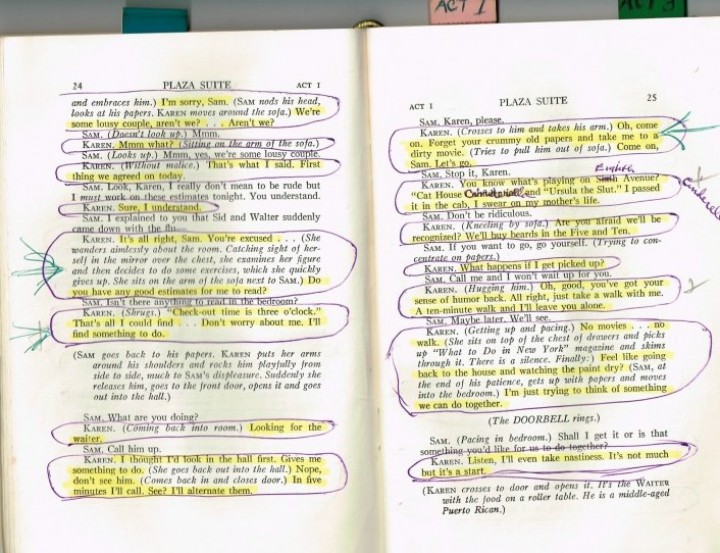 ---
Affairs of State (1973)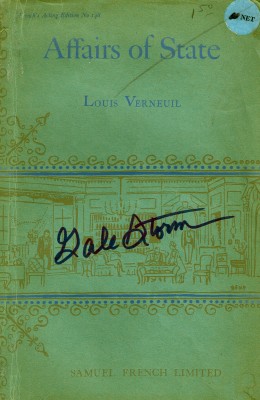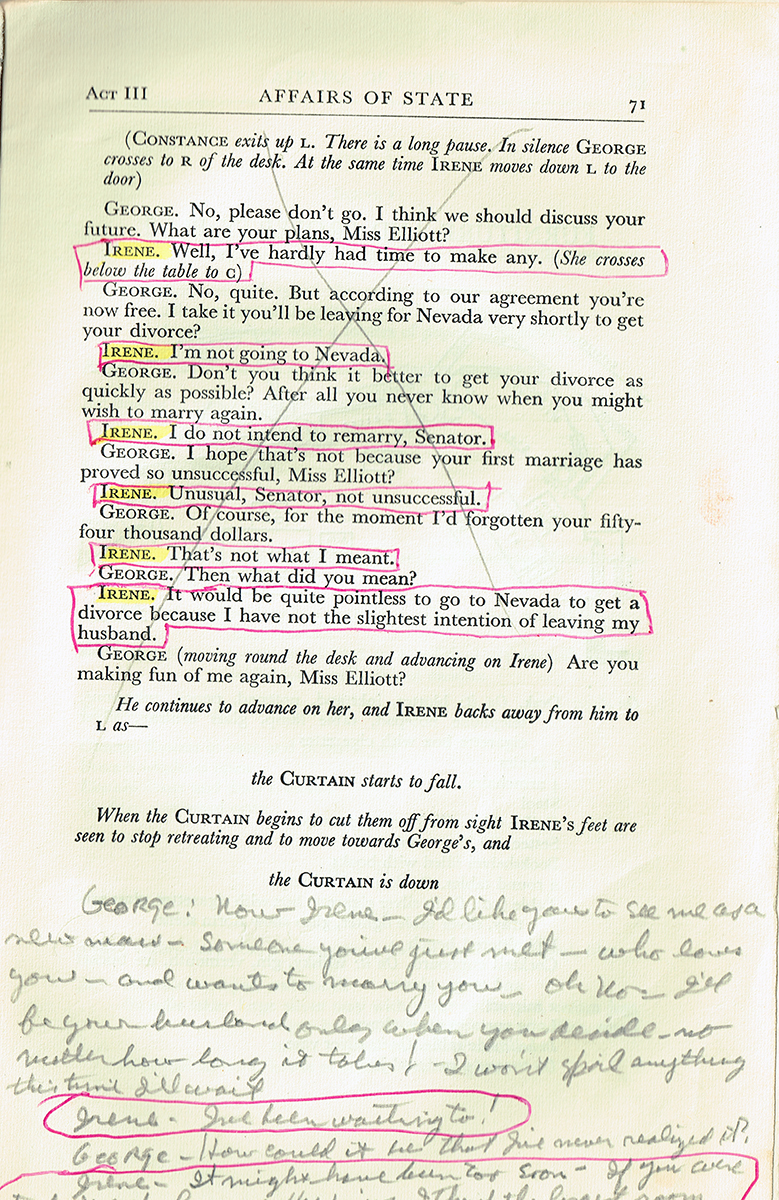 Gale's handwritten notes on the final page of the play.
Rehearsals began in Florence, Alabama on July 16, 1973.  Opening night was July 23, 1973. The play closed on July 28, 1973.
Gale's character was Irene.  Jack Kelly was also in this production, summer of 1973.
Jack's biography lists the location as Florida State University, Gale's day planner lists the location as Florence, Alabama.
---
No Hard Feelings (1974)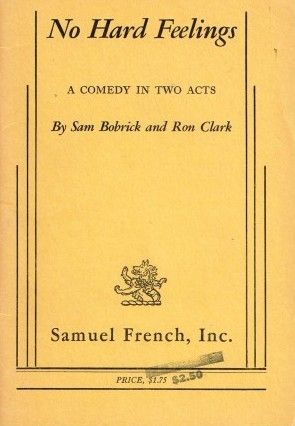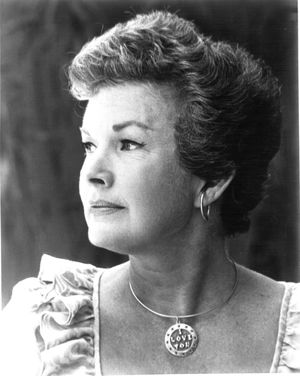 The Circleville Herald, Monday February 25, 1974
Gale Storm Is Current Attraction At Playhouse
Gale Storm of "My Little Margie" fame is starring in the current production at the Country Dinner Playhouse in Reynoldsburg, "No Hard Feelings". Miss Storm became an immediate suecess with her first television show "Margie", which ran for four years and 126 performances. Her television success was followed by success in the pop recording field. MISS GALE STORM Her first record, "I Hear You Knockin" was a rock and roll sensation and sold over a million. She continued in the recording field with four other hits and gained fame among the very top singers with over 6,000,000 record sales to her credit. She later went back to television in another four-year run called "Oh Susanna". After finishing the show and taking a rest from entertainment, Miss Storm embarked on her current career area starring in such plays as "The Unsinkable Molly Brown", "Cactus Flower" and "Plaza Suite".
"No Hard Feelings" is a delightful comedy about a middle aged woman who leaves her husband for a younger man. Starring as the husband is Tyler McVey with Ame Gundersen as the other man. Lee H. Doyle co-stars as the business partner, Eda Seasongood as the best friend and Irelle Brownell as the daughter. Also appearing is Peter Jolly. The play covers a period of one year in which a multitude of amusing little experiences are encountered. Tyler McVey's history in the acting profession is no less admirable than that of his leading lady. He has played in over 300 episodes of television series including "I Love Lucy", "Maverick", "Bonanza", "High Chapparal", "Wyatt Earp", and "Ozzie and Harriett". He appeared recently opposite Gale Storm in a dinner theater performance of "Plaza Suite." Both the veteran performers do justice to their experience in the current play. Backed up all the way by the co-stars, the production is one of rare excellence. The Country Dinner Playhouse offers a lavish smorgasbord dinner just prior to the performance and features special rates for Roundtowners on Wednesday nights. The price includes the buffet and performance in a one-stop night of entertainment. 
performed in Columbus, Ohio.  Opening night was Tuesday, February 12, 1974.  The play closed on March 17th, 1974.
---
I Do, I Do (?)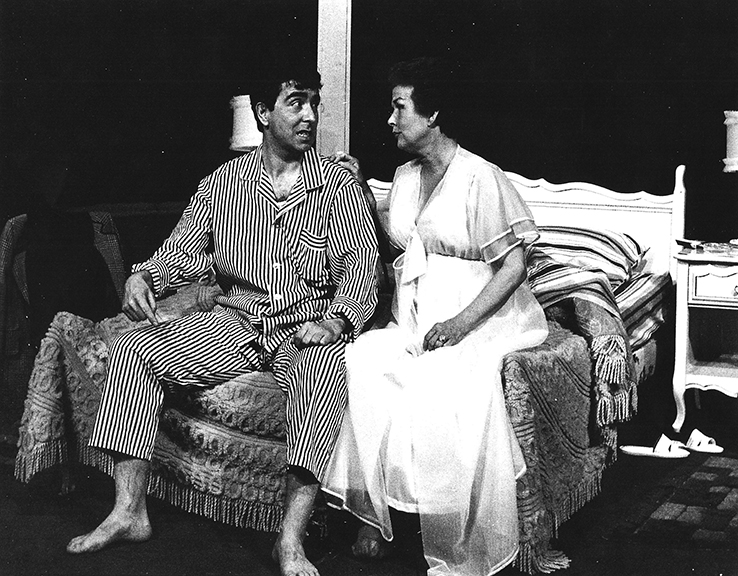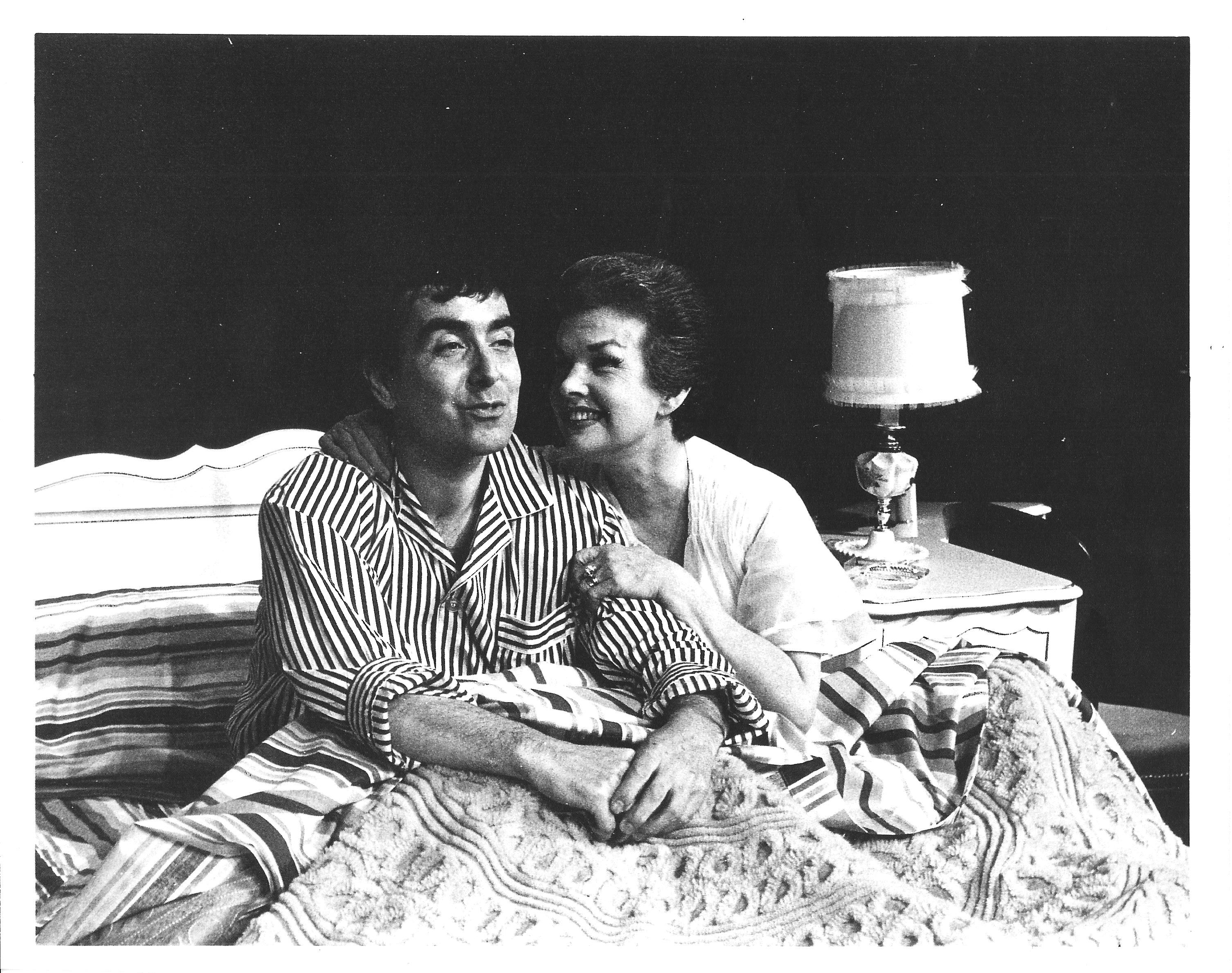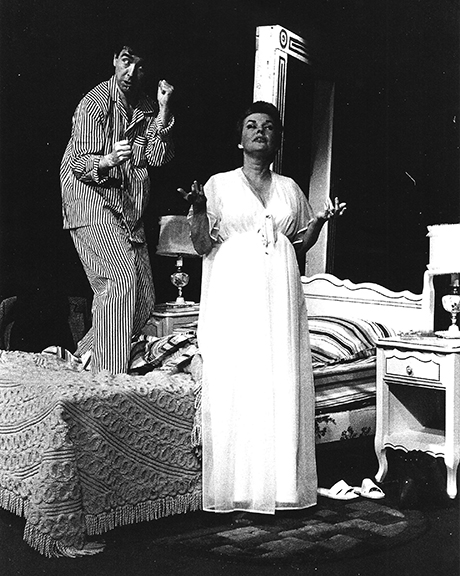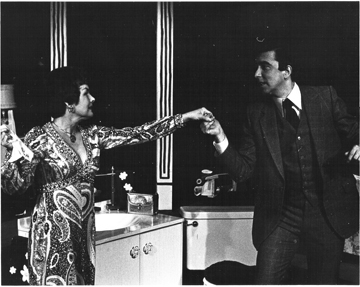 (photos courtesy of Jon Ramsey)
---
Lovers and Other Strangers (March 1975)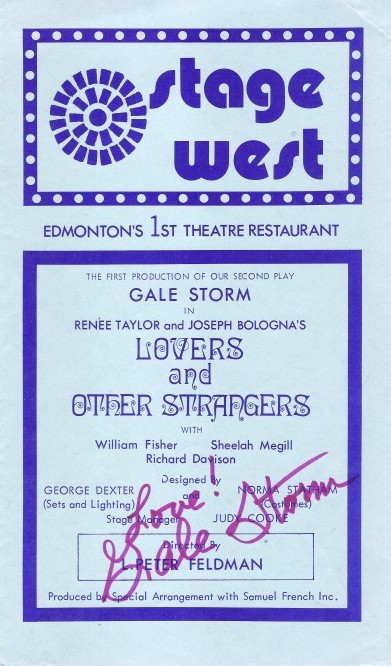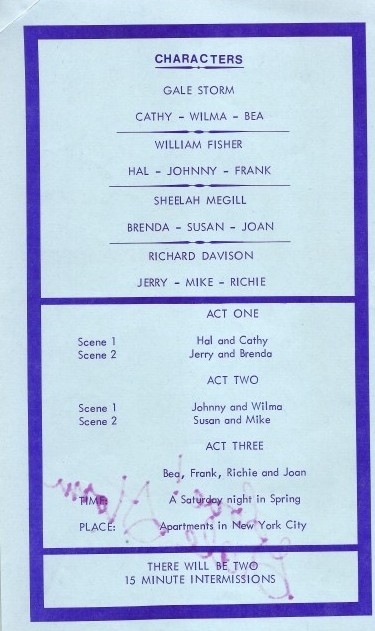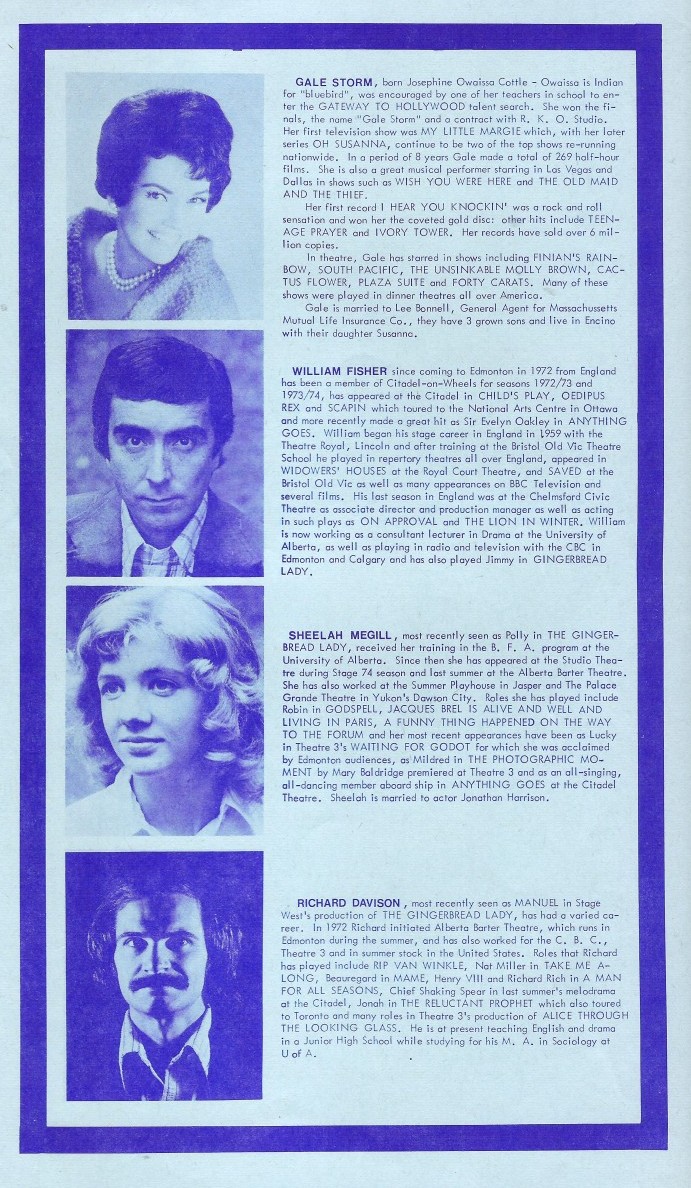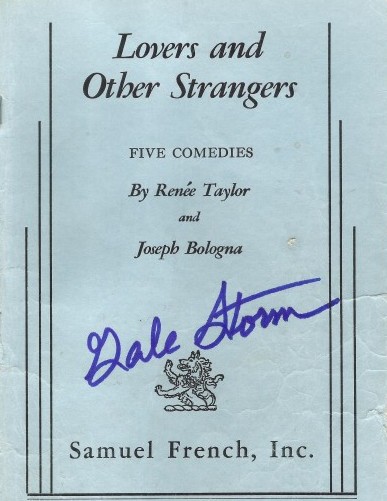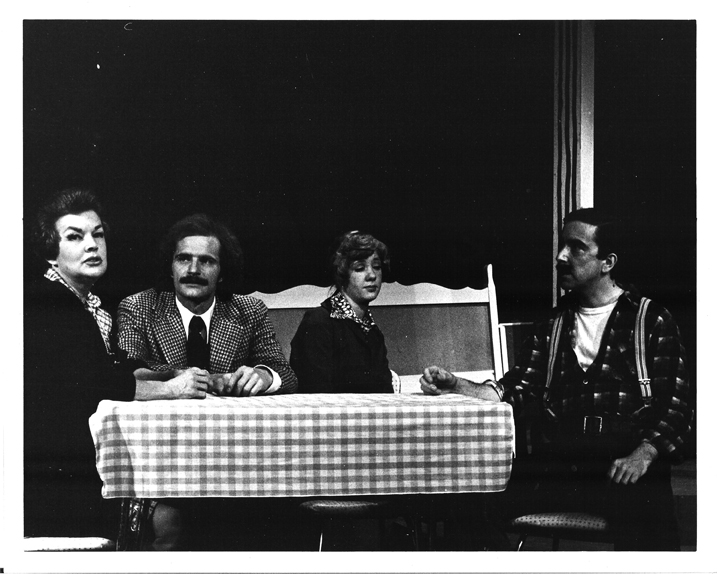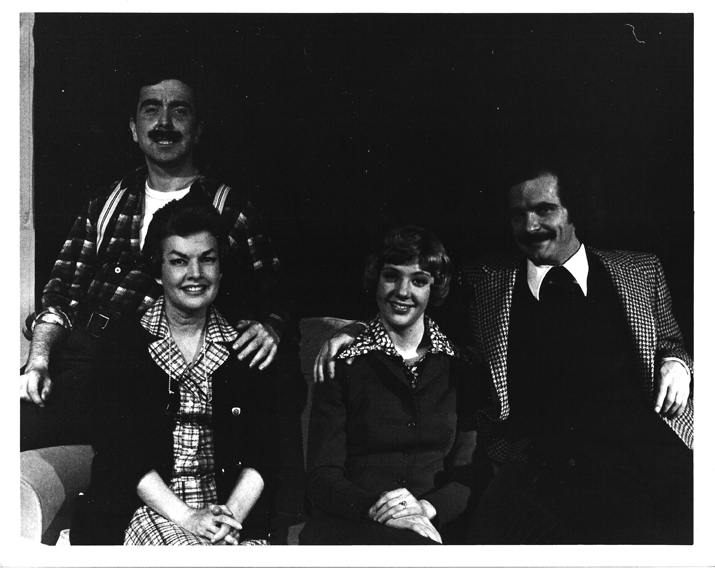 Below are two pages from Gale's script for the above scene: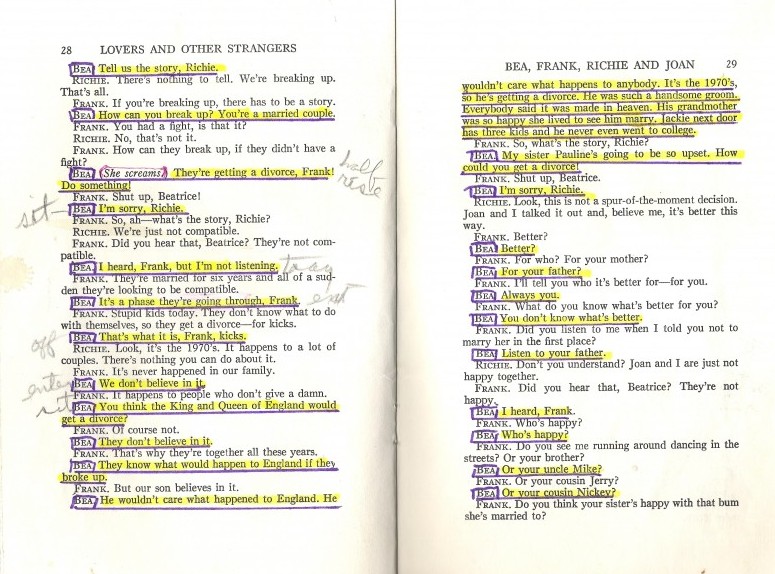 ---
Forty Carats (1974)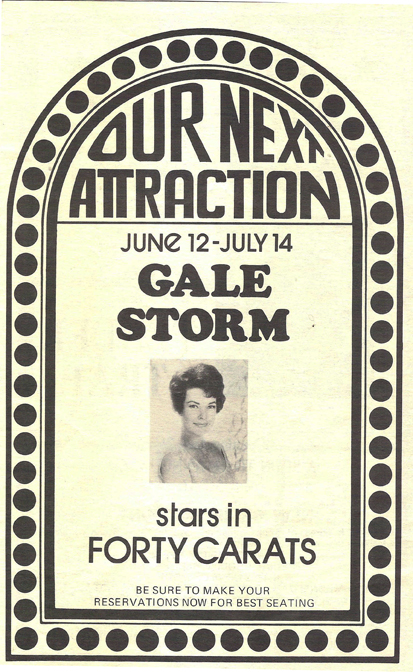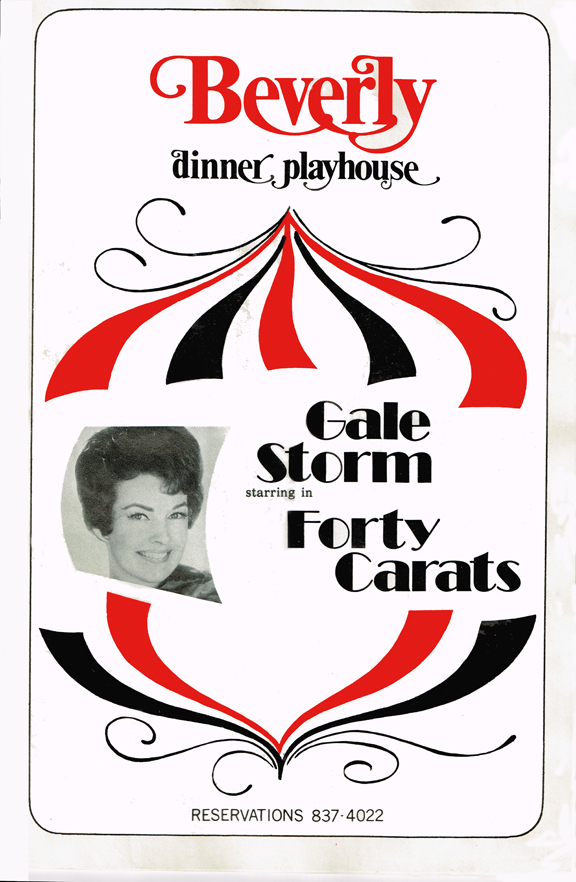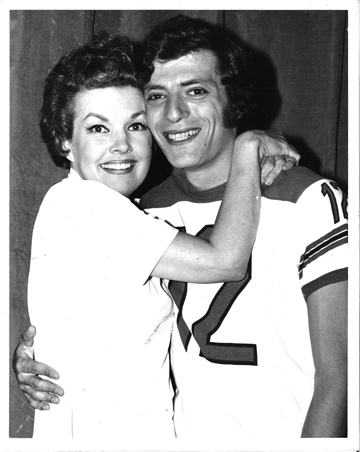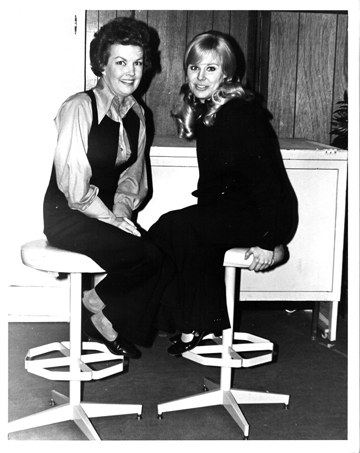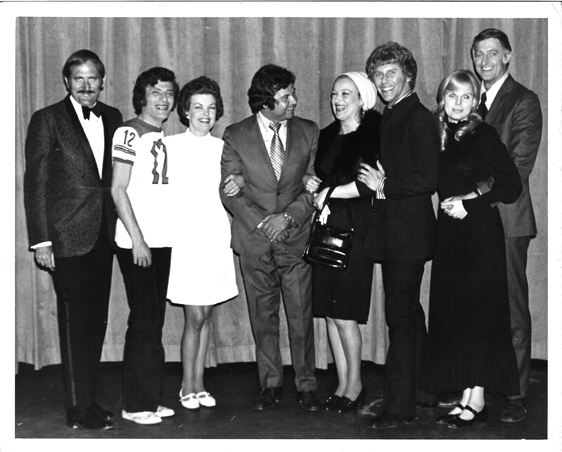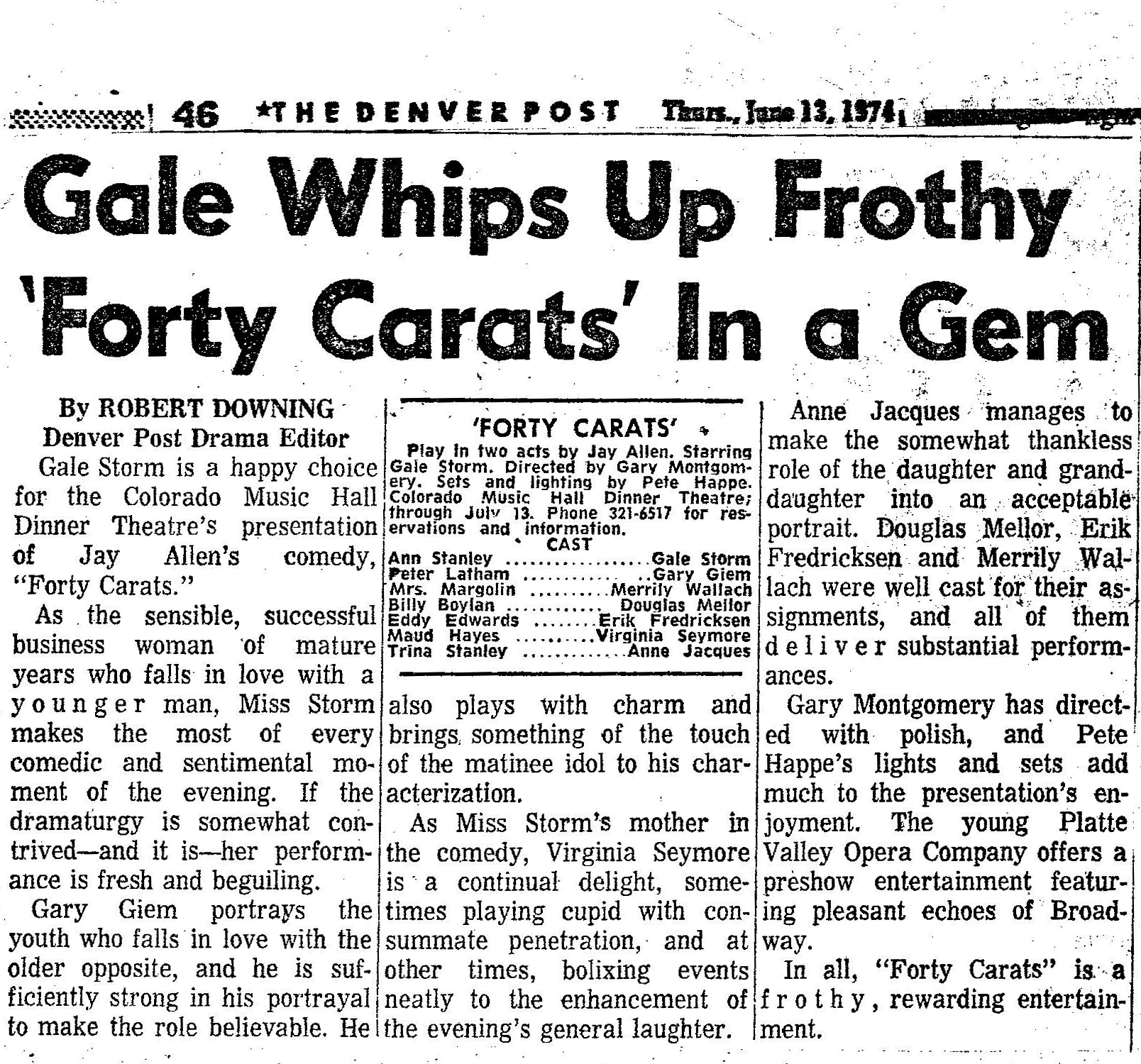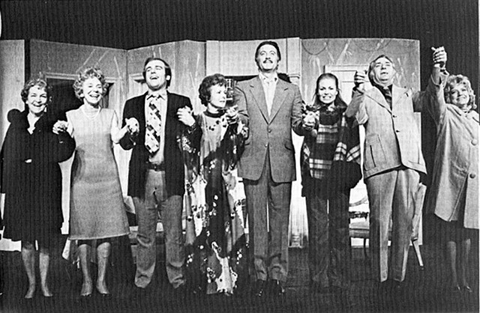 ---
Breaking Up the Act (1987)