Gale's non-series television appearances: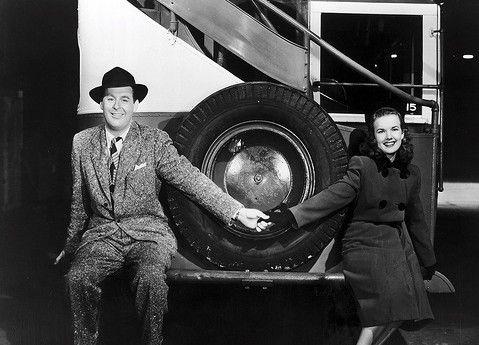 (this photo is from the movie, "It Happened on 5th Avenue")
Hollywood Premiere Theatre:
MR. AND MRS. DETECTIVE
September 27, 1950
ABC
(also known as Mystery and Mrs.)
Cast:   
Gale Storm (Sally Fame)
Don DeFore (George Fame)
George Pelham
Robert Shayne
Eve Whitney
Producer: Al Aimer
George Fame and his wife Sally are newlyweds and partners in the Fame Detective Agency.Sally is young, beautiful and somewhat trouble prone.  She enjoys the thrill of a case but often plunges into sometimes dangerous situations without thinking first.  She does have a keen sense for crime solving and often relies on her feminine intuition to help George, a master of deductive reasoning, uncover the clues they need to solve a crime.  The proposal was to relate their joint investigations and the comical incidents that arise due to Sally's over eagerness.
Don DeFore Television credits (click here)
---
The Bigelow Theatre
 (the Dumont Network)
 November 12, 1951
 The Hot Welcome
 co-starring:
Richard Denning, Elizabeth Patterson, and Anthony Caruso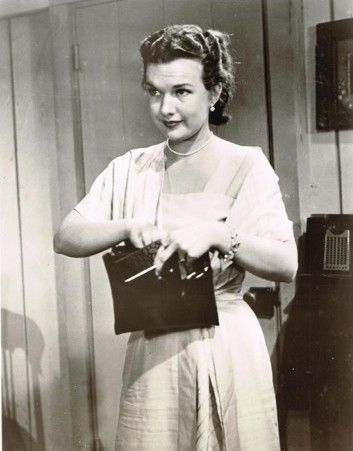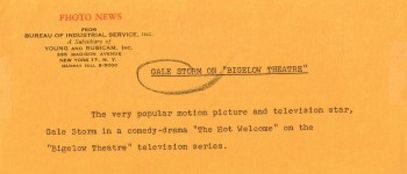 (not a very good quality picture, but it is from "The Hot Welcome")
---
Bigelow Theatre/Footlights Theater
September 17, 1951/August 29, 1952
Mechanic on Duty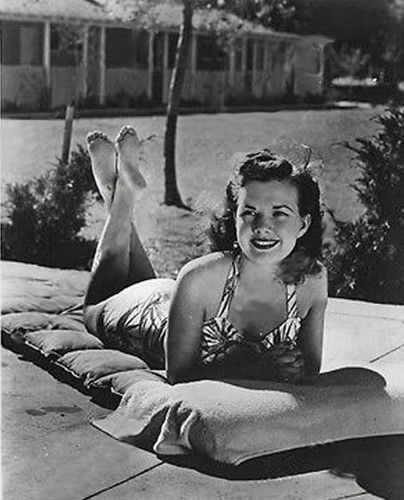 co-starring:  Gene Raymond, Russell Hicks, Clem Bevans, Erville Alderson.
---
This Is Your Life
4/20/55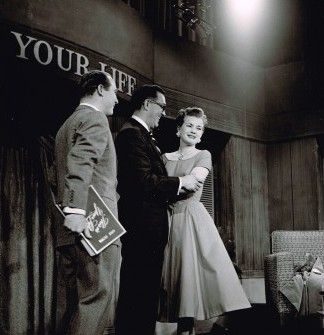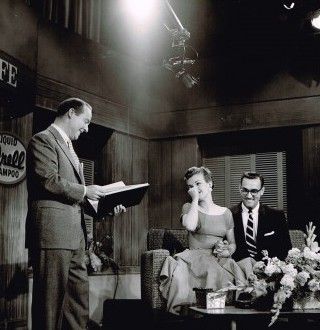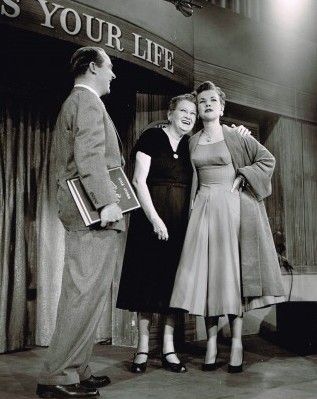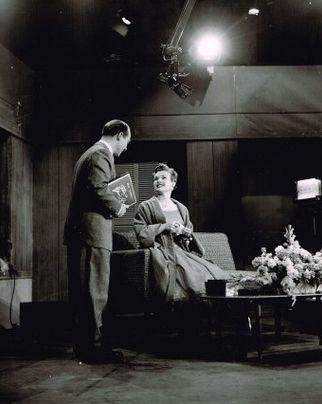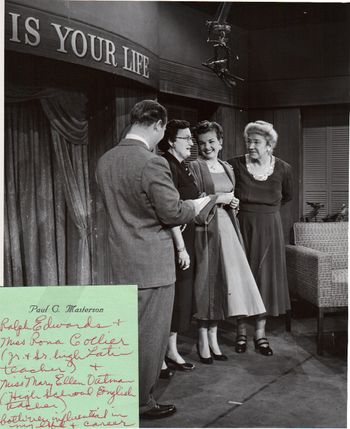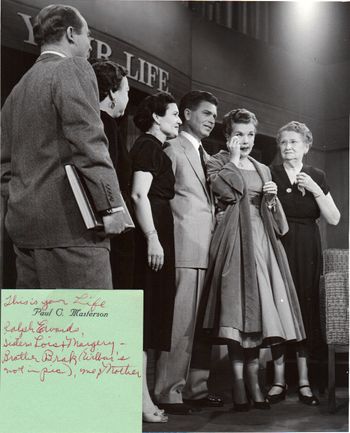 (Photos courtesy of Steve Heine)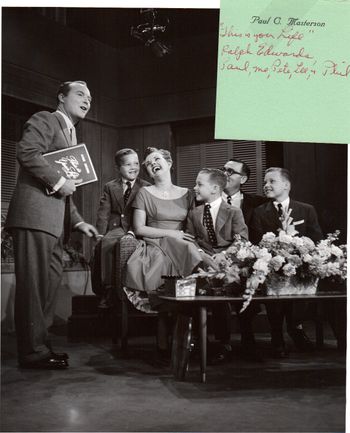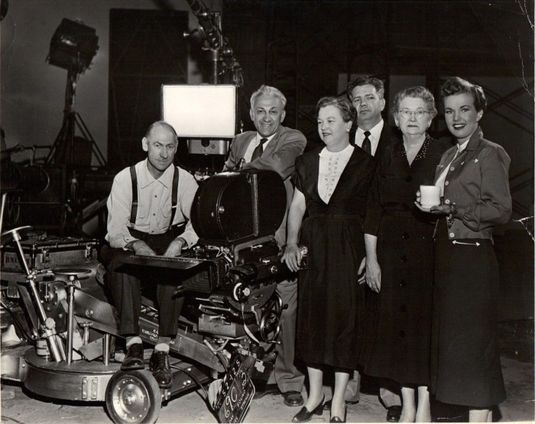 (Photos courtesy of Steve Heine)
---
Celebrity Playhouse
Mink Does Something for You
October 18, 1955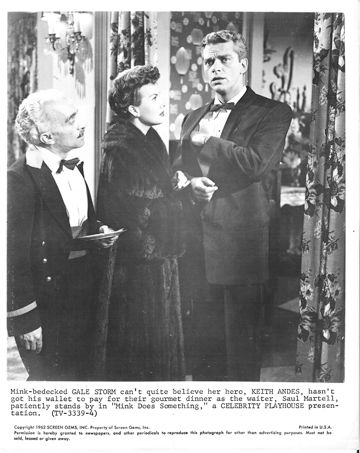 Celebrity Playhouse: MINK DOES SOMETHING FOR YOU
Screen Gems prod. no. 4
copyright date 18Oct55
(03Nov59 ABC Tue)
Guest cast:
Gale Storm
Keith Andes
Synopsis:
A farce in which a New York City secretary experiences a series of comedic misadventures
--and romance--when she innocently wears her boss' mink coat and is mistakenly
considered to be wealthy. [JFM]
Synopsis 2:
A young girl, masquerading in her employer's mink coat, finds herself
in trouble when she cannot pay the check at a smart dinner club. [RF]
*Note: Syndication airing 23Jul57.
(This photo is dated 1962, so the program must have re-aired during the 1962 season).
---
 The Ford Television Theatre:
Johnny, Where Are You?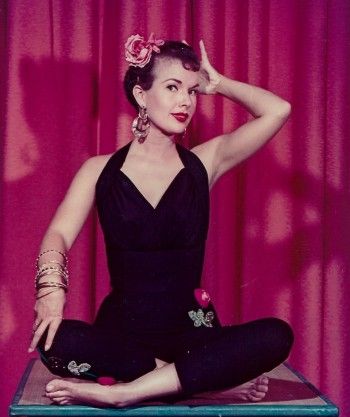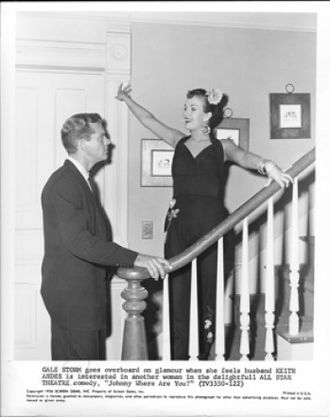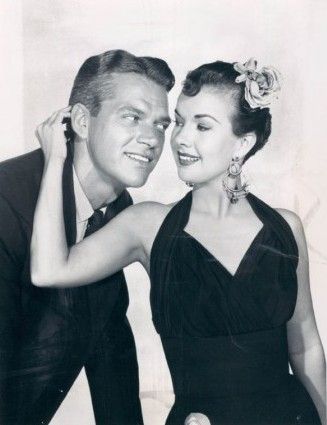 ---
The Perry Como Show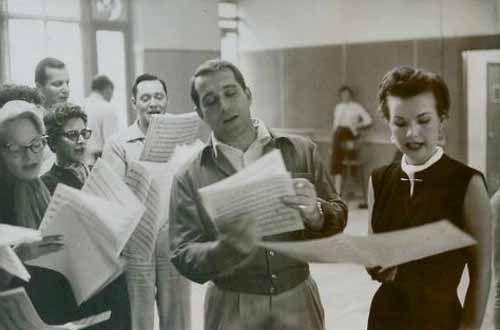 ---
NBC Comedy Hour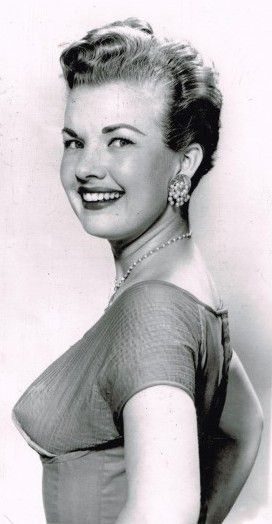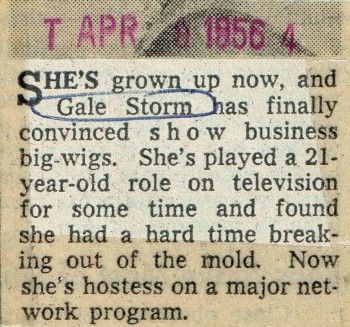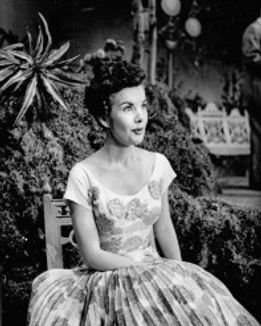 Gale and cast sing "At the Airport" 
Gale with Jack Albertson in the production number of "Love and Marriage" 
---
Shower of Stars
March 4, 1957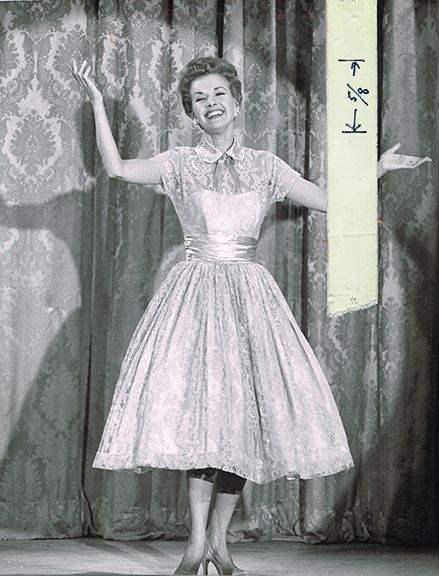 ---
Shower of Stars
March 14, 1957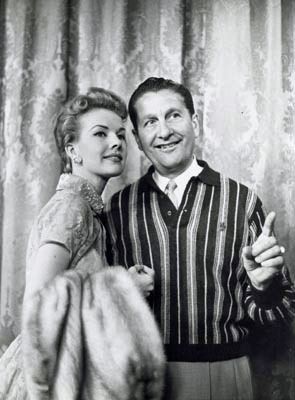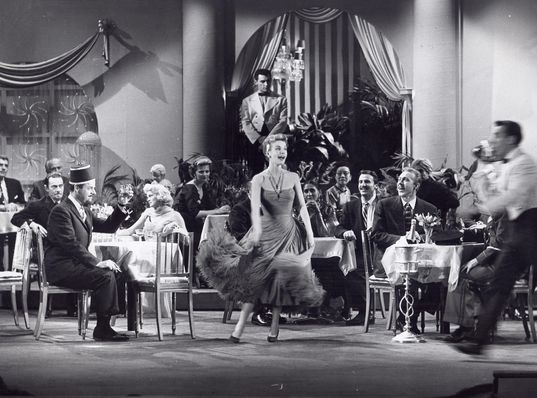 Contrary to the listing in IMDb, this is a variety show.  Gale performs two numbers, "You Make
Me Feel So Young" and "Just in Time." 
Gale sings "Just in Time" and performs in a skit with Jack Benny and Hedy Lamarr called "Cloak and Dagger."
To view Gale's portion of the show, click on the link below.  Sorry the size is so small, but you can use the zoom feature on Windows Media Player to make it larger.
---
The Big Record (Patti Page Show)
November 13, 1957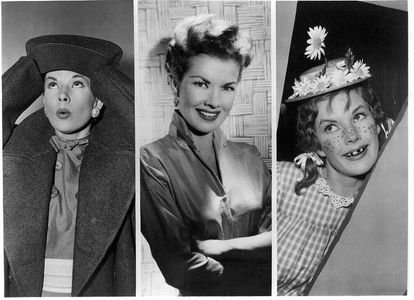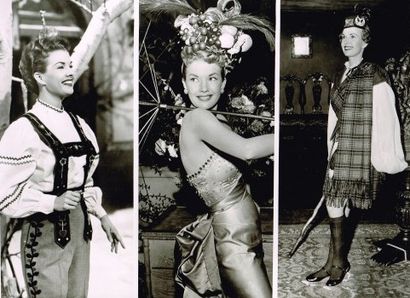 Gale sings a medley of "I Hear You Knocking," "Dark Moon," and "Go 'Way from My Window."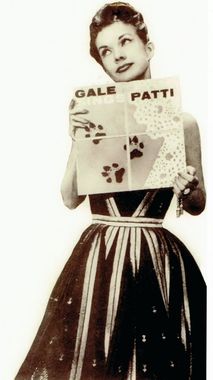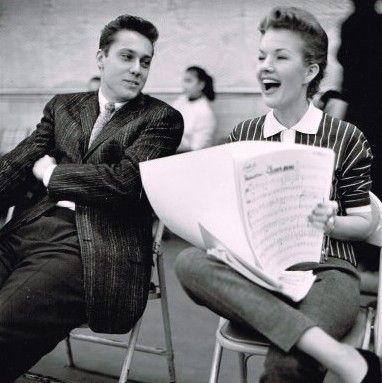 ---
A Okay, O'Shea
(pilot filmed February 1963)
written by Lee Karson, Ray Allen and Gale Storm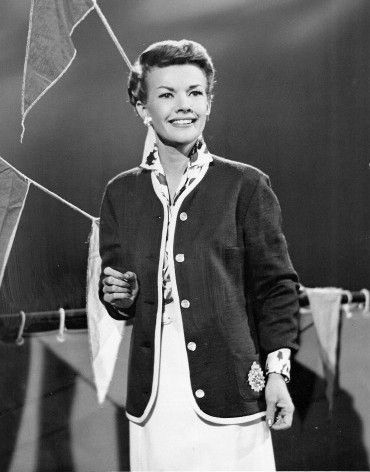 (photo courtesy of Jon Ramsey)
---
Burke's Law
(1964)
"Who Killed His Royal Highness"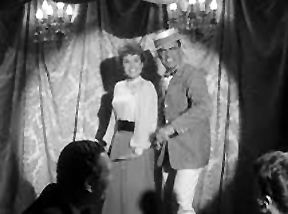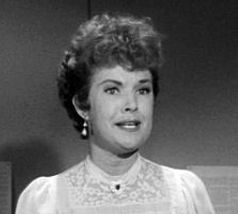 This episode co-stars Bert Parks, Elizabeth Montgomery, and Mickey Rooney.
---
Burke's Law
(1965)
"Who Killed Wimbledon Hastings?"  (this episode is not on dvd).
Co-stars:  Nick Adams, Nancy Wilson, and Vic Dana.
---
Mike Douglas Show
(1965)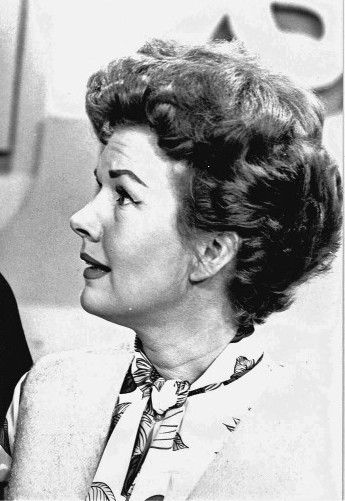 ---
Gypsy
(May 3, 1967)
hostess:  Gypsy Rose Lee
guests:  Gale Storm and Robert Goulet
---
Celebrity Bowling (1975)
---
The Love Boat
(1979)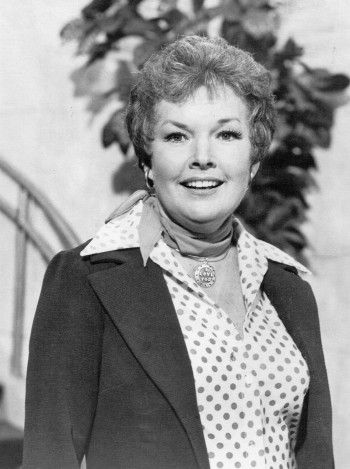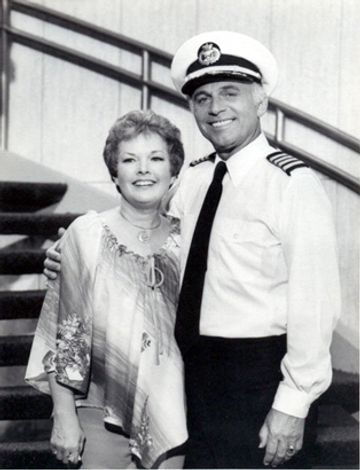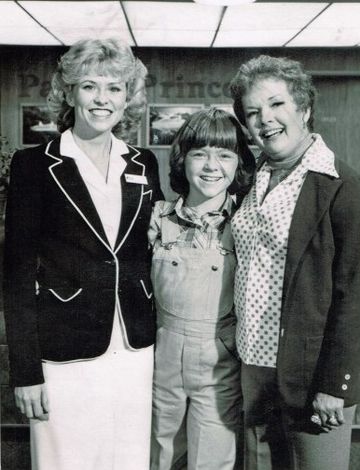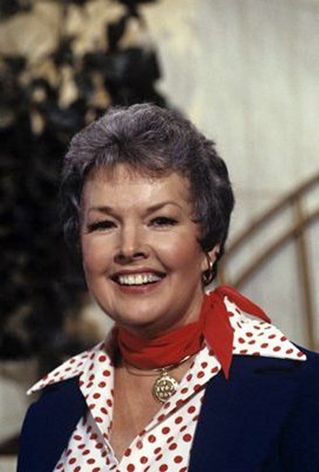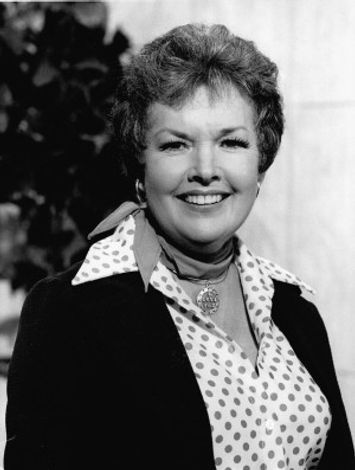 ---
 John Davidson Show (August 6, 1980)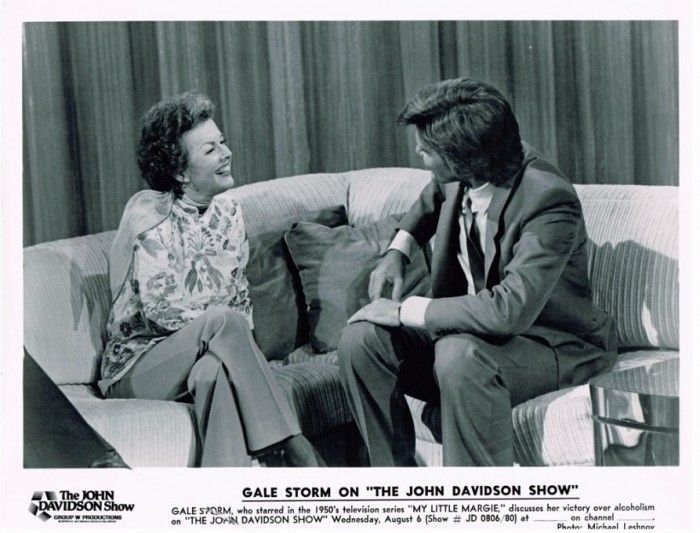 ---
Hour Magazine (1986)
---
Win, Lose or Draw (1988)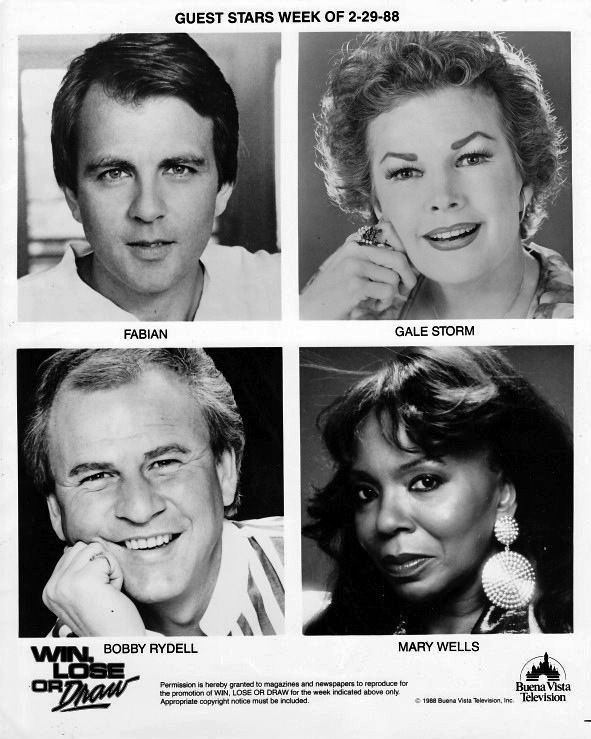 ---
Murder She Wrote (1989)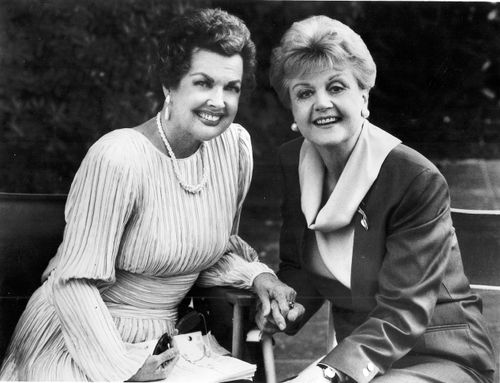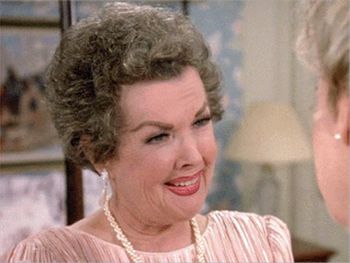 Something Borrowed, Someone Blue
Grady's wedding day arrives, and so does an unpleasant fate for the shrewish housekeeper of his prospective father-in-law's estate.
---
What's My Line?
---
 While this isn't a television program, the film does trade on Gale's fame in "My Little Margie."  Pictured below are four pages from the booklet that introduces the film to Chevrolet dealers.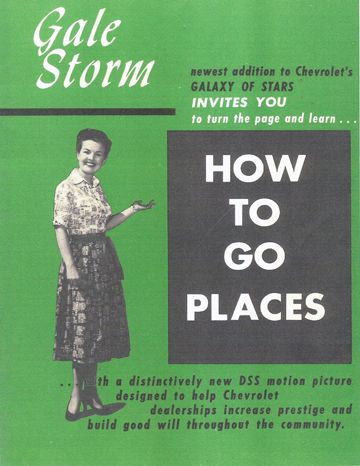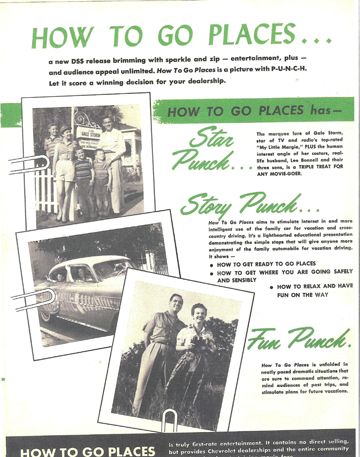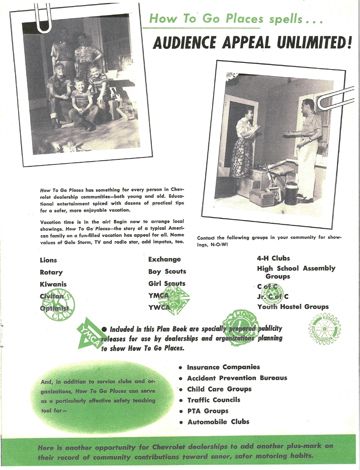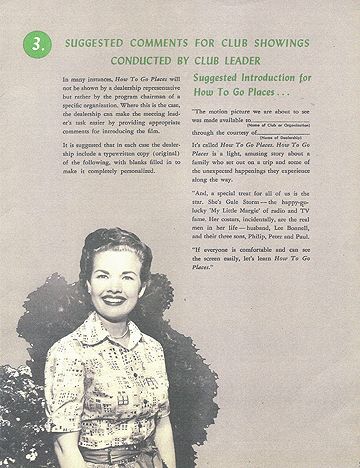 ---
"Over Easy"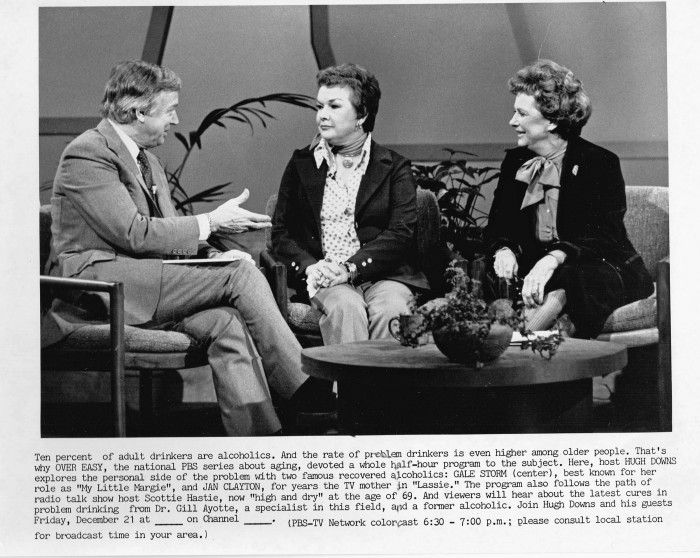 ---