MY LITTLE MARGIE
Starring GALE STORM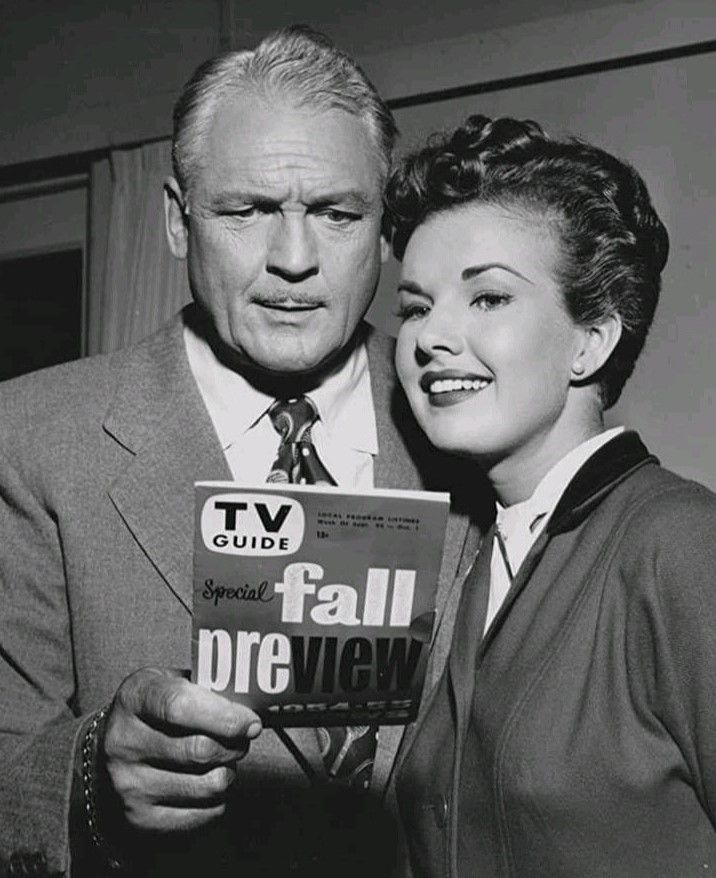 Photo courtesy of Stu Weiss.
 from the forthcoming collection of the COMPLETE "My Little Margie"
Thanks to Jeremy Brunner for allowing us to share episode 1 with you.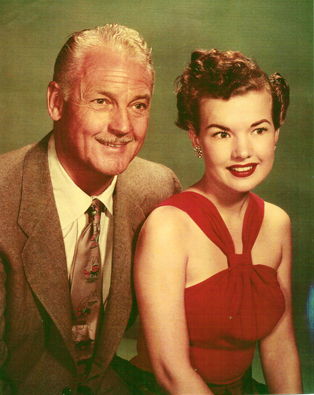 EPISODE GUIDE
---
(BY ROBERT WALSDORFF)
---
This guide is adapted from GALE LORE
(Volume 2 -- Issue 3) Summer 1997
GALE LORE was published by
Ron Baker and Edd Bayes.
---
My Little Margie
---
Situation Comedy
---
FIRST TELECAST: June 16, 1952
LAST TELECAST: August 24, 1955
BROADCAST HISTORY:
June 1952 -- September 1952: CBS Monday 9:00 -- 9:30
October 1952 -- November 1952: NBC Saturday 7:30 -- 8:00
January 1953 -- July 1953: CBS Thursday 10:00 -- 10:30
September 1953 -- August 1955: NBC Wednesday 8:30 -- 9:00
CAST:
Margie Albright............................Gale Storm
Vernon Albright .....................Charles Farrell
Roberta Townsend..................Hillary Brooke
Freddie Wilson...........................Don Hayden
Mr. George Honeywell.............Clarence Kolb
Mrs. Odetts........................Gertrude Hoffman
Charlie......................................... Willie Best
Mr. Todd................................George Meader
various roles............................Dian Fauntelle
---
If there were ever a television sitcom whose story lines were always fun and never stale, "My Little Margie" had to be it. Through 126 episodes, Gale Storm and a peerless cast kept the audience glued to their television screens. In fact, the audience was also happily glued to their radios because "My Little Margie" went from TV to radio beginning on December 7, 1952. The radio cast consisted of Gale and Charlie (reprising their screen roles), Gill Stratton Jr. as Freddie, Will Wright as Honeywell, and Verna Felton as Mrs. Odetts. These radio plays were not merely simulcasts of the TV show, but different original episodes.
Fans can track down comic books (''My Little Margie" and "Margie's Boyfriends") and paper dolls. TV magazines of the time usually featured an article on Gale Storm or on the series.
"My Little Margie" remains one of the best-loved television shows of all time despite the fact that it isn't in wide circulation on television these days. Collectors trade tapes of the shows-dealers sell tapes of the shows and fans hold this series in their hearts and cherish every precious moment. There are no longer shows like My Little Margie and that's most unfortunate.
--Ron Baker
---
---
THE EPISODES
---
I-REVERSE PSYCHOLOGY premiere episode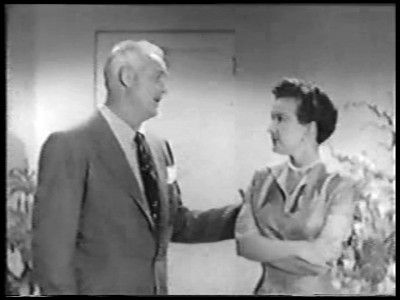 Margie uses a book on reverse psychology to get Vern to drop Roberta, and he uses it to get her to dump Freddie. But they each think their scheme has backfired when they all end up on a train to Greenwich. Margie and Freddie are on board to stop Roberta, whom they see carrying a wedding gown (for her boss), from eloping with Vern; Vern overhears them and thinks they're about to elope.
Mildred: Eileen Stevens
---
2-A FRIEND FOR ROBERTA 6/16/52
To get Roberta away from Vern, Margie tries to arrange for her to meet the famous opera star she's crazy over, and about whom she and Vern have been arguing. But the man thinks it's Margie who's infatuated with him.
Anzio Piazza: Douglas Dumbrille
Warnock: William E. Green
Announcer: John M. Kennedy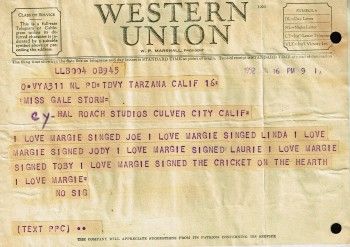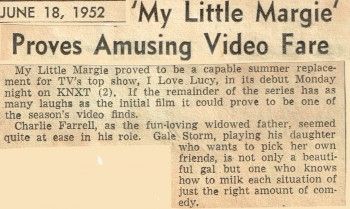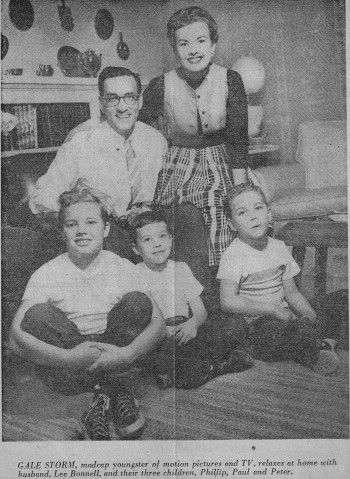 ---
3-RADIOACTIVE MARGIE 6/23/52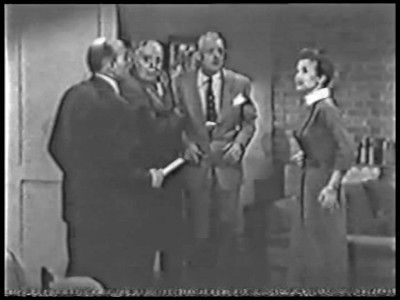 To make Vern believe Freddie has gumption, Margie gives Freddie a fake letter claiming there's uranium on property his aunt left. Freddie then demands a job from Vern, who finds out what Margie's done and, to get even, tricks her into thinking there's uranium in some dirt she dug up behind their building.
with: George Pembroke, Peter Leeds, and Bob Carraher
---
4-MARGIE SINGS OPERA 6/30/52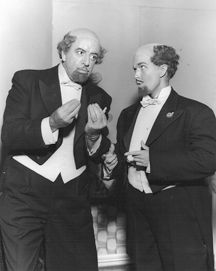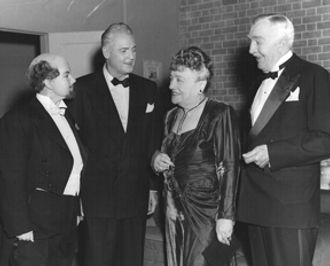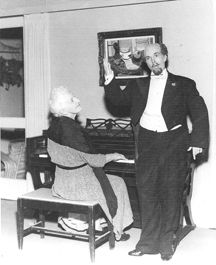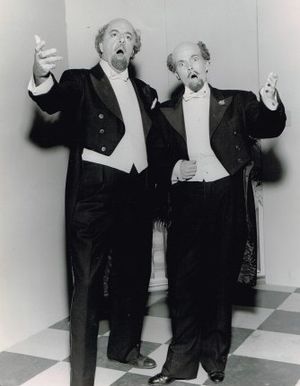 Vern is losing a client to a rival who throws lavish parties with entertainment. Margie meets a famous opera singer through a friend, and invites him to a party to impress the client, but at the last minute he cancels, so Margie dons a bald wig and beard, inflates herself and becomes a male opera singer.
Mrs. Stegmuller: Florence Bates
Branchetti: Fortunio Bonanova
Ginny Clark: Gloria Eaten
Tom Clark: Marshall Bradford
---
5-MARGIE'S SISTER SALLY 7/7/52
Vern wants Margie to go out with an old friend's son who's in town. Seeing his photo as a homely child, she becomes a gawky little kid, in clothes borrowed from the eleven-year-old for which she babysits. But when the young man turns out to be handsome, Margie has to pose as the little girl and her older sister. Vern tells him what's going on and they decide to teach her a lesson.
Norma Jean: Sheila James
Wesley Chariot, Jr.: Ron Randall
Boy: Tom Mann
---
6-COSTUME PARTY 7/14/52
To get Vern to go to a costume ball, Honeywell and Margie plant a news item that Roberta will be going with a big game hunter of whom Vern is jealous. But a thief also reads the guest list and decides to rob all their apartments.
Frank Craig: Roy Roberts
Jimmy Potts: William Newell
---
7-MARGIE PLAYS DETECTIVE 7/21/52
After Margie promises to be good so Vern will take her on a trip to Havana, confusion reigns in the Albright appartment--Freddie's sneaking around trying to find his hat, Mrs. Odetts leaves a power of attorney paper there and her grandchildren are snooping around trying to find it, and along with clients, Honeywell, and Roberta, there's nothing but misunderstandings for everyone.
Mrs. Maderra: Poppy Delvando
Mr. Maderra: Fortunio Bonanova
Maurine: Gloria Talbot
David: Malcolm Mealey
---
8-INSURANCE 7/28/52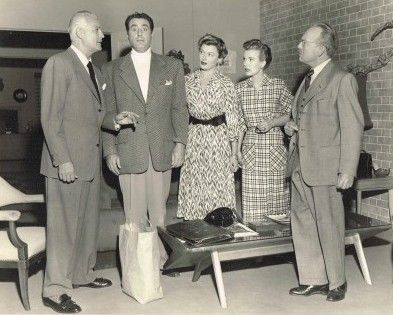 When Vern's doctor tells him to get in better shape, he walks home from the office and claims he doesn't want dinner. Margie thinks he's broke and goes to some extremes to help him out.
---
9-MARGIE'S MINK   8/11/52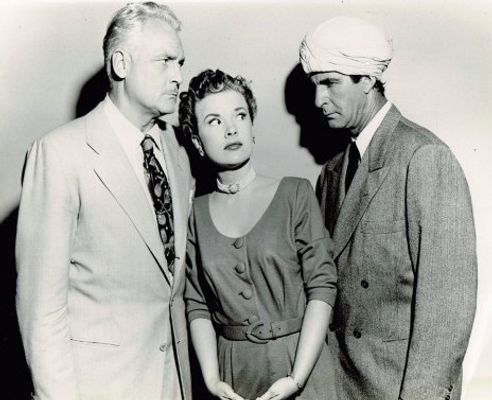 A post office error results in Margie's new bathing suit being delivered to a U.N. delegate from Arabia, and she get's his package, a mink coat. She tries to show Vern that she isn't a little girl anymore by pretending the man sent her the coat, and when she meets the diplomat he wants to add her to his harem.
Sajid Naeif: Victor Milan
KalifWhadi: Saul Gorss
---
10-EFFICIENCY EXPERT 8/18/52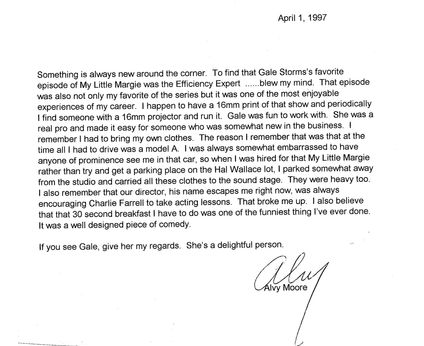 Vern prods Margie to find someone ambitious and affirmative, so she teaches him a lesson by dating Honeywell's nephew, an obnoxious efficiency expert who is driving everyone at the office crazy. Roberta sees the plot and tells Vern, who retorts by welcoming the guy as his son-in-law. Both Vern's and Margie's stubborness almost results in a wedding, until Margie asks her dad to be her 'Mom' for a few minutes so that they can get Vem to be the one to give in.
Dillard Crumbly: Alvy Moore
Betty Fuller: Charmienne Harker
---
11-THE HOODED VERN 8/25/52
To meet a handsome FBI man, Margie poses as an exotic spy. When he discovers her true identity and tells Vern, they teach her a lesson about playing such dangerous games.
Norman: Richard Simmons
Seven: Otto Waldis
Countess: Teresa Tudor
Bradley: Paul McGuire
Waitress: Dian Fauntelle
---
12-THE CONTRACT  911/52
A pushy suitor invites himself to dinner on the same night that Margie has invited Freddie. Vern agrees to have dinner at the apartment with a female client, since Roberta, who's insanely jealous of the woman, is out of town, but she comes back early. Vern and Margie spend the evening juggling their dates so none will know about the others.
Helen Chaney: Alix Tolton
Bill Watson: Cliff Ferre
Mildred: Eileen Stevens
Cowboy: Sandy Sanders
---
I3-VERN'S CHUMS 9/8/52
When Margie invites Freddie's folks to dinner, hoping to get investment business for Vern, he thinks they're coming because Margie and Freddie must be thinking of marriage. To make them think twice about Freddie marrying into the family, he brings home some show people to annoy them.
Chauncey: Harry Tyler
Tile Dodger: Harry Brown
Stephen Wilson: Harry Hayden
Mrs. Wilson: Lila Bliss
(Don Hayden's real-life parents)
---
14-CONSERVATIVE MARGIE 10/4/52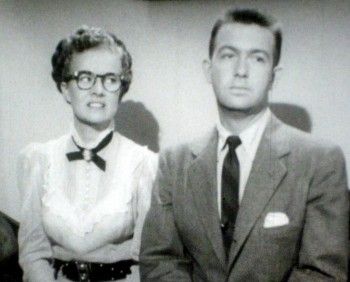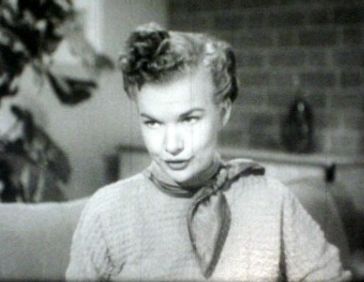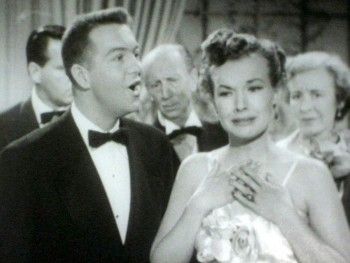 Margie plays it old fashioned to impress Vern's new client who's very conservative. But it works so well that she finds that she's expected to marry the woman's grandson, who's thrilled to find someone like her.
Priscilla Cromwell: Kathryn Card
Cabot Cromwell: Bob Nichols
Woman Guest: Kathleen Mulqueen
---
15-MARGIE'S CAREER 10/11/52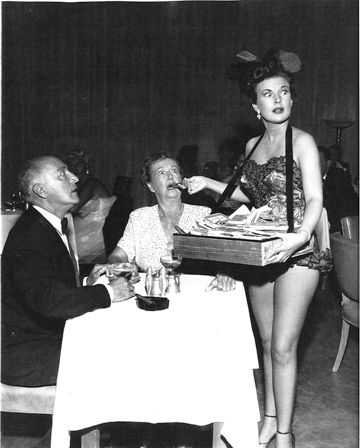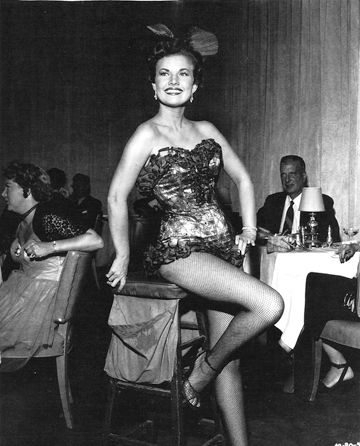 Deciding to be a singer, Margie gets a job at a nightclub, a reputed ganster hangout. To scare her out of the idea, Vern gets an actor to pose as a thug to threaten her, and he'll be there to rescue her. But unbeknownst to Vern, a real gangster chases away the actor, and Vern's dealing with the real thing.
Danny: Edwin Max
Mitch: Bell Cameron
Harry: Ben Weldon
Dancer: Doris Fulton
---
16-VERN NEEDS A REST 10/18/52
To get Vern to go on a Florida vacation with her, Margie makes him think he's falling apart. Her methods include putting lead in his shoes, making him think he has chills and then fever, and finally that he's hearing a talking dog.
Harry: Lucien Littlefield
Trimbel: Emery Parnell
Cobbler: Franz Roelim
Doctor: Sidney Mason
Brannigan: Bobby Watson
---
17-MISSING LINK 10/25/52
Conned into investing in a wrestler who can't get any matches after continuously losing them, Margie thinks up a wild publicity stunt--she and Freddie pose as game hunters and bring back what they found in the wilds-the missing link.
Willie Walker: George Givot
Sir MacGregor: Frank Jares
Edward Killka: Dick Elliott
Toorney: Herb Vigran
First Reporter: Frallk Scannel
Second Reporter: Ralph Brooke
---
18-BLONDE MARGIE 11/1/52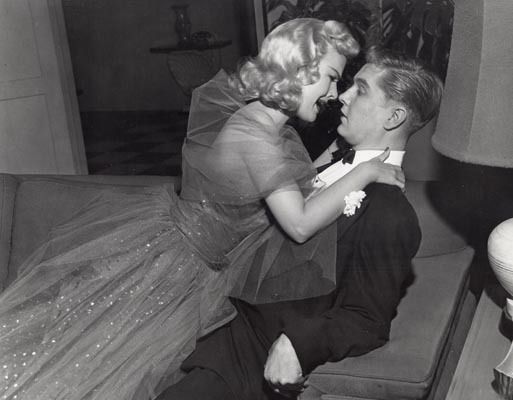 To get Margie to drop Freddie, Vern and Honeywell fix him up with Honeywell's niece to make Margie mad. But she finds out about the plot and decides to test Freddie by taking on the part of the other woman.
Nancy: Angela Stevens
Rocky: Brud Johnson
Waiter: Rodney Bell
---
19-WHO'S MARRIED? 1/1/53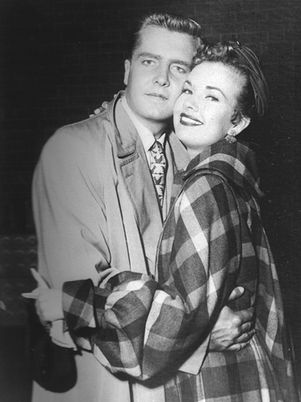 To help Freddie get a job with Vern's new client, who prefers married men, Margie poses as his wife. Vern happens to be at the man's office at the same time, so she pretends to faint to avoid coming face to face with her father. He, along with everyone else, thinks she and Freddie are married and expecting.
Peterson: Paul Maxey
Personnel Man: Jack Rice
Clerk: Fred Sherman
Investigator: Ralph Brooke
---
20-NEW NEIGHBORS1/8/53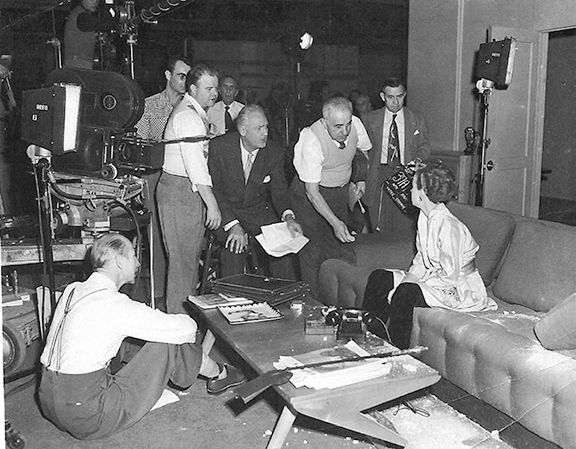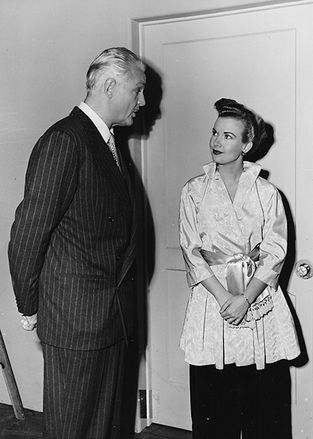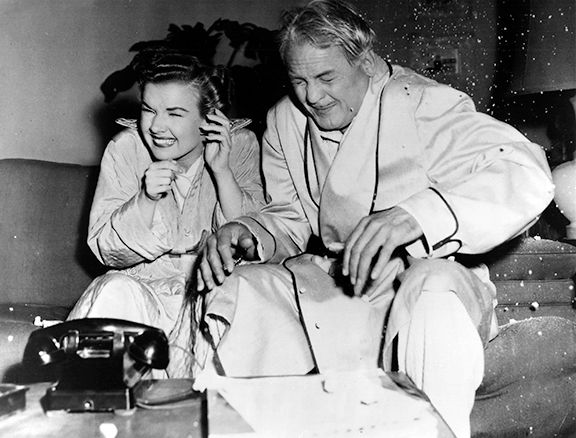 (Photos courtesy of Jon Ramsey)

Todd puts Vern's new client in the apartment above him so he'll be near for Vern to close the deal when he returns from a trip. But the neighbor's noise angers Margie and then Vern, and they fight an all-out war without anyone realizing the other's identity.
Harvey Lane: John Hubbard
Wesley Todd: George Meader
Betty: Barbara Hill
---
21-MOTORCYCLE COP1/15/53
Margie gets a speeding ticket from a young policeman who wants to date her. With Mrs. Odetts she plots to prove her innocence and get revenge on him.
Sgt. Albert Tyrell: Richard Martin
Mechanic: Jack Wilson
Motor Cop: James Punell
Chief Carlin: Jack Rutherford
---
22-THE INDIANS 1/22/53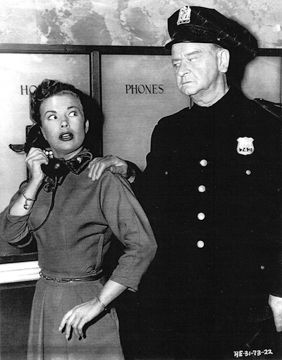 To keep Margie away from Lundstrom, a prospective client, Vern hires an actor as decoy, Lindstrom overhears Margie claim that she can show him real Indians in Central Park, and, curious as to why someone is using his identity, offers to be one of her 'Indians'. Margie finds the truth about the impostor and schemes to get Vern and Honeywell to play Indians too, but it backfires when Freddie has them all arrested for disturbing the peace.
Olaf Lundstroln: E1Brendel
Desk Sgt.: Charles Cane
Will Solenson: Alf Kjellin
---
23-THE TWO LIEUTENANTS 1/29/53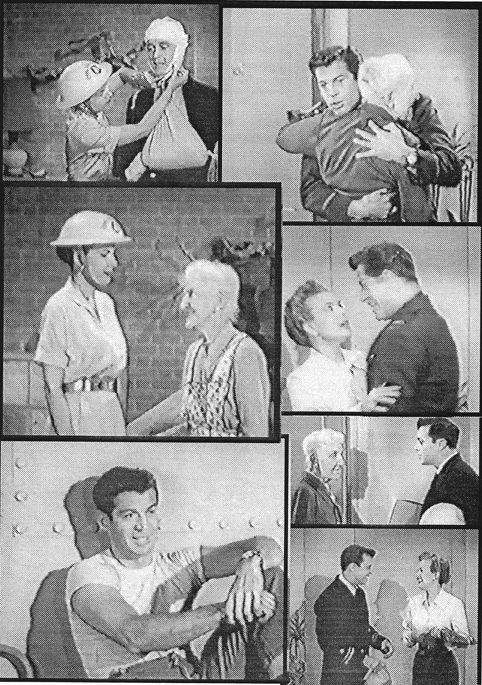 Mrs. Odetts has been sending letters to servicemen,signing Margie's name and enclosing her pictures to cheer them up. Now two of the men want to meet her in person when they're on leave.
Lt. Ralph Brooks: George Nader
Lt. Harvard Alien: Chris Drake
---
24-HOLLYWOOD TRIP 2/5/53
Chaperoned by Mrs. Odetts, Margie goes with Vern to Hollywood, hoping to be discovered. She presents herself as an acrobat, and Mrs. Odetts as a clown, to the director of a circus epic, who gets even by pretending he wants to make her a star--and plots to make stardom a nightmare for her.
Andre Duprez: Fritz Feld
Dead Eye: Jiln Bannon
Vail Ness: Welter Wolf King
Asst. Director: John Close
Trapeze Girl: Helene Hayden
---
25-HILLBILLY MARGIE 2/12/53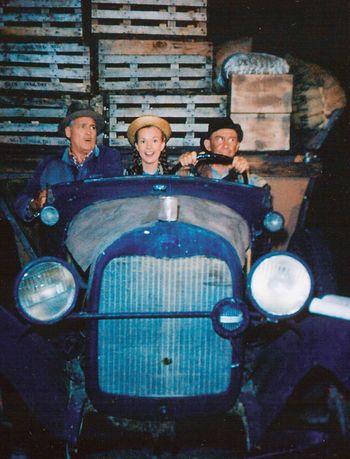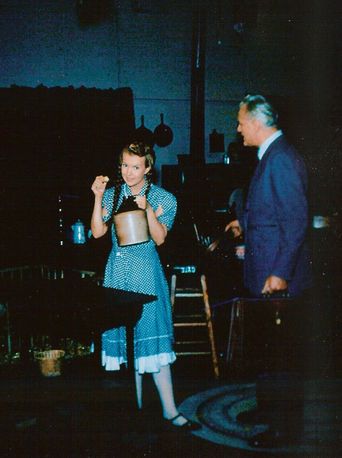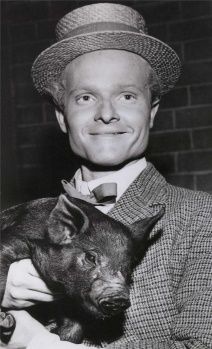 Bob Easton as Luke Tolliver visits Margie
Vern and Margie pose as hillbillies in mountain country to gain the confidence of some hillbillies who've been willed stock that Honeywell and Todd needs for control of a company.
Carruthers: Charles Halton
Luke Tolliver: Bob Easton
Paw Tolliver: John Dierkes
Zake: Roscoe Ales
Ellie Mae: Virginia Rose
Grandma: Noru Busch
McGrew: William McCormick
---
26-HYPOCHONDRIAC 2/19/53
Margie can't go to Paris when Vern's client backs out of a deal be cause her grandson is always sick. He's just a hypochondriac, so Margie pretends to be even sicker than he is, so he'll view himself as healthy.
William Apperson: Robert Nichols
Mrs. Apperson: Myra McKinney
Bradford: Lyle Latell
Miss Sherman: Joanne Jordan
---
27-CRY WOLF 2/26/53
Vern refuses totake Margie on a trip to Mexico, so she hires a press agent to make it appear she's involved with a famous playboy. Vern finds out and hires an actor to pose as the play boy, unaware that the real one is in town.
Tex Malloy: Gordon Jones
Indian: John War Eagle
Cowboy: Bill Hale
E. Thomas Grant: Herb Vigran
---
28-HOMELY MARGIE 3/5/53
Vern tries to discourage an unsatisfactory suitor for Margie by claiming she's homely. She goes along with it but drops the disguise to win the man's attention by posing as her cousin Carolyn.
---
29-TRAPPED FREDDIE 3/12/53
When Vern catches Margie trying to set the clock back after coming home hours late from a date with Freddie, he makes a deal with her: promise not to see Freddie for a whole month ad she'll get a new car. But it's a little hard to explain when Freddie is discovered outside on Vern's balcony.
---
30-VERN, THE FAILURE 3/19/53
Vem, depressed after a class reunion because all his friends are presidents and he's only a vice president, makes the mistake of moaning to Margie about it. Determined to get him promoted, she convinces Todd that their biggest competitor wants him, but Vern thinks it's a genuine offer, and quits after an argument with Todd over the offer. To get him his job back, Margie poses as an important client and demands to deal only with Vern.
Todd: George Meader
Staub: Emory Parnell
---
31-STOCK CONTROL3/36/53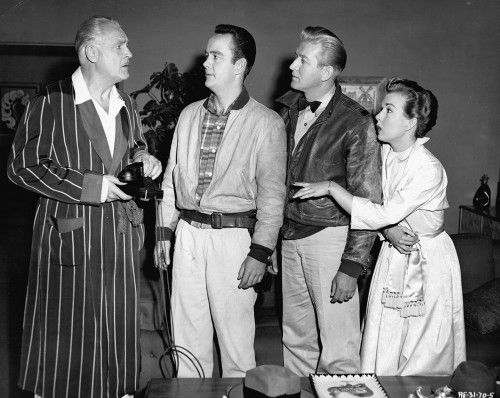 Out of the blue, Freddie is hired by an investment firm to buy up a certain stock, of which Margie has been given 100 shares by Vern. Honeywell & Todd are after the stock too, and whoever gets her shares will have control of the company, so Margie decides to make the most of her sudden power.
Reynolds: Thurston Hall
Perrott: William E. Green
---
32-BURIED TREASURE 4/2/53
The Albrights find that the country house they bought sight unseen is a dump, miles from nowhere. Vern loves the peace and quiet, and to keep Margie there he arranges for her to find a phony treasure map. Margie digs for the loot and runs headlong into adventure-complete with real gansters.
Todd: George Meader
Lefty: Rick Roman
Mailman: Paul E.Burns
Joe: Joe Devlin
---
33-THE GOLF GAME 4/9/53
Margie thinks Honeywell will hire Freddie if he can bring in a client they can't get to. The man in question loves golf, so Margie concocts a plan to make Freddie look like a great golfer, with a dog who retrieves golf balls.
Konkle: Herbert Heyes
Harrison: Carlo Tricoli
Richard Kipling
---
34-THEY ALSO SERVE 4/~6/53
On a trip to sign a bad-tempered client, Vern's hotel reservations fall through. With no rooms in town, he and Margie take a job as maid and butler to have a roof over their heads, and come face to face with his client.
J.R. Johnson: Douglas Wood
Hotel Clerk: Fred Sherman
Emily Chandler: Queenie Smith
Tom Chandler: Ray Montgomery
Charles Chandler: John Eldredge
---
35-THE NEWLYWEDS 4/23/53
Margie's advice to the newlywed neighbors, "Don't let jealousy break up your marriage," leads to a fierce argument between the couple, whose fighting is so loud that it disturbs the whole building. Vern tries to help them patch it up, but the more he and everyone else tries, the worse it gets for them all.
Ralph Brooke: George Nader
Dick Calkins: Robert Neil
NorIna Calkins: Gloria Henry
---
36-TO HEALTH WITH YOGA 4/30/53
To meet the author of a bestselling book, Margie claims to be from his hometown, and her little fib leads to tall shenanigans.
Prof. Ambrose: Tom Browne Henley
Caduer: Betty Finley
---
37-YOUNG VERN 5/7/53
Vern's feeling old because Roberta is seeing a younger man. Margie has a barber dye his hair, eyebrows and moustache while he' s asleep in the chair, and gets a young female friend to express interest in him--but it works too well.
Suzanne Filbert: Jacqueline Duval
Joe: Alphonse Martell
Francois: Pepi Lenzi
---
38-A HORSE ON VERN 5/14/53
Margie's newjob as a newspaper reporter is at stake because of a horse that isn't there!
Bob Porter: George O'Hanlon
Don Hadley: Harry Lauter
Mr. McAliister: Jack Rutherford
---
39-GIRL AGAINST THE WORLD 5/21/53
No one will produce Freddie's play because it's too unbelievable, so Margie, Freddie and Mrs. Odetts perform the melodrama as a real life situation for Vern and his new client, who is a producer.
George Shuck: Robert Lowery
---
40-MRS. MARGIE CALKINS 5/28/53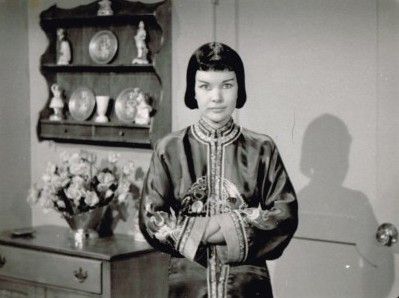 Margie poses as her newlywed neighbor's bride to ward off a vindictive old flame, while Vern reluctantly occupies the real wife. When the old flame finds her ex-boyfriend's wife so friendly, she decides to move into the building, and Margie, Vern, Freddie, Roberta and the new husband scheme to get her out.
Dick Calkins: Robert Neil
Nonna Calkins: Gloria Henry
Hazel Miller: Tracey Roberts
---
41-VERN'S NEW GIRLFRIEND 6/4153
When a gold-digging blond sets her sights on Vern, strange things begin to happen.
Saundra Fleming: Joan Shawlee
Carlton: Keith McConuell
This episode was co-written by Jim Bullock and Bob Raff under the name of Robert James
---
42-FATHER'S LITTLE HELPER 6/11/53
Margie talks Vern into letting her help in a race with Honeywell to sign a land deal with a Texas couple, who are actually swindlers. Overheruing Margie's plot, they play along and Vern ends up in hot water, as usual, but Margie saves his job and the company's money when she learns the truth. Mr. Hawkes: Andrew Tornbes
Mrs. Hawkes: Gertrude Graner
Miss Hanson: Dian Fauntelle
---
43-DELINQUENT MARGIE 6/18/53
Mrs. Odetts wants to buy a hot rod--she wants to enioy her money while she's still young! But her money is tied up in a trust fund and she tries to make her banker think she wants $6000 for a young girl who's in trouble from gambling. Margie gets Vern's unwitting help in the scheme, and he ends up punched in the face by the banker, who thinks he's a racketeer threatening Margie.
Bill Bronson: John Hubbard
Car Salesman: Dick Cogan
---
44-A MOTHER FOR VERN 6/25/53
Margie dresses up as Vern's mother to win over a client who's about to sign with his competitor because she has so much in common with the man's mother.
Lady Franklin: Florcnce Hates
Betty: Barbara Hill
Charles Franklin: Robert Edgecomb
---
45-FREDDIE'S FORMULA 7/2/53
Veltl promises to take care of a client's prized white cat, but when Vem puts it in their aparlment,Margie thinks it's a stray and she and Freddie use it to experiment on Freddie's new invention-permanent, unremovable hair dye.
Emily Lanehelm: Nonna Vardee
Clerk: Ted Stanhope
Bob Spaulding: William Frambes
Girl: Jackie Park
Delivery Man: Charles Hall
---
46-THE TRUCK DRIVER 7/9/53
A young truck driver rams Margie's car so he can ask her out, but Honeywell and Vern fear he's a fortune hunter, so she tests him by pretending to be broke. The man is actually Honeywell's client, president of a big corporation and his advisor gives him the same warning, so he pretends to be broke too.
Buck Foster: Robert Keyes
Bensen: Paul Maxey
---
47-MARGIE'S HELPING HAND
7/16/53
When Margie asks Vern for an advance on her allowance to pay a charity pledge she owes, he reprimands her for not taking care of those obligations immediately, so she sets out to prove she really does want to help people.
With: Roy Roberts, Edmund Penney, Doll McArt and Ed Dearing.
---
48-DOUBLE TROUBLE 7/23/53
To dissuade Margie from going along on a trip to South America, Vein hires an actor to court her. But she finds out and outsmarts him by using the actor and his twin brother to make Vern think he's going out of his mind.
with: Eugene Bordcn and John Mylong
---
49--A PRESENT FOR DAD 9/2/53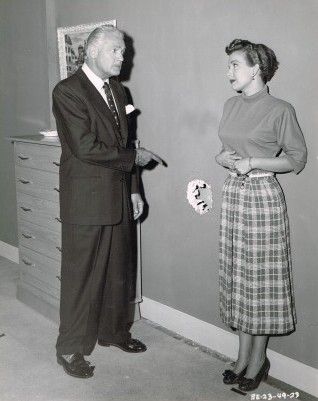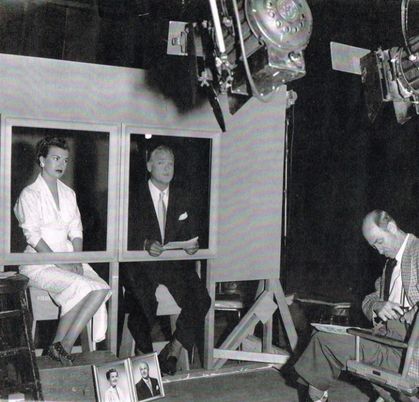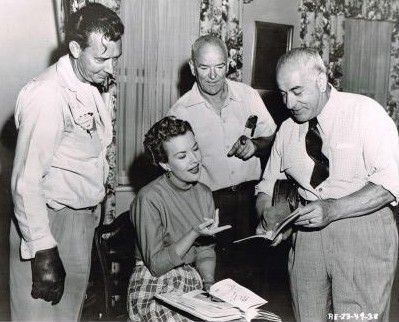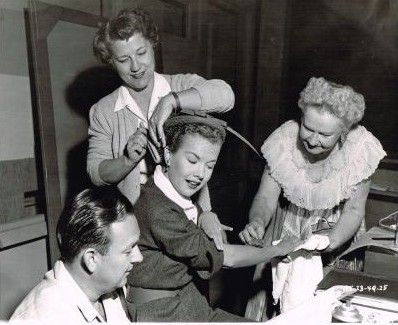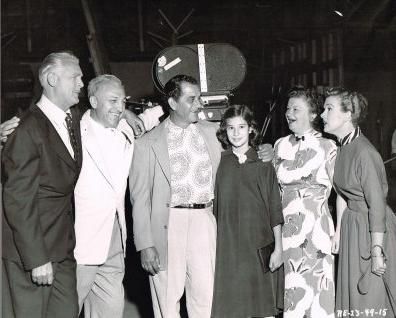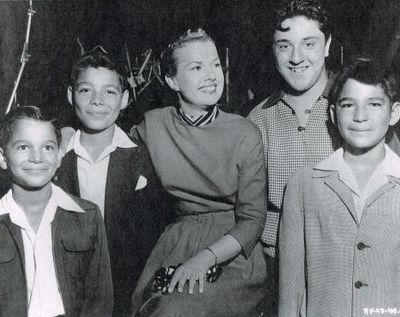 While showing Margie how to safely handle firearms, Mrs. Odetts accidentally shoots a painting of Margie( as a little girl) off the wall, solving her problem of what to get Vem for his birthday. She gets an artist to do a portrait of her if she pretends to be in love with him to impress an old friend; and Vern, suspicious one night when he finds she's not with Freddie as she claimed, follows her to the phony love scene and thinks she's having an affair.
with: Eugene Borden and John Mylong
---
50-CAMPUS HOMECOMING 9/9/53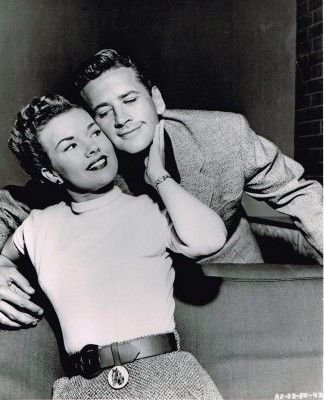 Vern goes to a reunion at his college, hoping to get some business from the dean. He brags to Margie about how dignified he and his pals were in their day, but she finds out differently and decides to teach him a lesson, re-enacting a prank that he and some friends once pulled on the Dean.
with: Cliff Ferre, Douglas Wood, Emery Parnell, Charles Meredith, Jill Jarmon, John Smith, and Bob Carraher
---
51-A DAY AT THE BEACH 9/16/53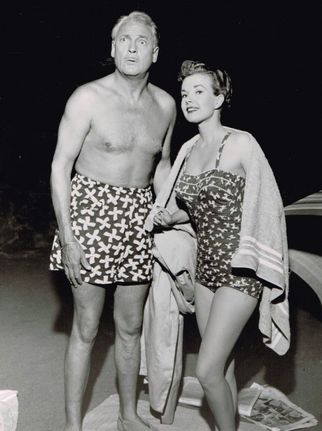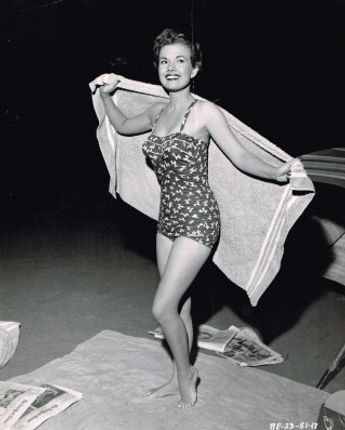 Margie convinces Vern to take a day off` and join her at the beach, so he calls in sick. A lady client, who wants to check up on him, finds him there and he brags about what a carefree and irresponsible guy he is, unaware of who she is.
with: Kristine Miller, George Wallace, Henry Kulhy, Crystal Reeves and Stephen Wooten
---
52-MY LITTLE BOOKIE 9/23/53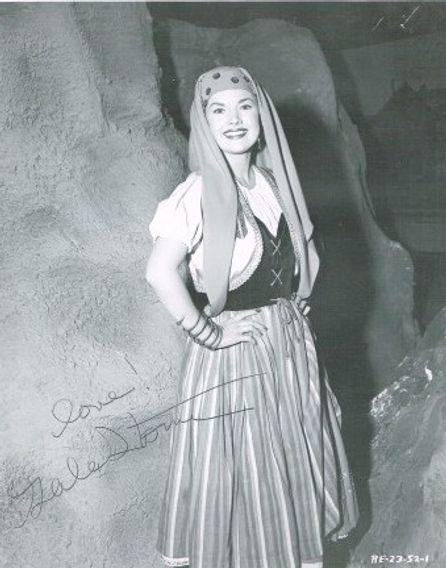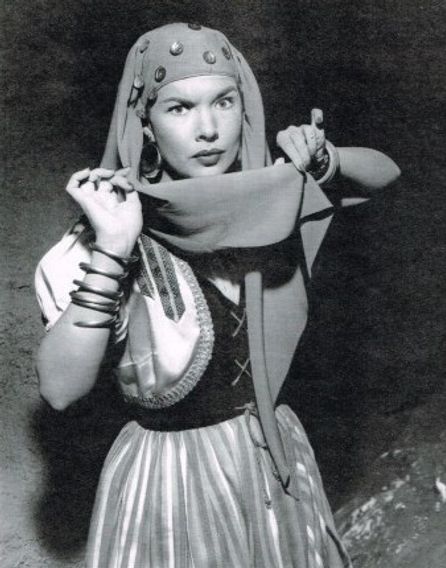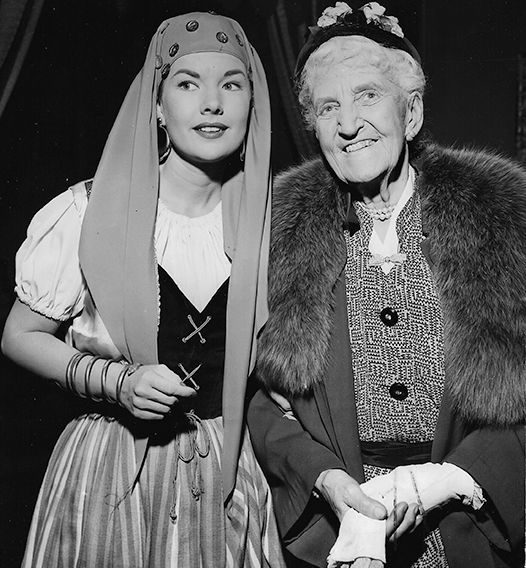 (Photos courtesy of Jon Ramsey)

Afraid Margie will want a new sports car, Vern doesn't tell her he got a bonus, but tells her he's in danger of losing his job so she'll economize. She tries to help by pretending she's a bookie, but it ends up in a mess when a real bookie shows up.
with: Katharine Card and Murray Leonard
---
53-GO NORTH, YOUNG GIRL 9/30/53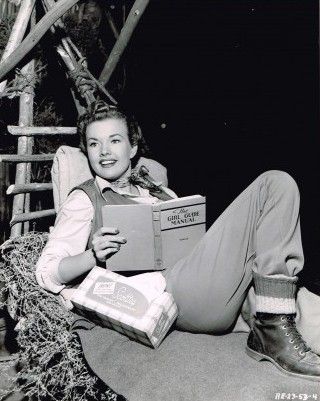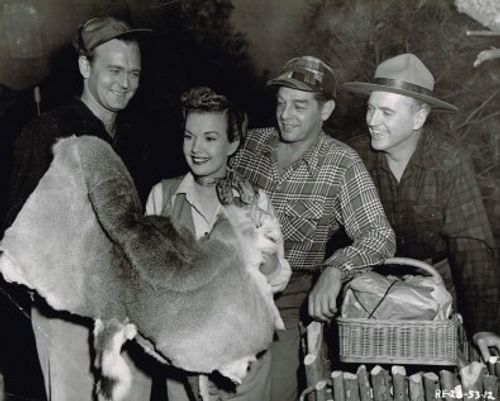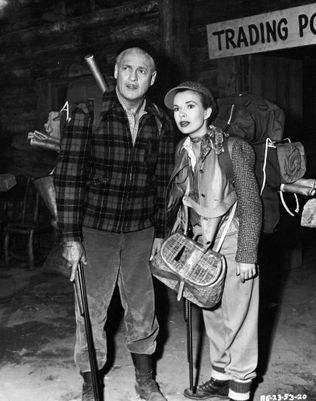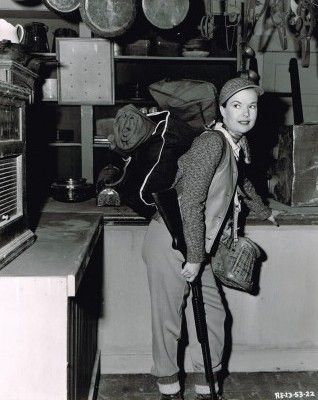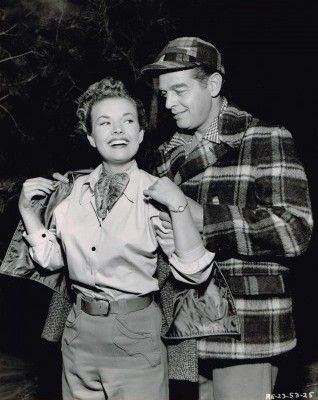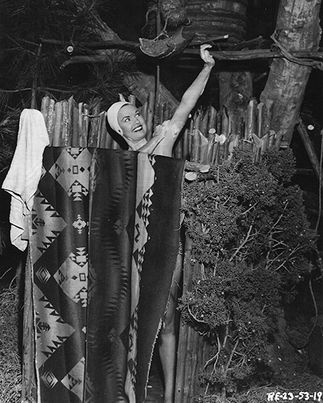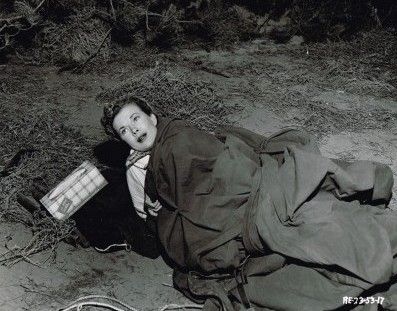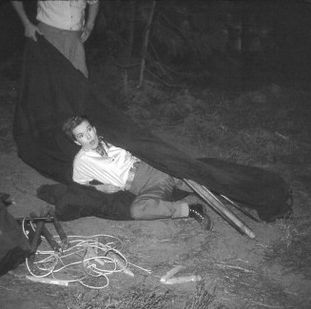 (Photos courtesy of Jon Ramsey)
Hoping to discourage Margie with the ruggedness of camping, Vern says that if she can last a week on a Canadian hunting trip, he'll take her to Hawaii. She counters by getting three admirers to do all her work and make her look good.
Steve: Robcrt Lowery
Tom: Dick Simmons
Hcndcrson: John Halloran
Woman: Belle Mitchell
---
54-MARGIE, THE WRITER10/7/53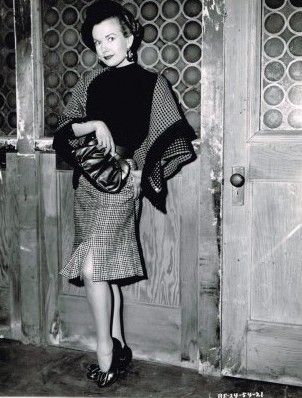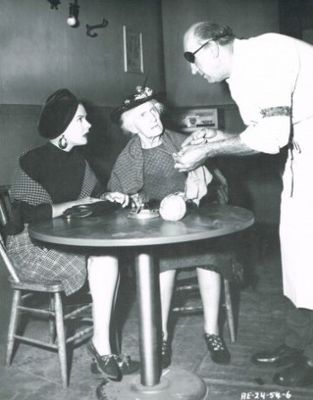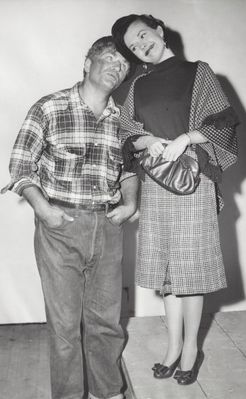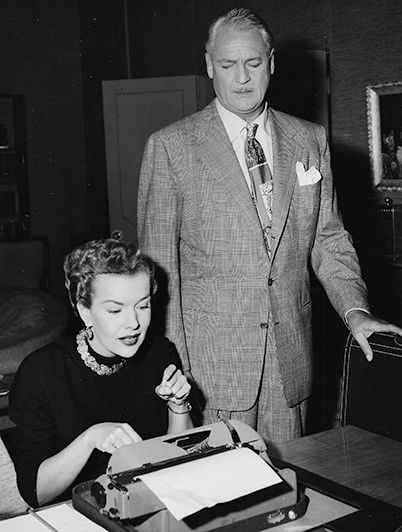 (Photo courtesy of Jon Ramsey)
Vem gets Margie out of the way by interesting her in being a writer. But when she poses as an amnesia victim and goes to police headquarters as research for her book, Vern's attempts to stop her end him up in hot water with Honeywell and the police commissioner.
With: Charles Evens, Lou Nova, Frank Richards, Paul Newlan, Crystal Reeves
---
55-MY LITTLE CLEMENTINE 10/14/53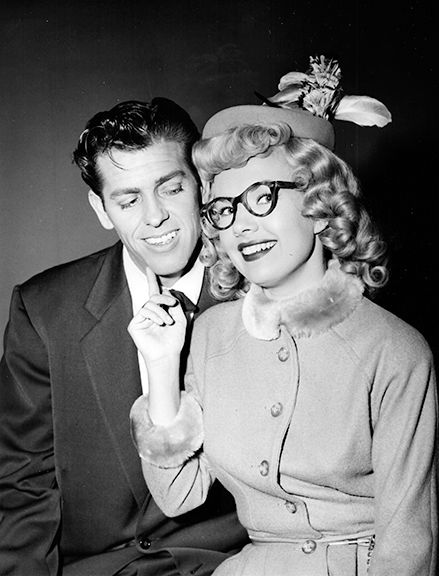 (Photo courtesy of Jon Ramsey)

After Vern turns down Margie's request for a job, her long lost lookalike cousin arrives looking for work. Vern hires her, thinking it's Margie in disguise, and plans to get even. When Margie finds out, she lets him think he's right.
Bill: James Brown
---
56-THAT'S THE SPIRIT 10/21/53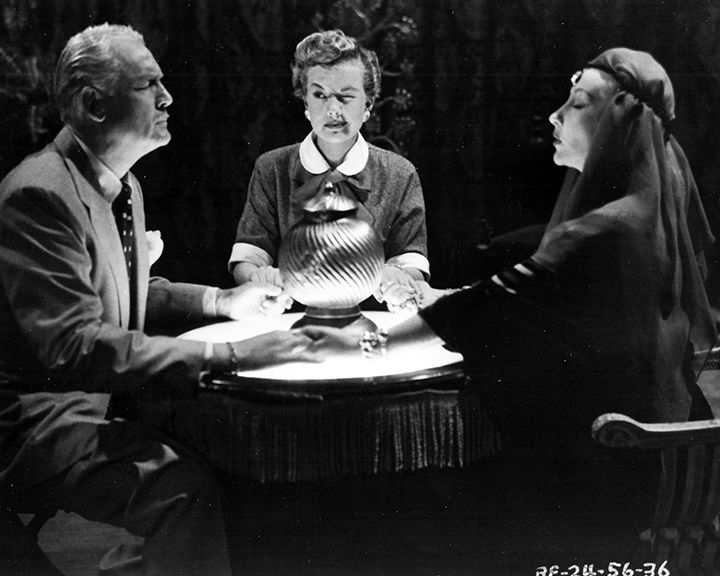 (Photo courtesy of Jon Ramsey)

Wanting Vern to be more aggressive with Honeywell, Margie takes him to a seance where the spirits (Mrs. Odetts) encourage his assertiveness. When Honeywell finds his way to the same spirits, through a misunderstanding he's told to fire Vern.
With: Theresa Tudor, Lucien Littlefield, and Charles Cane
---
57-MARGIE'S PHANTOM LOVER 10/28/53
To keep Margie from entering an auto race 300 miles away, Vern and Honeywell dream up a romance, sending her gifts from 'Bright Eyes', a secret admirer. Determined to find out who he is, Margie gets involved with Vern's new client, who, intrigued by her phone voice, pretends to be the admirer.
William: Rip Callahan
DeWitt: Russell Hicks
Betty: Crystal Peeves
---
58-MARGIE'S BABY 11/4/53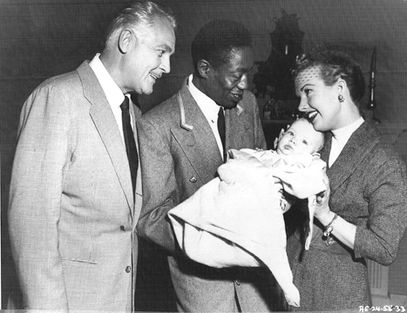 A new client's daughter, who ran away years ago to marry an artist, doesn't want heroil man father to know about her husband and baby. Margie agrees to take the baby for awhile, and is forced into a pretense that it's her own baby, keeping it secret from Vern by using Mrs. Odetts' apartment.
Mr. Haley: Paul Maxey
Charlie:  Willie Best
Lynn: Jill Jarmon
also: Olan Soule and Deborah Ann Farrell
---
59-A SLIGHT MISUNDERSTANDING 11/11/53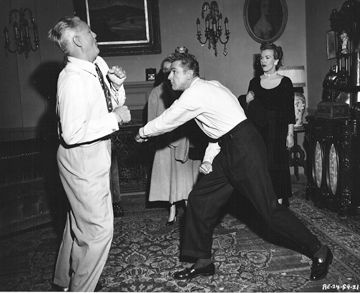 After only three months of marriage, Margie's neighbor feels his wife is taking him for granted. Margie's advice: make her jealous. But their scheme boomerangs when Vern and Freddie think they're having an affair.
Dick Calkins: Scott Elliott
Norma Calkins: Gloria Henry
Mr. Carson: Byron Foulger
---
60-VERN'S SECRET FISHING PLACE 11/18/53
Vern always wins the annual fishing tournament, and this year Honeywell enlists Margie's aid to sidetrack him, promising her a mink coat and a week off for Vern, To win over a client, an avid fisherman, Margie says she knows a secret fishing place, and has to convince him of her story's
validity.
---
61-COMEDY OF TERRORS 11/25/53
With Vern as foreman, a jury convicts a gangster, who warns, "My boys will get you." Margie's so worried she won't even let Vern leave home, so he sneaks out to meet a client. Margie and Freddie set a trap, and end up catching Vern, a timid client who's brought a gun for protection, and a private eye hired to protect Vern.
D.A Man: Lyle Talbot
Client: Lorin Raker
Private Eye: Dick Wessel
Freddie's Friends: Lee Turnbull and Alan Arle
---
62-WHAT'S COOKING? 12/2153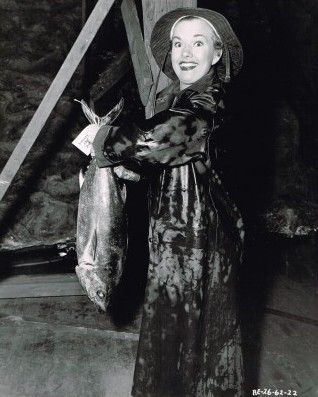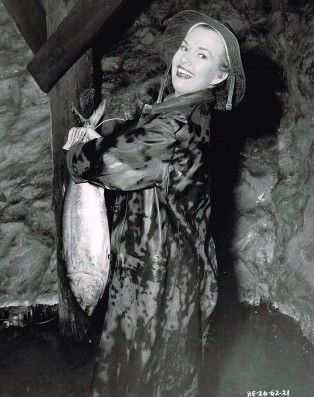 Margie invites disaster when she lets Freddie cook dinner for Vem's prospective client. He's now selling cookware through demonstration dinners, and Margie doesn't know that the client is a competitor of Freddie's firm, and his assistant is a brawny woman who is a bitter enemy of Vern's client.
Crater: Thurston Hull
Betty: Dian Fauntelle
---
63-VERN'S TWO DAUGHTERS 12/9/53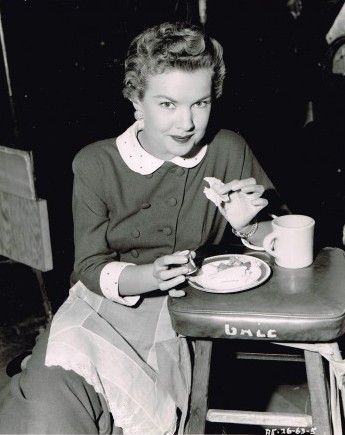 Although Vern promised years ago to introduce Margie to a client's son when he came to town, Honeywell doesn't want them to meet; so, Margie is sent out of town and Roberta reluctantly takes her place. Suspicious, Margie comes back and gets even, posing as sister 'Helen'.
With: Craig Hill and Claude Allister
---
64-CHUBBY LITTLE MARGIE 12/16/53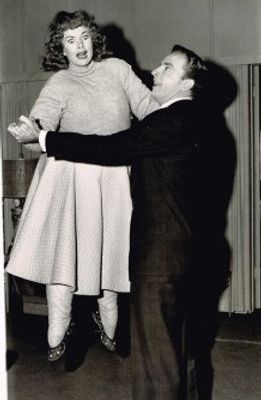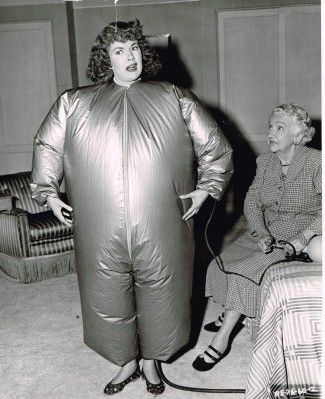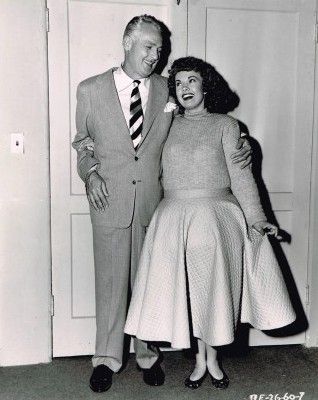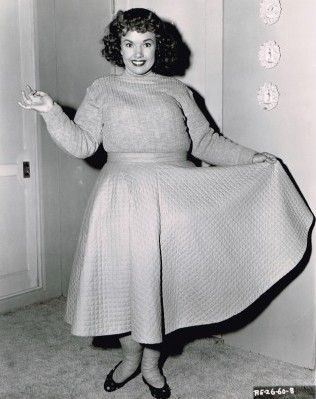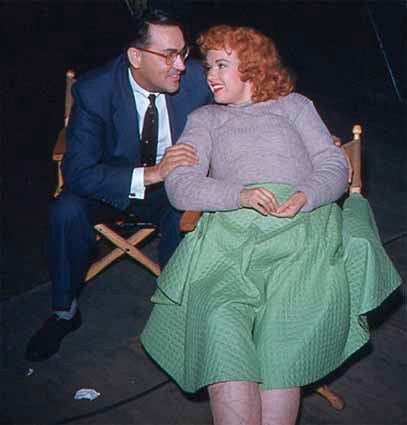 (Photo courtesy of Jon Ramsey)
When Margie is coerced into breaking a date with a Marine to date a client's son, Mrs. Odetts' wacky sister helps her become obese by inflating her dress with helium so the man won't want to go out with her. The scheme backfires when her date turns out to be handsome, and the Marine's been called back to duty.
With: John Stephenson
---
65-MARGIE'S MILLIONTH MEMBER 12/23/53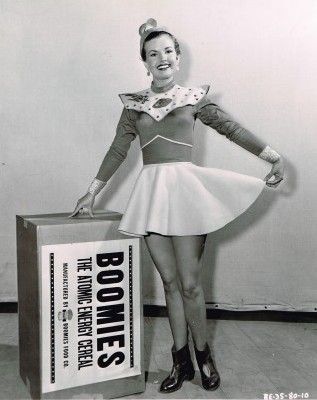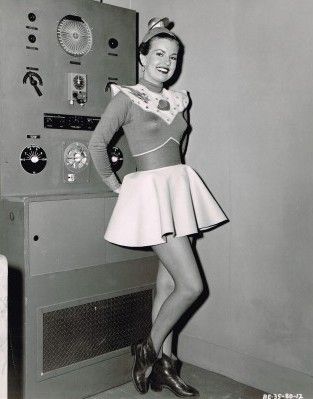 Margie's notified by a kids show that her son Vern is the one millionth member of the Stratosphere Scouts. She goes along with it to give the prize to needy children, and then has to produce her son for the sponsor, who is one of Vern's prospective clients.
With: Ralph Dumke, Roger Pace, Paul Maxey, David Saber, and Bill Sheldon
---
66-MEET MR. MURPHY 12/30/53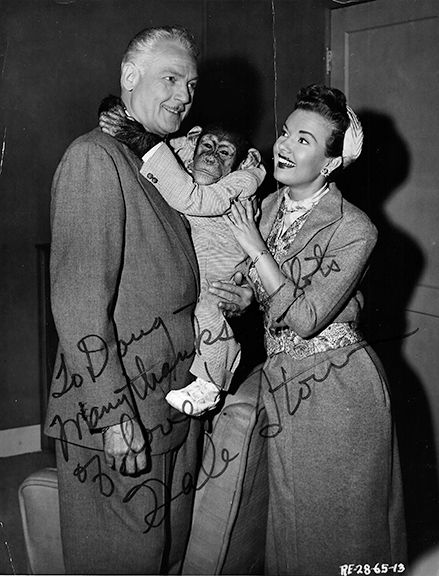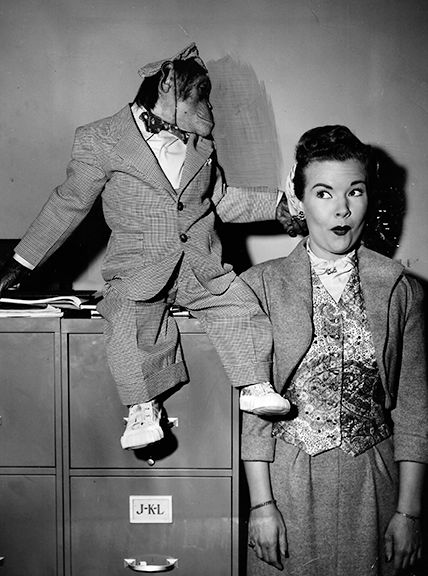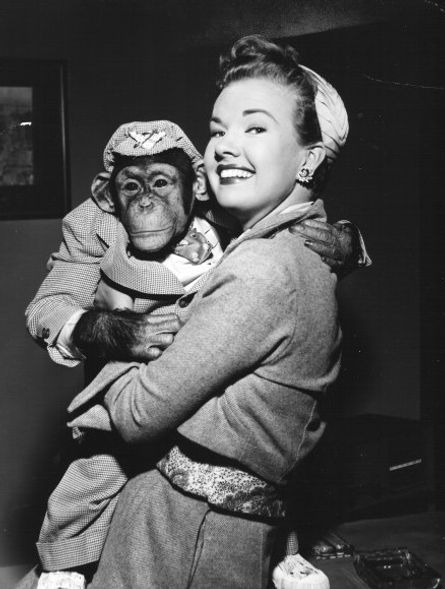 (Photos courtesy of Jon Ramsey)
Vern is so angry when he learns that Margie is taking care of a chimpanzee, that she doesn't get the chance to tell him it's for his client, who's making a jungle movie. He pays Freddie to kidnap the chimp, and when he squeals to Margie, she has him go through with it to teach Vern a lesson. The chimp then escapes from Freddie.
With: Richard Garland, William Forrest, Dian Fauntelle, Cindy the Chimp
---
67-VERN GETS THE BIRD 1/6/54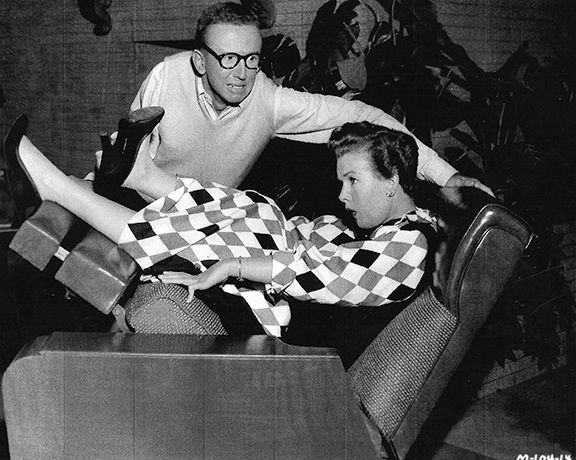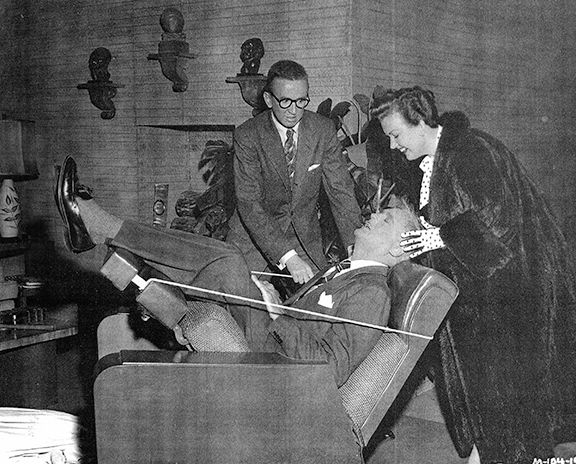 (photos courtesy of Jon Ramsey)

Vern is losing a client who wants to sell his business to travel the world for his hobby--birdwatching. Margie becomes a bird lover to attract the man into staying around long enough for Vern to get him to sign a new contract.
Havey Woodruff: Alvy Moore
---
68-VERN RETIRES 1/13/54
Concerned with Honeywell's , Vern says he can't retire, but when expressions of concern cause the loss of a new client who doesn't think Honeywell can last long, he quits after an argument with his boss. When he goes crazy with boredom, Margie plots to get him back his job.
Betty: Dian Fauntelle
Mr. Morton: Harry Hayden
David Webster: Edward Clark
---
69-HEALTH FARM 1/20/54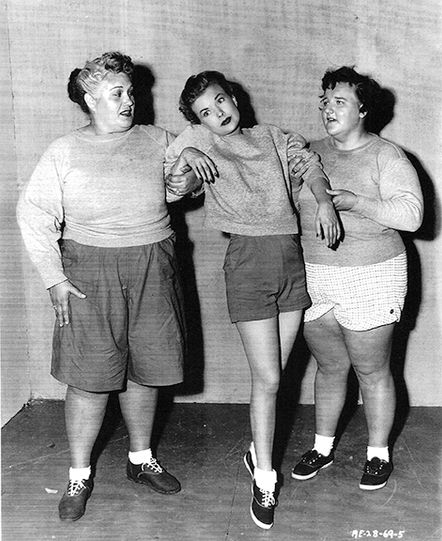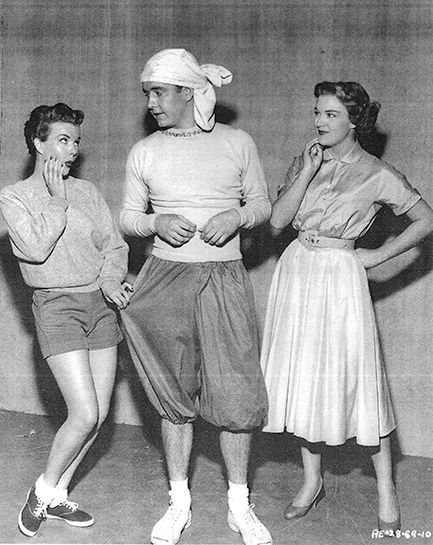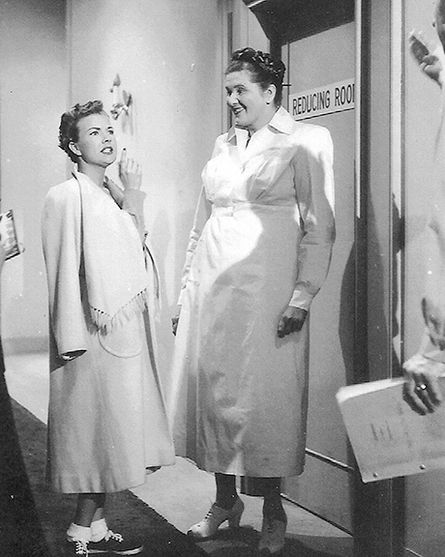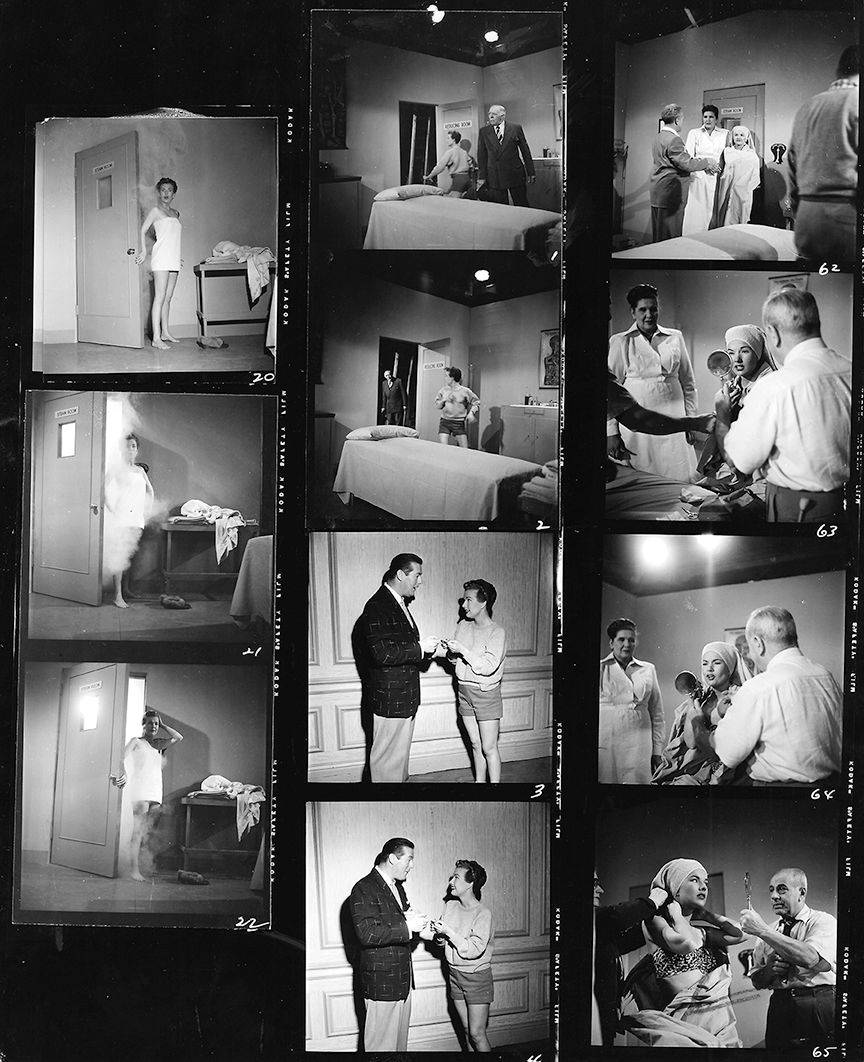 (Photos courtesy of Jon Ramsey)
At a health farm where lots of rich women go, Margie switches identities with a friend who wants to be sure that a man she met, who works there, isn't a fortune hunter. Using Margie's name, she's caught in a gambling raid. Vern is called by police, and then by the girl's suitor, asking for Margie's hand in marriage. He and Freddie rush there, and Margie has them detained by a huge nurse so they won't spill the beans about the identity switch.
---
70-DAY AND NIGHT 1/27/54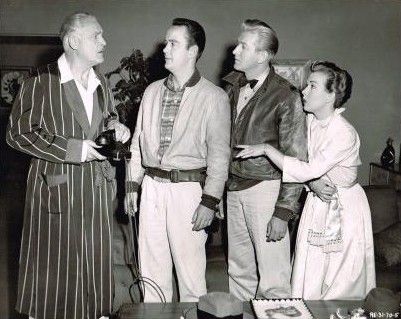 A cranky new tenant threatens to cancel her lease and sue after being caught in the elevator, run by Margie, when it goes wild. Margie plots to keep the landlord away from Vern until she can leave on a planned trip to Sun Valley. She blackens the windows, changes clocks, and does everything she can to make Vern think it's the middle of the night.
Patterson: Lester Matthews
Mrs. Wellington: Myra McKinney
Repairmen: John Hedloe, Bill Sheldon
---
71-MEXICAN STANDOFF 2/3/54
Thinking the Albrights expect to see 'Old Mexico', Vern's client reopens the old homestead. Insulted, his educated son refuses to meet them, but when he gets a glimpse of Margie he poses as his dashing cousin to court her. Later when Vern refuses to leave the house for a dance, he gets some friends to pose as bandits so he'll he scared into wanting, the safety oftown, but it backfires when a real bandit takes over and nobody knows it.
Alfredo: Eugene Iglesias
with: Vincent Padullah, Manuel Paris, and Nacho Galindo
---

72-MARGIE'S MANPROOF LIPSTICK 2/10/54
Freddie tries to sell his new lipstick that lasts three months to Vern's new client, and Margie fouls up the demonstration. Then she kisses all the board members, leaving suspicious marks for their jealous wives, and she refuses to give them the only cream that will remove it unless they buy the product.
with: Ralph Dumke, Gladys Holland, Stephen Bekassy, Leon Tyler
---
73-MARGIE BABYSITS 2/17/54
The Albrights babysit with a client's grandson, a mischievous brat who creates all kinds of havoc. An elderly neighbor helps amuse the boy by playing cops and robbers, but Margie doesn't know that the woman is a notorious hunted robber, who's trying to find an incriminating photo that Margie is unaware she took of her.
with: James Burke, Marjorie Bennett, Frank Jaquet, Kathryn Sheldon
This episode was co-written by Jim Bullock and Bob Raff
---
74-CASE OF THE HELPING HAND 2/24/54
When Honeywell hires a dedicated young man, Vern thinks he's on his way out. The man's only weakness is reading murder mysteries, so Margie and Roberta set up a real mystery of a young heiress escaping from a mental institution, a vicious, gun-toting nurse, and the mysterious 'White Rabbit', whom they lead him to believe is Honeywell.
Perkins : Robert Nichols
---
75-SLEEPWALKING 3/3/54
Margie wants to move to a ground floor apartment, but Vern refuses, so she makes him think he walks in his sleep and it would be dangerous to stay on the tenth floor.
with: Charles Cane, Emil Sitka
---
76-A PROPOSAL FOR PAPA 3/10/54
Honeywell insists that Vern play along when his new secretary, daughter of a new client, falls for him and proposes marriage. Margie pretends to be in love with the girl's father so
she'll see how ridiculous the age difference is, but the old man really falls for Margie.
Muriel: Shirley O'Mills
Muriel's Father: Lucien Littlefield
---
77-VERN'S SON 3/17/54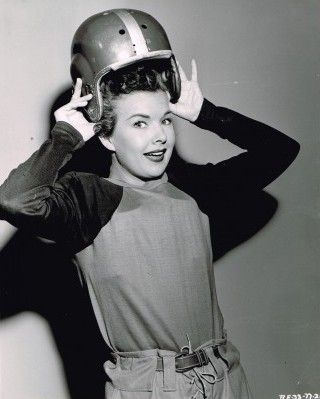 Vent's new client is the son of a man he went to college with, and he doesn't want Margie to meet him so he tells him he has a son. When the client wants to meet this son, Margie gets into the act.
with: Stuart Wade and Wayne Taylor
---
78-DAUGHTER-AT-LAW 3/24/54
When Vern bawls out Margie for staying out late, her new boyfriend, a lawyer, helps her assert her legal rights against her father. Vern retorts with his own lawyer, and each victory breeds a new retaliation.
with: Herbert Heyes, Tom Selden, Gil Lamb, Al Nalbandlan, Eddie Baker
---
79-THE NEW FREDDIE 3/31/54
Vem and Honeywell come up with a new plan to make Margie dump Freddie-they suggest he become a domineering 'cave man' type. But Margie figures out their scheme and turns the tables by pretending she wants to many the new Freddie.
with: Patricia Hitchcock and Jan Kayne
---
80-TUGBOAT MARGIE 4/7/54
Margie inadvertently becomes a stowaway on a yearly Naval Reserve cruise with first mate Vern and commander Freddie, who try to keep her hidden from the several officers aboard the ship.
with: Boy Roberts, Edmund Penney. Don McArt, Ed Dearing
---
81-EN GARDE 4/14/54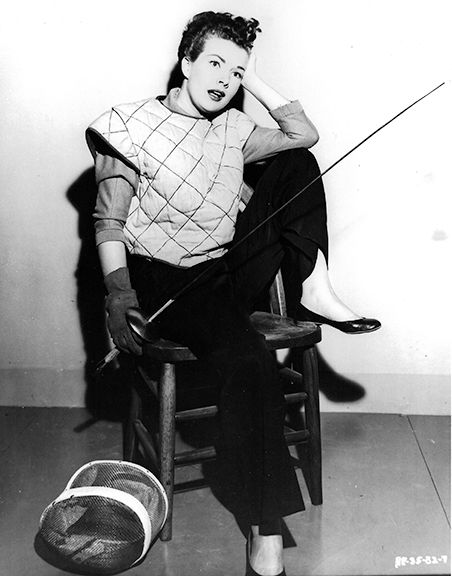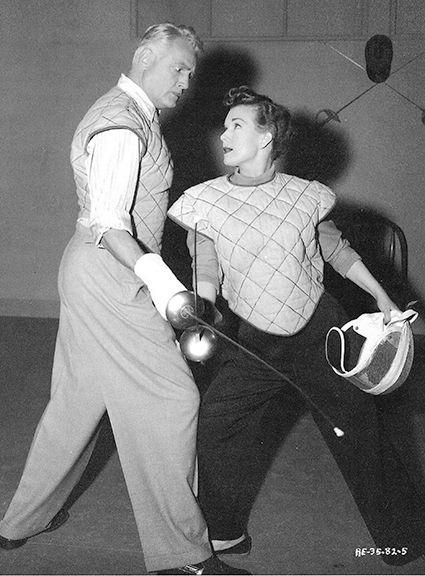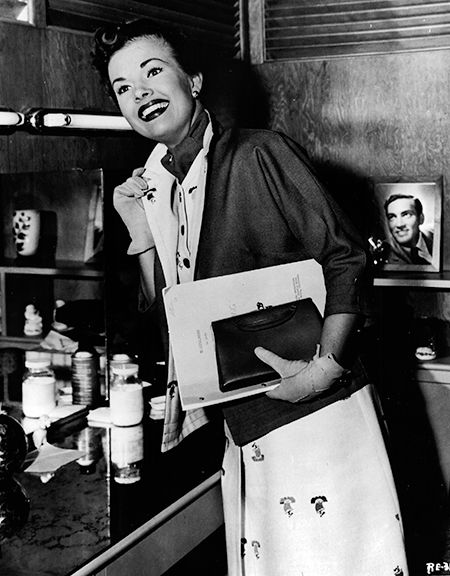 (Photos courtesy of Jon Ramsey)

Vern is neglecting Roberta for fencing lessons, and Honeywell, who wants to see them married so Margie will have a mother who can handle her, hires a dashing Frenchman, an excellent swordsman, to get Vern jealous.
with: Stephen Rekassy. Albert Caven, and Bob Carraher
---
82-HONEYBOY HONEYWELL 4/21/54
Margie decides to get Honeywell married so he won't be such a slave driver at the office. She finds a lady at a lonely hearts club, but when she turns out to be a gold digger, Margie and Mrs. Odetts pose as Honeywell's wife and daughter to get her to leave.
Mr. Kcnt: John Eldredge
Annctte: Jonn Blair
---
83-CARELESS MARGIE 4/28/54
Margie's negligence with money prompts her father to teach her a lesson-with unexpected results.
Manager: Gabor Curtiz
Carson: Charles Meredith
Bank Teller: Joel Manton
Writer: Creighton Hale
---
84-VERN ON THE LAM 5/5/54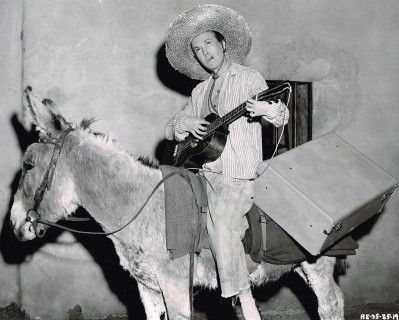 Vern accidentally leaves behind his entry permit on a trip to South America to sign a client. Detained at the border, he flees and begins running, unaware that the commander who's after him. whom Margie keeps tricking and Vem keeps knocking out, is actually the client he's supposed to meet.
Luis Alvedo: Fortunio Bonanova
---
85-MARGIE & THE SHAH 5/12/54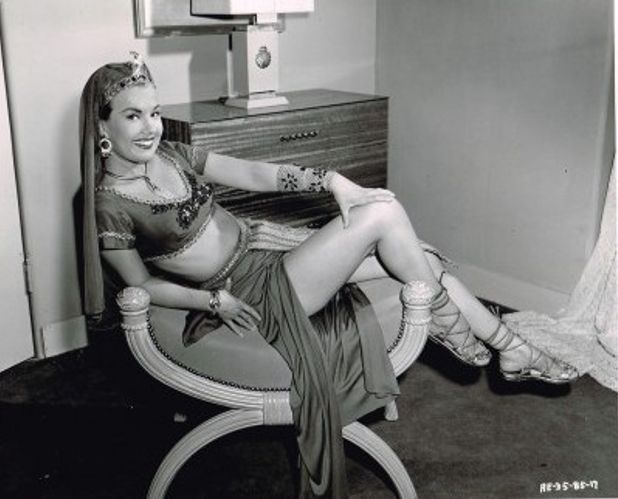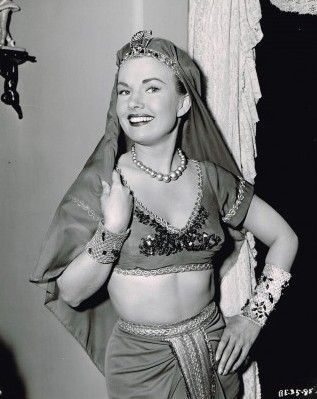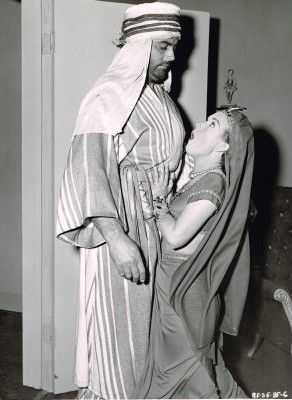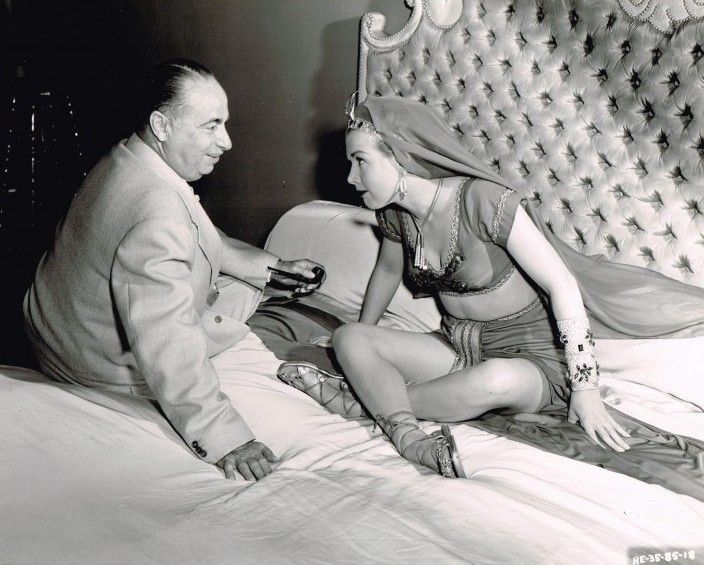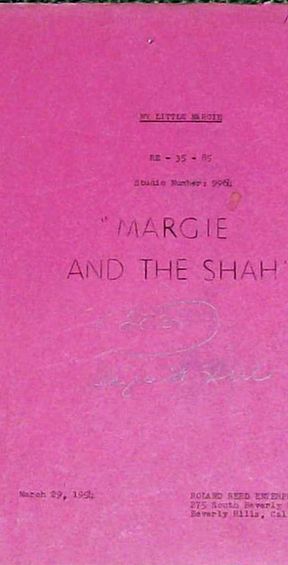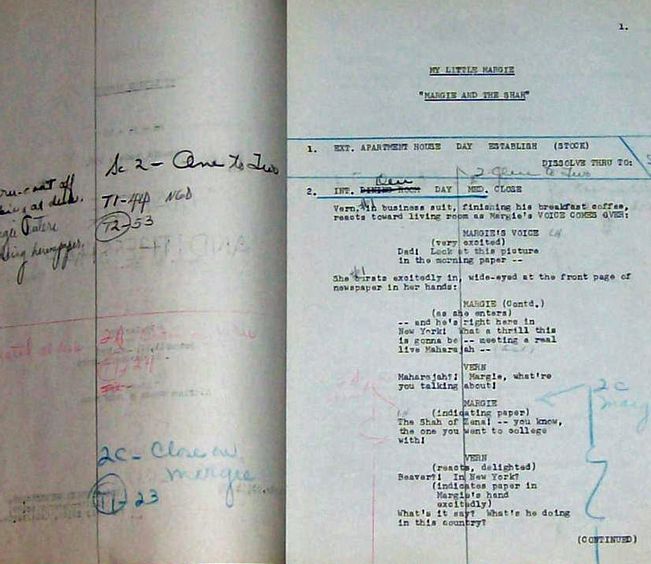 Vern's fraternity brother, the Shah of Zena, arrives in town and Margie is determined to meet him, over Vern's objections. She finds a way to sneak into the Shah's hotel suite.
with: Edgar Barrier, Donna Martell, Henry Corden. Ralph Sanford
---
86-MARGIE & THE BAGPIPES 5/19/54
Margie accidentally breaks the antique bagpipes, a family heirloom, or' McPherson, head of;tn exclusive Scottish lodge, Only one other- person has a set like thcm-Honcywell, who's trying 10 get into the club by flaunting his set, and Margie replaces tile ones she broke with Honeywell's pipes.
McPherson: Andy Clyde
---

87DUTCH TREAT 5/26/54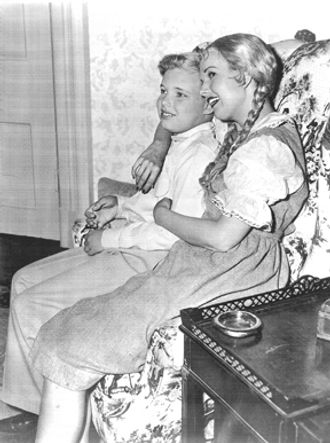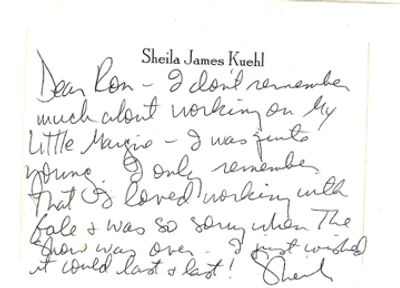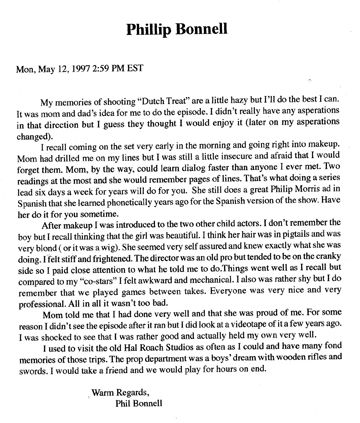 Todd's wile wants a divorce and to rake her money out of the company,
after finding a check written by Todd to a German girl. He explains it was for fare to America for a 12 year old refugee, and when he can't find her to prove it, Margie poses as the immigrant to help Todd out of the jam.
Todd : George Meader
Mrs. Todd : Liz Slifer
children : Sheila James and Phillip Bonnell
---
88-KANGAROO STORY 9/1/54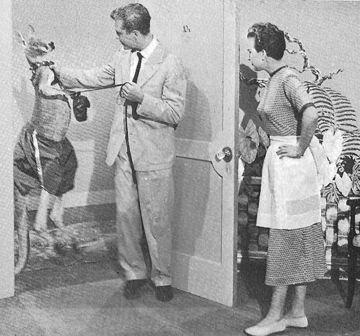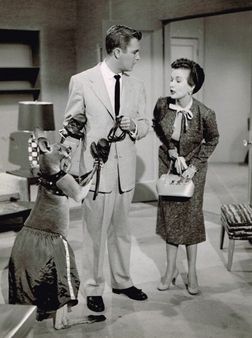 Roberta's out to prove to her visiting father that New Yorkers are sedate, respectable folks, especially the Albrights. But Freddie is caring for a kangaroo in their apartment trying to keep it hidden from Vern-who comes off like a drunk when he claims to see a kangaroo appearing and disappearing.
Mr. Townsend: Irving Bacon
Zookeeper: Donald Kerr
---
89--THE ALL AMERICAN  9/8/54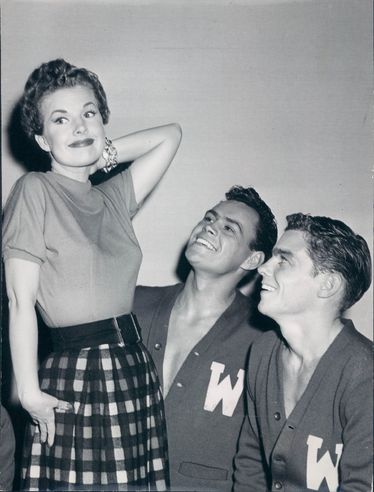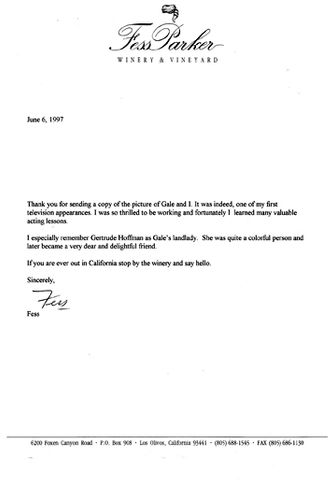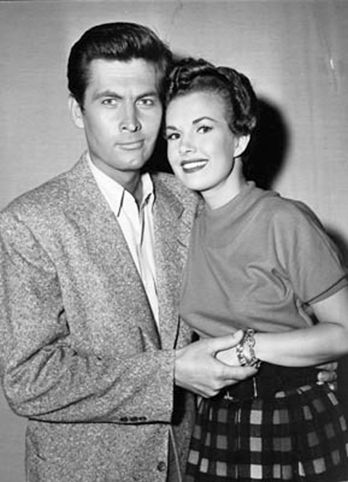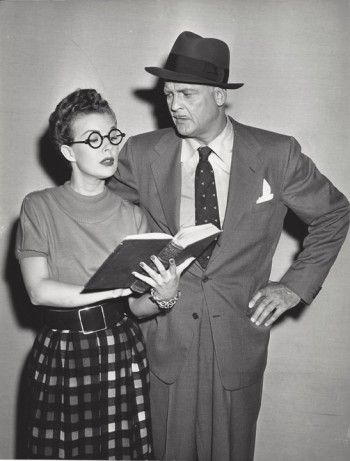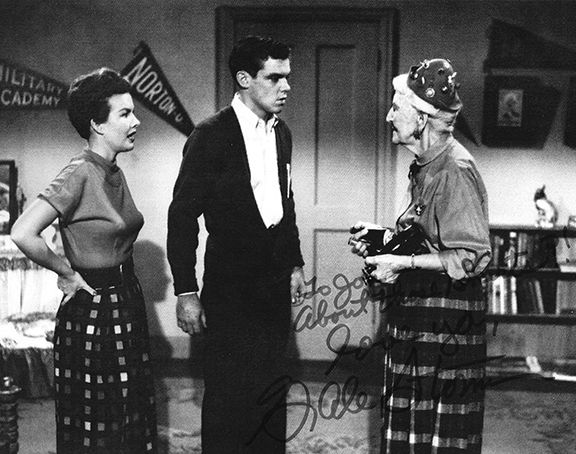 (photo courtesy of Jon Ramsey)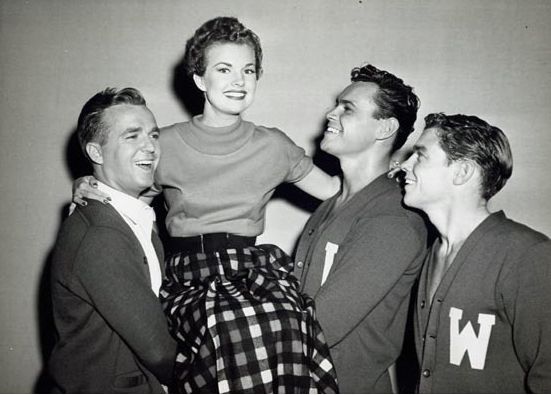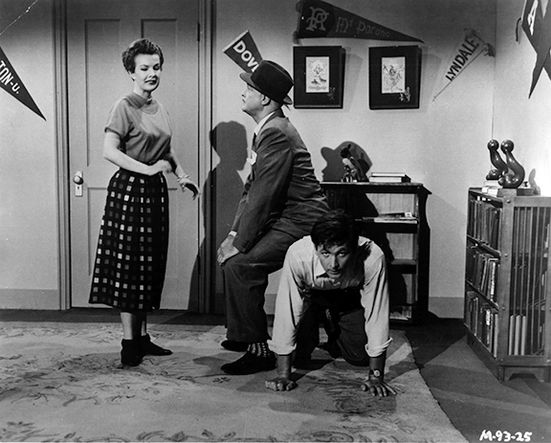 (Photos courtesy of Jon Ramsey)
Vern and the coach from his alma mater refuse to take Margie on a trip to nab all All American football player for the team. While Vern combs the countryside looking for him, Margie finds the young man right in her own backyard
with: Fess Parker, Ed Penney, Pen Chapman, Ed Sweeney, Paul Savage, Pat Flaherty
---
9O-VERN'S GUILTY FEELING 9/15/54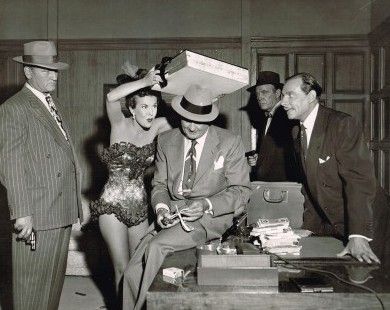 Vern feels he's neglecting Margie since she hasn't come to him lately with her problems, so she concocts a tale about falling for a croupier at a nightclub, who cast her aside. Thinking Vern's going to beat him up, she asks him to go along with her story. He's actually an undercover cop trying to locate marked money, and accepts Vem's offer to reform him by going to wok at Honeywell & Todd, hoping the gansters will filter the money through the firm.
with: Paul Picerni, Byron Foulger, Phillip Van Zandt,
Hugh Sanders, Lyle Latell
---
91-STAR OF KHYBER 9/22/54
Margie has a crush on a private detective and sets out to meet him by helping in his search for a maharaja's stolen jewel. Thinking she's involved in the case, two of the maharaja's enemies search her apartment, leaving Vern tied up in a closet. Meanwhile, she and Mrs. Odetts dress up as East Indian women, and go to a night club where the detective is, hoping to get his attention, and the two hoods overhear them and think Mrs. Odetts has the jewel.
Dick: Tom Avera
with: Tris Coffin, Lucilie Knox,Henry Corden, Russ Conklin
---
92-PARROT GOLD 4/29/54
An eccentric recluse has left his fortune to charity, but Honeywell, trustee, can't find its hiding place. Vern doesn't believe that the man's parrot told Margie it's in a clock, so she and the bird's keeper set out through the house, which is filled with clocks the man collected, to find the right one. The servants conspire to scare them off by making the place seem haunted.
Bob: Roger Pace
Servants: James Hayward,
Maudie Prickett
---
93-REAL GEORGE 10/6/54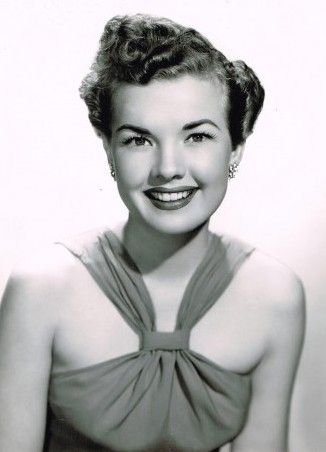 When a young man tries to pick up Margie in a store's revolving door, he ends up with Mrs. Odett's name and starts sending her flowers. Mrs. Odetts is ecstatic and Margie doesn't want her heart broken, so she gets a wealthy Texan friend to play the admirer. Meanwhile, Honeywell, eager for Mrs. Odett's investment money, also poses as the admirer, along with a disguised Vern and an elderly friend of the real admirer.
with: Cliff Ferre, Harry Cheshire, Roy Gordon
---

94-THE DO-GOODER 10/13/54
Vern complains that Margie has become spoiled and selfish, so she goes out to do a good deed. Befriending a distraught woman in the park who thinks her husband is cheating on her, Margie tries to help, unaware that the man is doing a secret mission for the Air Force.
Helen: Shirley O'Mills
Cliff: Jack Kelly
Major Grady: John Hubbard
---
95-CONVENTION STORY 10/20/54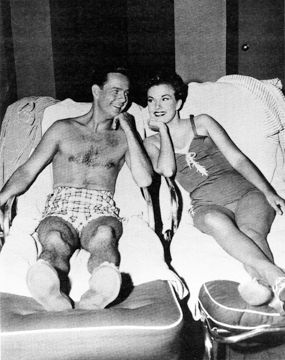 Robert and Margie sneak to a Miami convention where Vern is dating a man's daughter so he'll vote for Honeywell in an election. Not realizing it's all for business, they whip up a scheme to make the woman hate Vern, and when they try to patch things up later, Honeywell's opponent makes things worse.
with: Emery Pamell, Lucille Barkley, William Lechner,Victor Sutherland, Cecil Elliott
---
96-SHIPBOARD STORY 10/27/54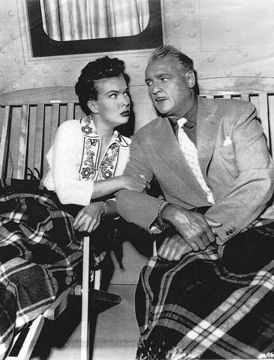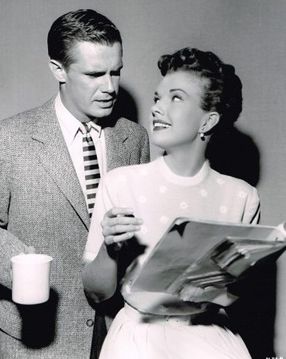 When Vern refuses to take Margie along on a trip to London to settle the estate of a new Earl, she gets a handsome stranger to pretend they are going to elope as soon as Vern leaves. She finally gets to make the trip-but not before everyone concerned wishes she hadn't -- including herself.
with: Roy Roberts
---
97- A JOB FOR FREDDIE 11/3/54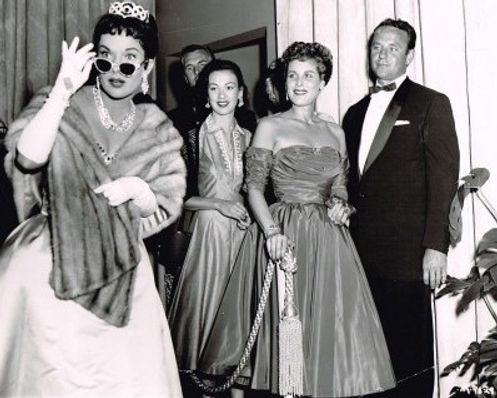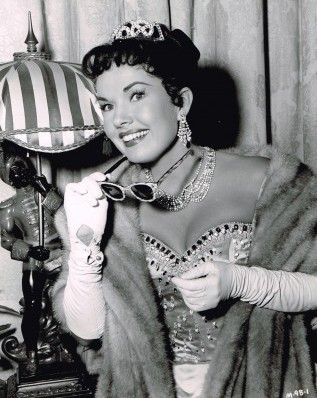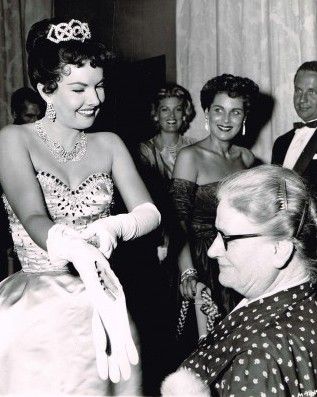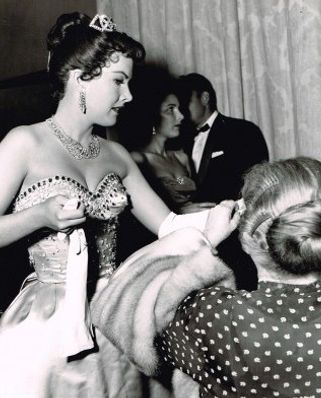 Sick of Freddie mooching off Margie, Vern makes a deal with her: if Freddie holds a job for a week he'll double her allowance; if not she gets none. She gets him a job as a maitre'd by passing him off as a world famous headwaiter, and then has to try to keep him on the job for a whole week.
with: Billy Gilbert, Genevieve Aumont, Maurice Marsac, Herb Vigran, Dee Carroll
---
98-SWITZERLAND STORY 11/10/54
Vem is anxious to close a deal with a client, and Margie locates him in an important chess match in Switzerland. Rushing there, they don't realize that they've actually caught up with the ten year old brother of the man they want, who is actually a mountain climbing champ.
Jonathan Weatherby: Danny Richards, Jr.
Jasper Weatherby: Archer MacDonald
with: Fred Essler, Jack Rice, Douglas Wood
---
99-BIG CHIEF VERN 11/17/54
Her interest in flying lessons has stopped Margie even from wanting to go on a trip to Oklahoma to close a deal with a young Indian chief. To get her mind off the lessons, Vern plants a fake Indian gold mine map in Mrs. Odetts' trunk, and she falls for it in Indian country. When she learns she's been tricked, she turns the tables on her father.
with: Eugene Iglesias, Monte Blue, Chief Thundercloud
---
100-VERN'S WINTER VACATION 11/24/54
Freddie wins a trip to Palm Beach with a phony sob story on "Love Conquers All" and Margie has to pose as his bride so he won't be sued. Then to get Vern to go there with her instead of his planned trip to Bermuda, she feigns amnesia, and when she keeps calling Freddie's name, a doctor says she should go to Palm Beach to see him and it may restore her memory.
with: Peter Leeds, Edward Earle, Helene Fosmore, Ralph Hodges
---
101-SAN FRANCISCO STORY 12/1/54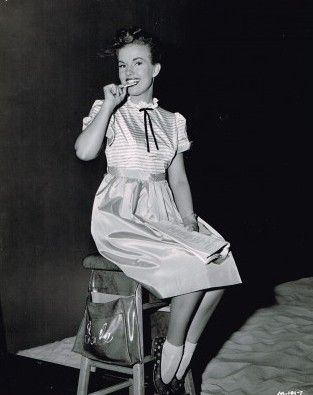 On a trip to San Francisco to win a wealthy Chinese client, Vern's rival cons Margie into helping a young romance that's being thwarted by a family feud, and she doesn't know it's Vern's client's daughter whom she's helping.
Mr. Lee: Keye Luke
Mr. Lang: Richard Loo
Mei Ling: Rico Sato
Worker: Frank Kumagai
Parnell: Emery Parnell
---
102-OPERATION RESCUE 12/8/54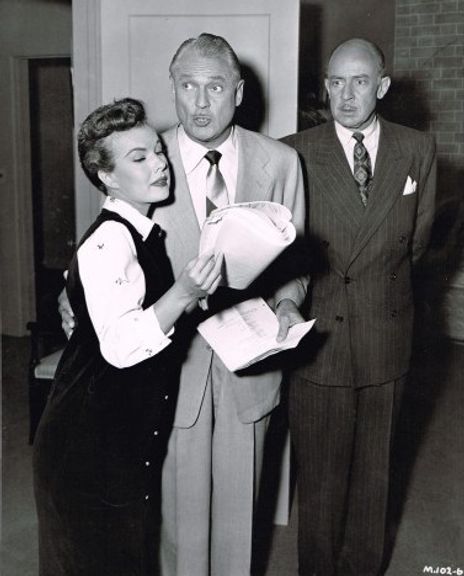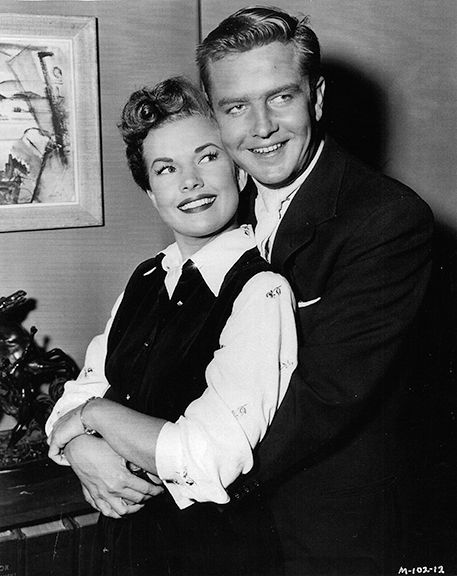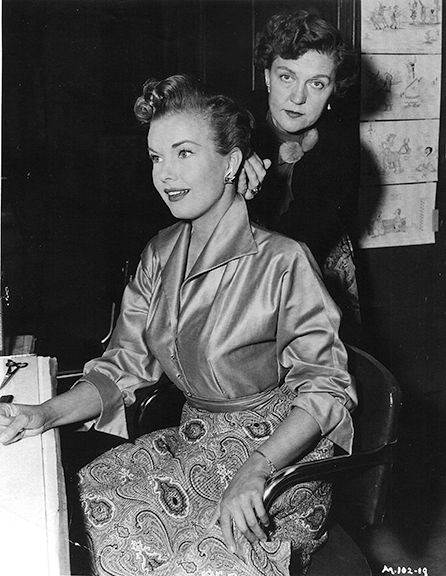 (Photos courtesy of Jon Ramsey)
Back from a trip, Vern's shipboard romance has gotten him engaged. Margie tries to get him out of it by making the woman think his family are a bunch of loonies, but by mistake she goes into her act when a prospective woman client arrives. When she realizes what she's done and later gets the woman to come back, Vern has decided to go along with the insanity ruse.
with: Dorothy Green, Lester Matthews,
Jeanne Gray, Dian Fauntelle, Joanne Jordon
---
103-SUBCONCIOUS APPROACH 12/15/54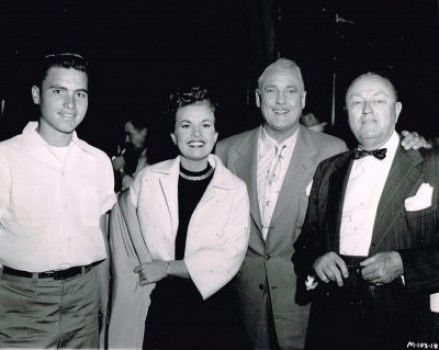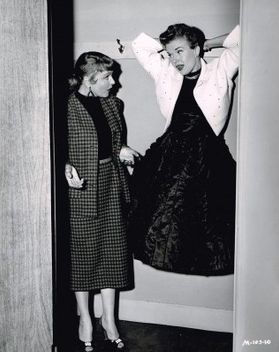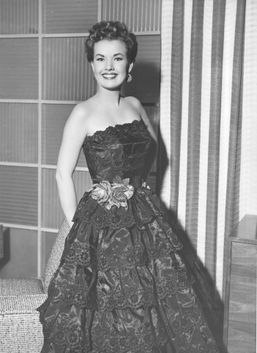 To give Vern subliminal suggestions to say NO to Honeywell, Margie plays some records while he sleeps. Catching on, he pretends he fell for it and was fired, expecting to get back at her when she tries to get his job back by posing as a client who will only deal with Vern...but the real client shows up.
Countess Di Lichtenfeld: Nanette Bordeaux
Detective: Lyle Latell
---
104-THE NEW NEIGHBOR 12/22/54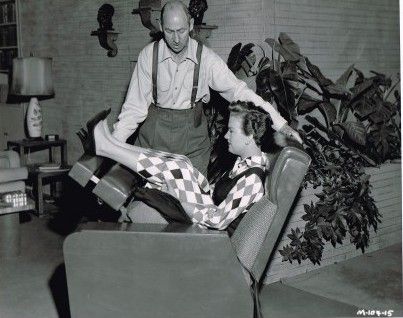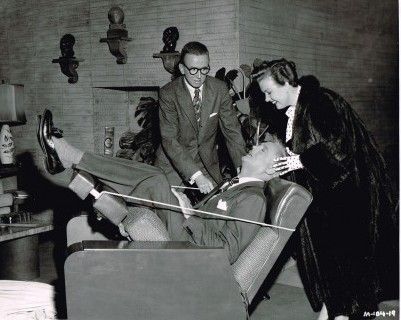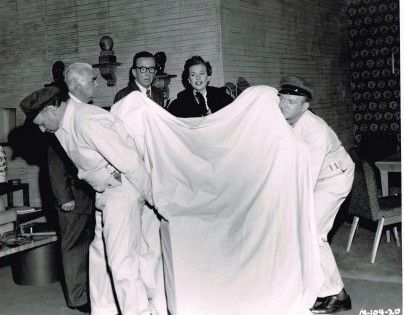 When Margie buys herself a mink coat, Vern tells her to return it or go to work and earn the money to pay for it herself. She takes a job with a neighbor who is an inventor.
with: Charles Smith, Harry Cheshire, William Sheldon
---
105-MARGIE'S CLIENT 12/29/54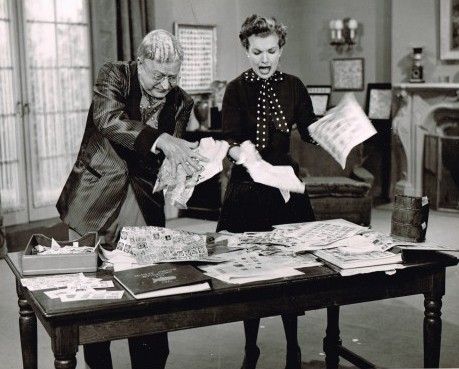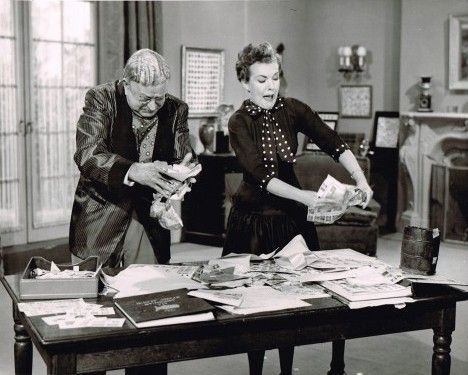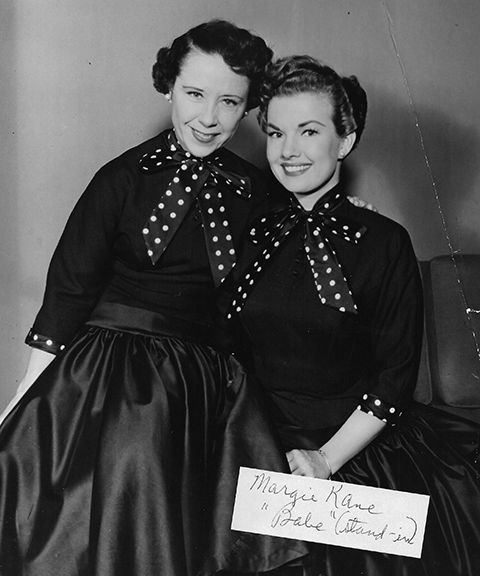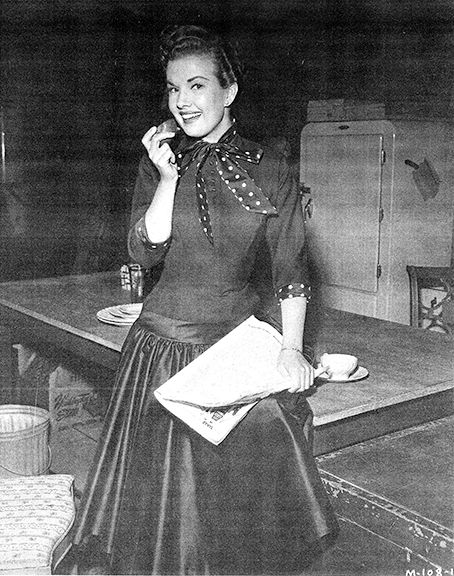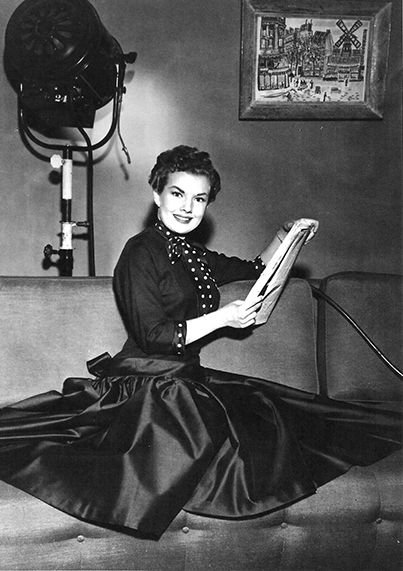 (Photos courtesy of Jon Ramsey)
Vern and Honeywell pretend they want Margie's help in getting a client to renew his contract, hoping she'll cause enough trouble so that he'll cancel, and they can sign his competitor. She manages to infuriate him when she lies about having a rare stamp he needs-and then she manages to patch things up.
with: Dian Fauntelle, Lucien Littlefield, Paul Maxey, Bill Baldwin, Donald Kerr, The Evans Brothers
---
I06-MISS WHOOZIS 1/5/55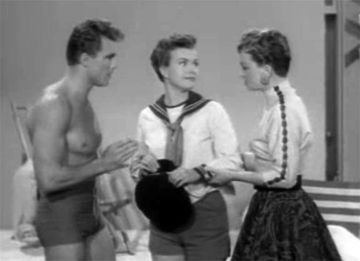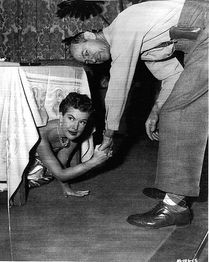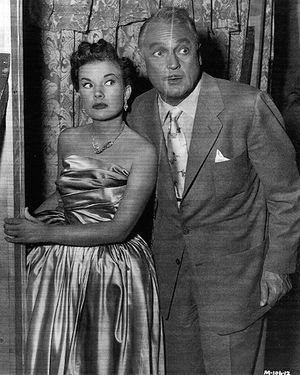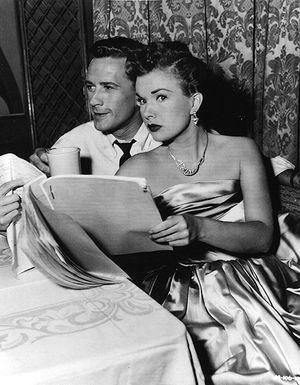 (Photos courtesy of Jon Ramsey)
Margie gets a job modeling a designer's fashions, unaware that he's Vern's client. She gets a crush on the photographer, and to make him notice her she breaches her contract by posing with a body builder. The designer is furious, and if he learns she's Vern's daughter, he'll cancel his contract with him.
Du Vall: Fritz Feld
Harrison: Cliff Ferre
Lois: Elaine Riley
Hercules: Ed Fury
---
107-MURDER IN BERMUDA 1/12/55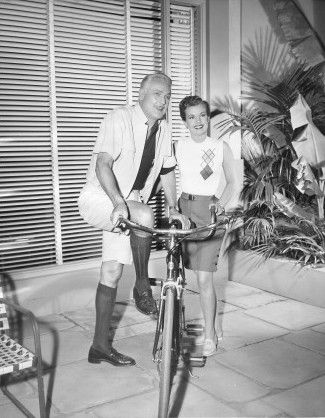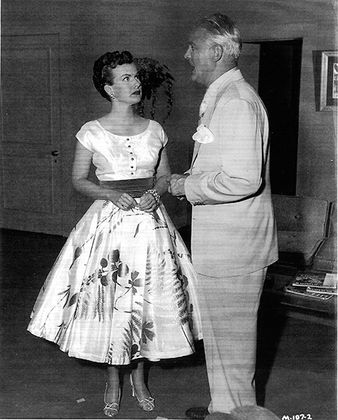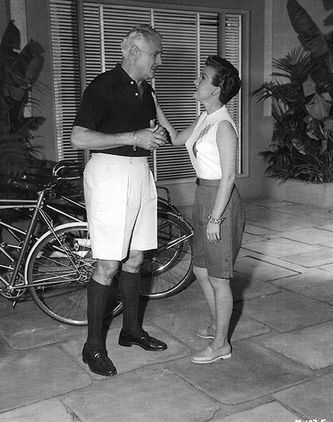 (Photos courtesy of Jon Ramsey)
On a Bermuda vacation to calm Vem's nerves, Margie thinks she sees a murder taking place in a room across from theirs. The more she tries to prove that what she saw is true, the more crazy everyone thinks she is.
Sir Clyde: Roy Roberts
Pamela: Dorothy Patrick
with: Liam Sullivan, Barry Bernard
---
108-THE UNEXPECTED GUEST 1/19/55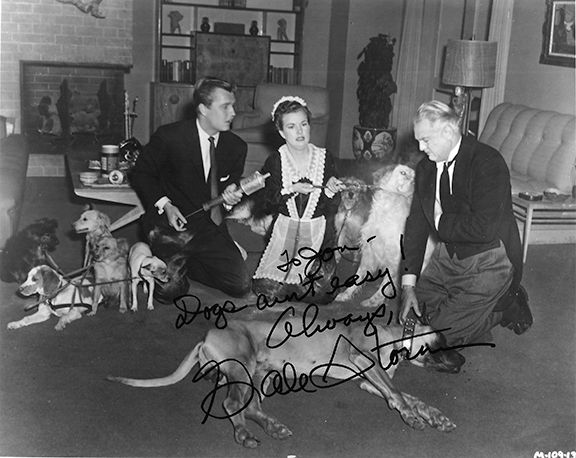 (Photo courtesy of Jon Ramsey)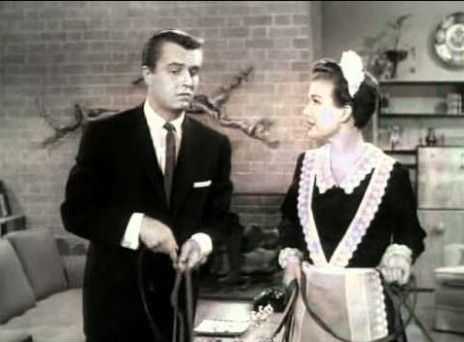 The Albrights sneak home during a vacation for some things, not wanting Honeywell to know they're in town for fear that Vern's vacation will be cut short. Honeywell has lent their apartment to a client, who sees them there and they're forced to pretend they're a maid and butler.
Withers: Donald MacBride
---
109-MARDI GRAS 1/26/55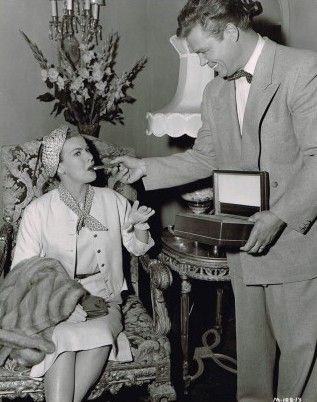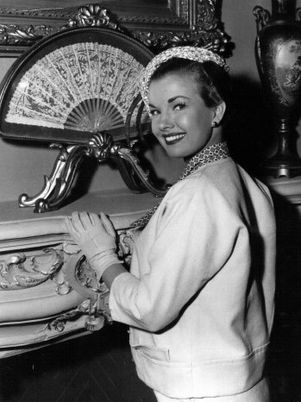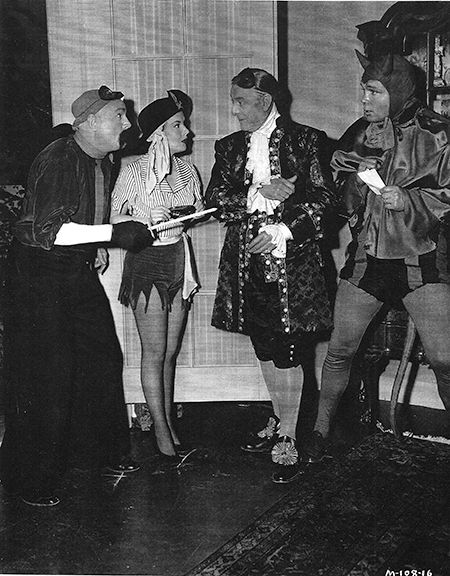 (Photos courtesy of Jon Ramsey)
On a business and pleasure trip to New Orleans during Mardi Gras, Margie and Vern are guests of a prospective client who enlists their help in getting rid of another houseguest, his incurably annoying practical joker brother-in-law,
with: Hal Baylor, Paul Harvey,
Jim Hayward, Grady Sutton, Lyn Thomas
---
110-VERN'S MOTHER-IN-LAW 2/2/55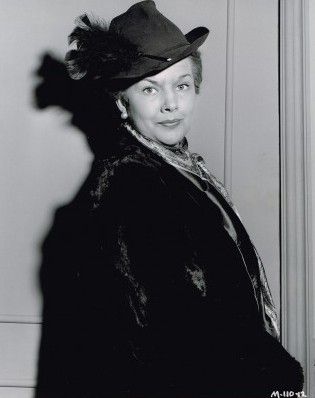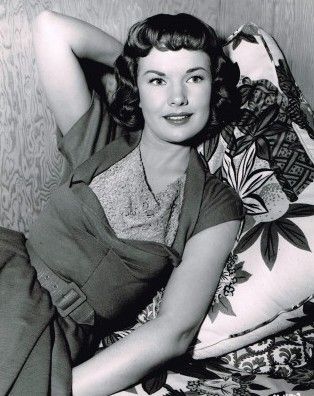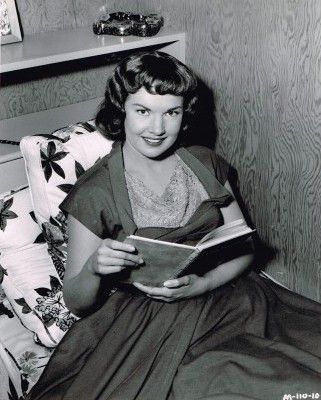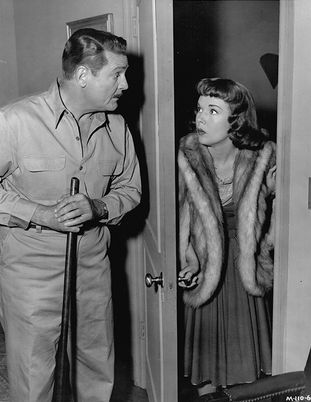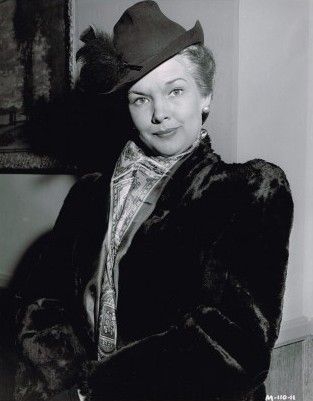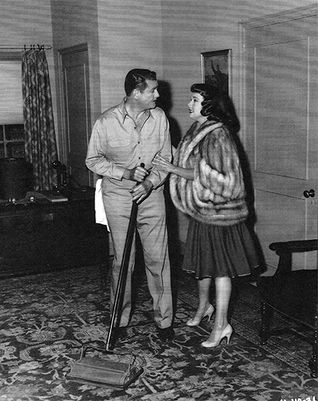 (Photos courtesy of Jon Ramsey)
Flashback sequences show how Vern's mother-in-law, Margie, tested him to see if he was was good enough for her daughter Kathy, and how he got hired by Honeywell and Todd.
Gale Storm plays Margie's mother and grandmother.
Secretary: Leslie Turner
---
III-TOO MANY GHOSTS 2/9/55
To help a client in England who's in financial trouble, Margie tries to sell one of his castles. She finds a rich buyer who will only take it if it's haunted, so Margie has to make sure it comes complete with ghosts.
with: Jon Shepodd, Hallene Hill, Gerald Oliver Smith, William Baldwin
---
112 -- MAKE UP YOUR MIND 2/16/55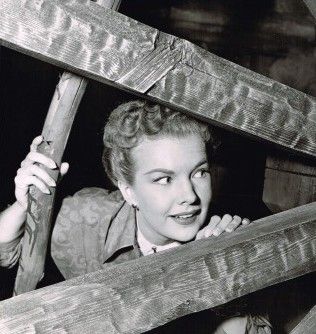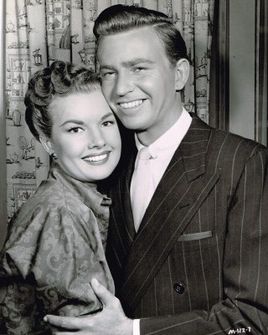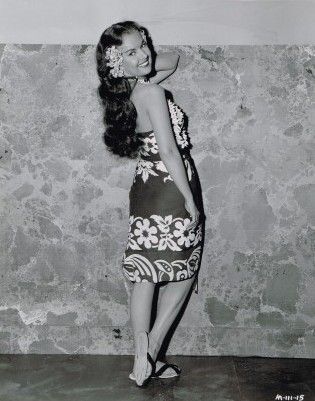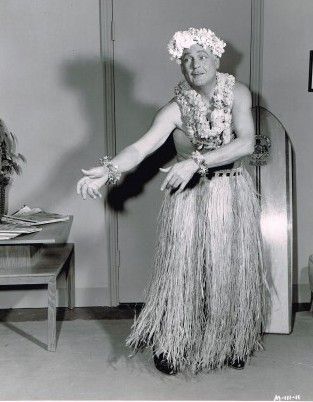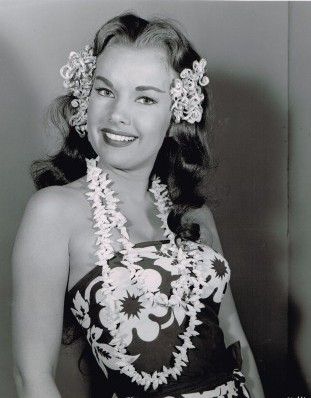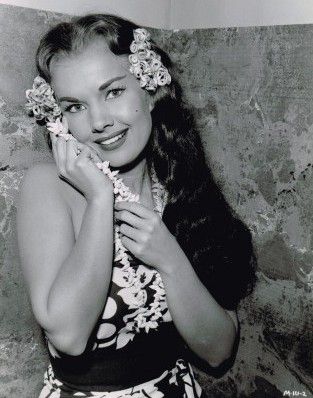 One of Vern's clients is having trouble making up his mind about a trip to Hawaii, which could include Margie and Mrs. Odetts,so they try to help him decide.
with: Robert Nichols, Tristram Coffin, Peter Leeds
---
113-HAWAII STORY 2/23/55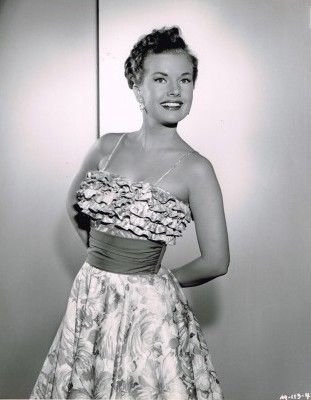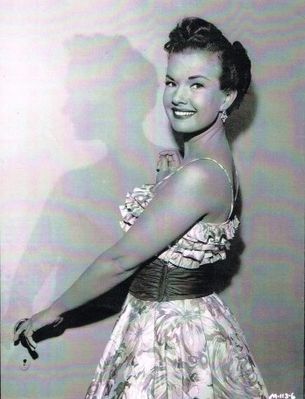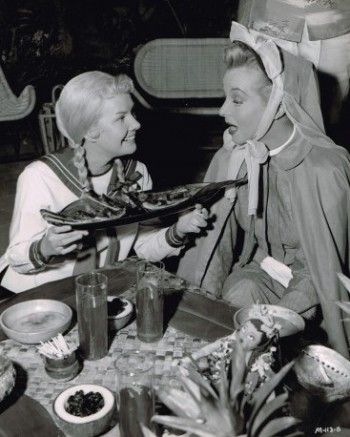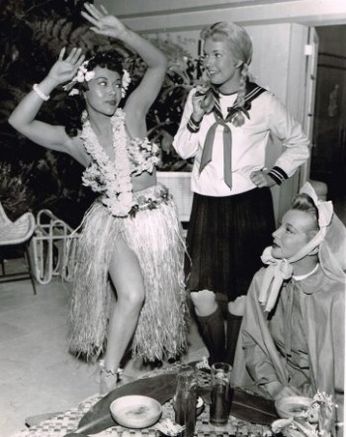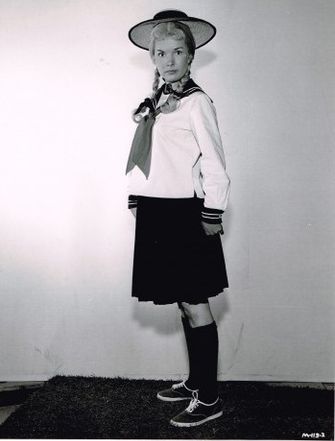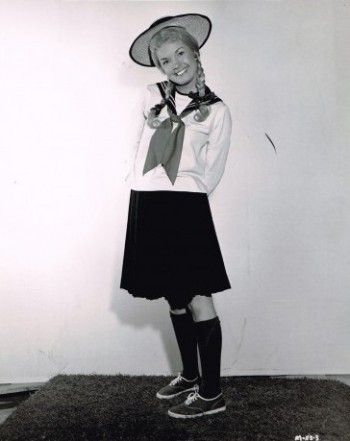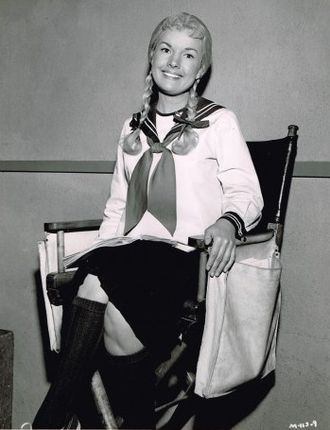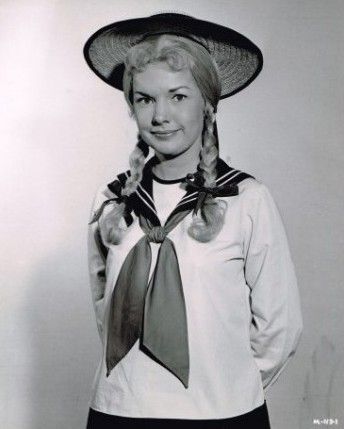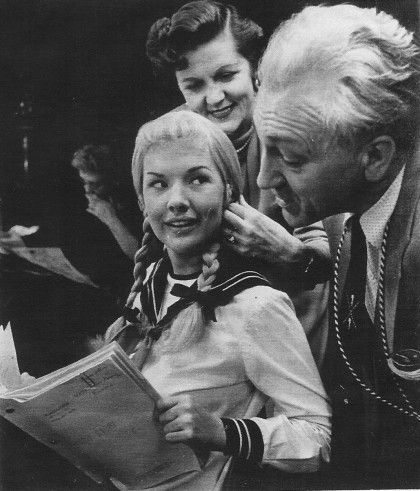 (Photos courtesy of Jon Ramsey)
Learning that an actress client in Hawaii prefers younger men, Vern tells Margie that their trip is off, faking an emergency trip to Alaska and leaving Margie to trade in the Hawaii plane tickets. When she and Roberta show up there and find Vern with dyed hair and moustache, Margie is forced to pretend she's the twelve year old daughter whom Vern told the woman he has.
with: Kent Taylor, Margaret Irving, Dian Fauntelle, Roger Pace, Marya Marco
---
114-LAS VEGAS STORY/ THE BEAUTY CONTEST 3/2/55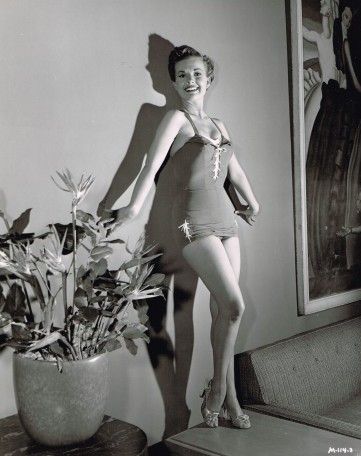 Although Vern's client owns a casino, the client is very straight-laced. Vern warns Margie to be good. She ends up gambling as a favor for the man's niece; and when he gets suspicious of her winning streak, she flees-ending up in a beauty contest in which the girls are masked until the finalists are chosen. She must make sure that she's not picked, so her identity will remain secret.
Sledge: Paul Harvey
Nancy: Jan Shepard
Lee Barker: Richard Crane
with: Peter Leeds, Myra McKinney
---
115-VERN'S FLYING SAUCER 3/9/55
Working on a live TV show sponsored by Vern's client, Margie makes a shambles of the proceedings. Vern tries to get her out of town, but she ends up on a science fiction show. When Vern and Honeywell follow her to the outdoor set, they end up thinking that real aliens have landed.
with: Archer MacDonald, John Hubbard, Ralph Dumke, Richard Beats, Peter Leeds, Joanne Jordan
---
116-MARGIE'S NEW BOYFRIEND 3/16/55
Vern complains because Freddie never gets mad even when he insults him, and urges Margie to get herself a real he-man. She finds a brash and burly Marine judo expert, whose style makes Freddie seem appealing.
with: Don Megowan, Dorothy Ford Jack Rutherford, Harry Lauter, Dian Fauntelle
---
117-CORPUS DELECTI 3/23/55
Margie buys an old trunk and finds a murderer's diary inside. She and Freddie (who's now working for a private eye) investigate, and their quarry turns out to be Vern's client. The man is trying to retrieve the missing diary because of a plagiarism suit. He only wrote those things to let out his hostile feelings, but Margie believes he's really a killer.
with: Michael Fox, El Brendel, Kuby Goodwin
---
118- MR. URANIUM 3/30/55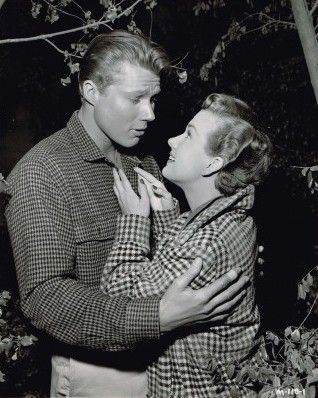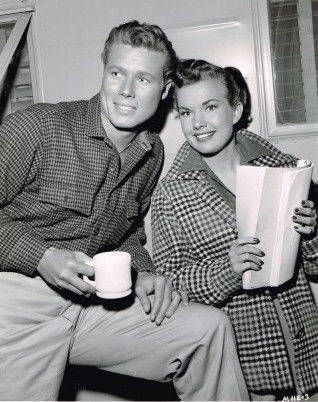 Vern and Margie are sent on a fishing trip to locate a man who's been in hiding from the hordes of people trying to get to him since he struck uranium. Vern thinks an old fisherman is his man, not realizing it's the man in the trailer next to theirs, with whom he has been fighting.
Hank Battle: Irving Bacon
Jim: John Smith
Mr. Jones: Frank Ferguson
Camp Director: Harry Hines
---
119-THE BIG TELECAST 4/6/55
Margie invests in a circus act and has to find living quarters for the group-which includes jugglers, seals, and a bearded lady. When she and Vem are sent out of town, she lets them use her apartment, unaware that Vern is sneaking back home to be interviewed from home on a live TV show, 'Important People'.
with: Dian Fauntelle, Muriel Landers, Peter Leeds, Eddie Murr, Duke Johnson, Harry Johnson, Bill Sheldon, Joel Marston.
---
120-MARGIE'S RECIPE 4/13/55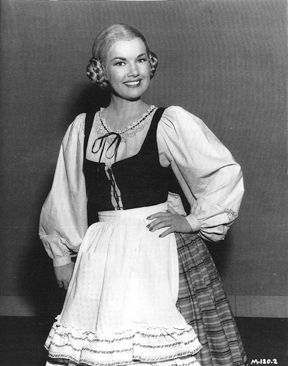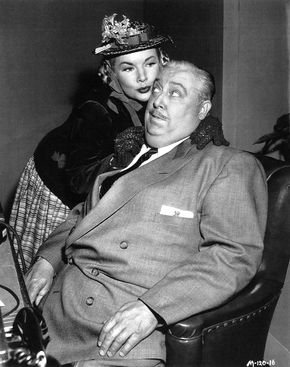 Vern wants to impress a prospective client, president of the Gourmet Society, with Margie's cooking. The man also heads the local opera company, and Margie decides it's time certain people know she sings opera. She poses as a German cook to audition. He's not impressed by her voice, but loves the meal, and she later has to prepare it before a committee while Vern, who really cooked the feast, hides behind her doing all the work .
with: Paul Maxey and Fred Shcrman
---
121 - PAPA AND MAMBO   4/20/55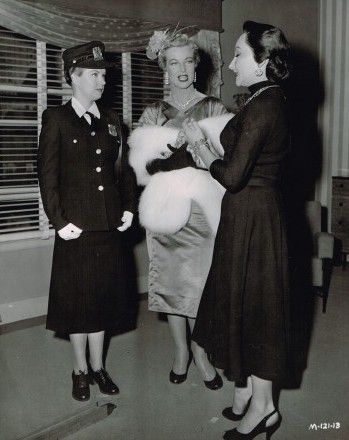 Vern's contract is up for renewal, and Honeywell promised him the presidency, but now doesn't want to step down. He makes a deal : if Vern gets Mrs. Mendoza's contract, he will become president--If Honeywell gets it himself, Vern stays vice president for five more years. Honeywell convinces Margie that Mrs. Mendoza is a fortune hunter after Vern, hoping her interference will help him win.
with: Charlita, Terese Tudor, Dain Faunrelle, Tom Hernnndez
---
122 -- MATINEE IDOL 4/27/55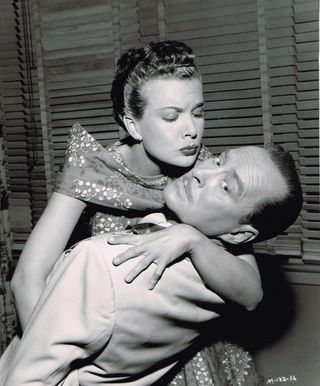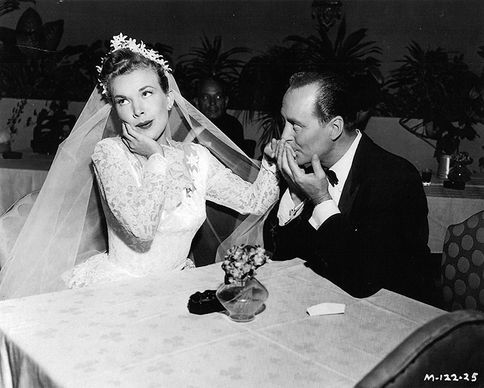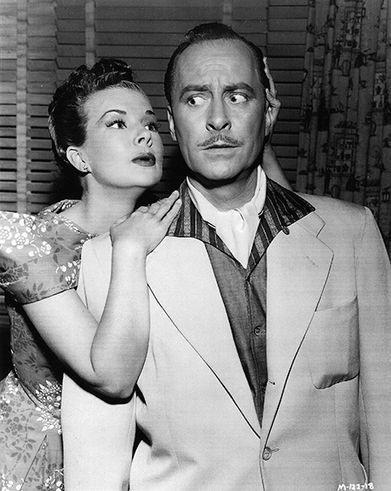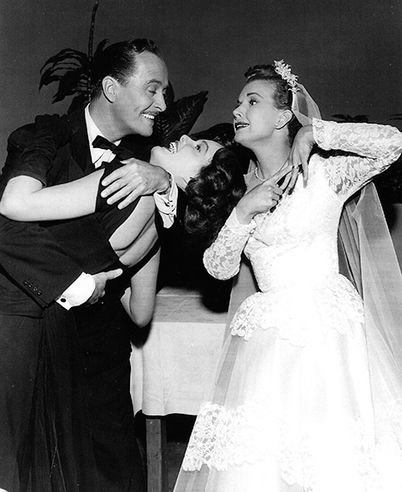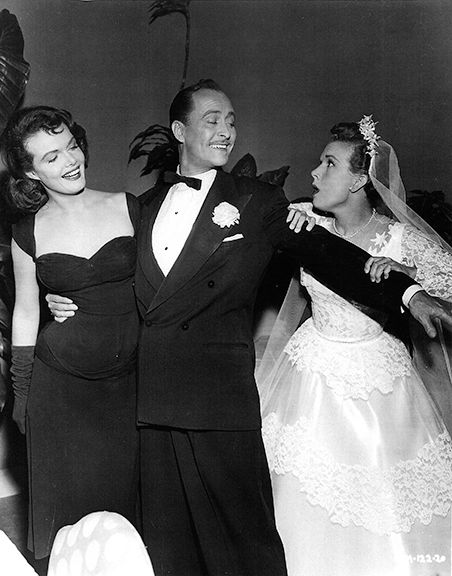 (Photos courtesy of Jon Ramsey)
Margie thinks she's the ideal woman for her favorite actor. When Vem laughs at her, she decides to meet the man, who uses her to make his leading lady jealous. The actress uses Vern for the same reason, and stubborness and pride almost result in the Albrights marrying the two performers.
Harold Claymore: John Hubbard
Lynn: Gale Robbins
Man Backstage: Ferris Taylor
Danny: Herb Vigran
---
123 -- COUNTESS MARGIE 5/4/55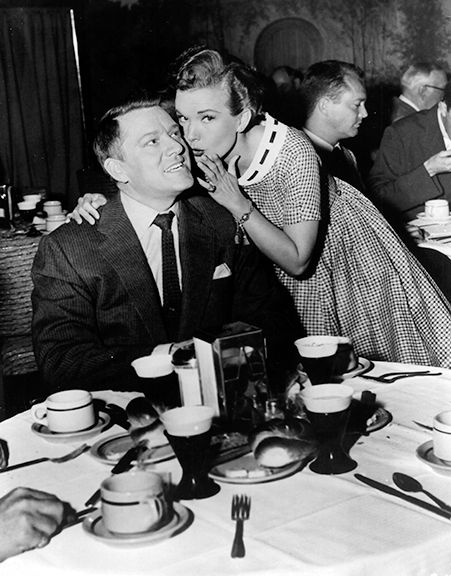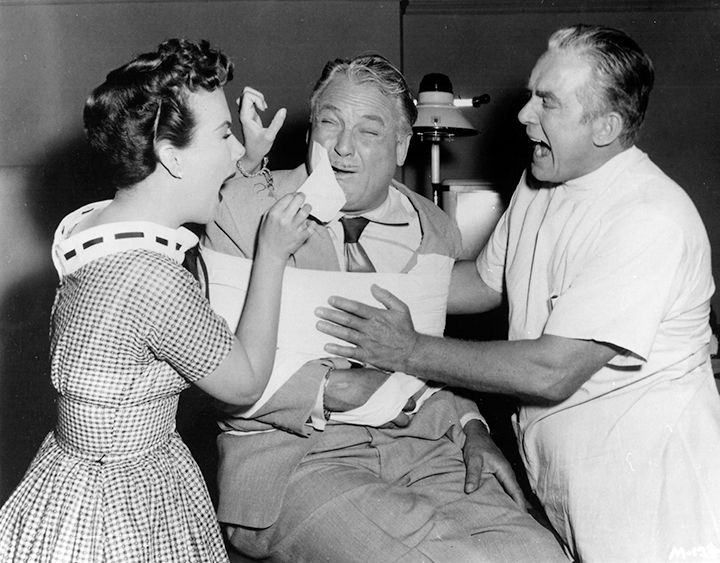 (Photos courtesy of Jon Ramsey)

At a rest clinic Margie changes identities with Vern's client , a countess who wants to be sure her boyfriend( who runs the place) loves her before telling him she's rich. While Margie endures medical tests, her gallivanting friend is jailed for speeding, using Margie's name. Vern rushes there, furious, and Margie schemes to stall him from spilling the beans, with the help of a crazy patient who makes Vern and the doctors each think the other is psychotic .
Mr.Roberts: Joseph Kearns
Dr. Carr: Roy Roberts
Countess Louise DuBois: Noreen Nash
Jeff Dale: Michael Emmet
---
124 -- MARGIE'S BASEBALL PLAYER 5/11/55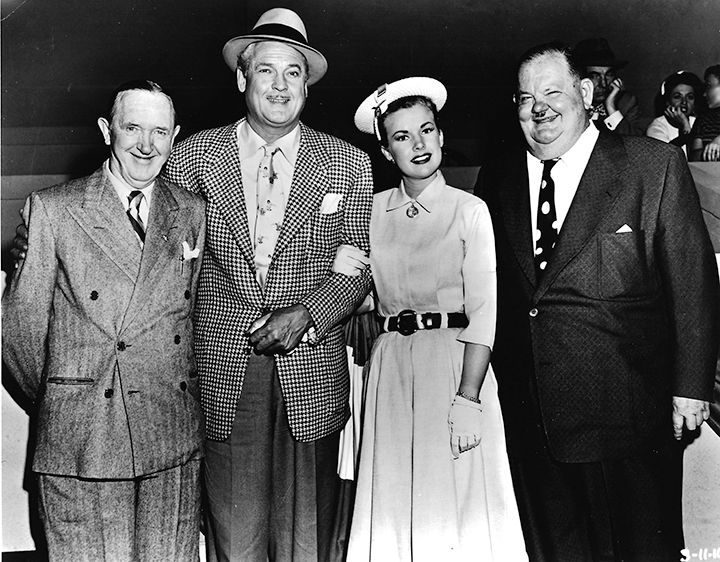 (Photo courtesy of Jon Ramsey)

Margie tries to help Vern get the wealthy owner of a ball club to sit still long enough to sign with him. His star player, a hillbilly, gets involved.
with: Robert Easton, Harry Cheshire, John Dierkes
---
I25-VERN'S BUTTERFLIES 5/18/55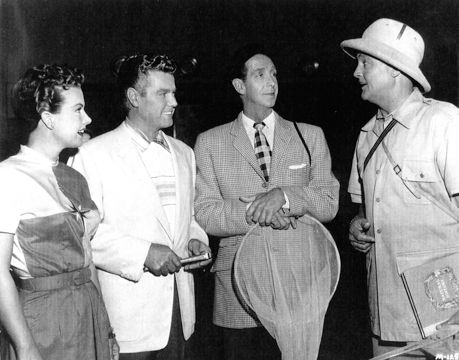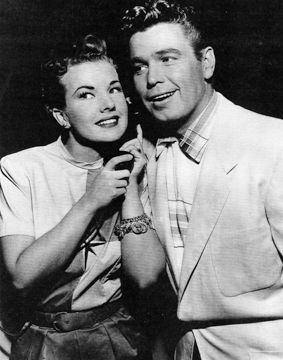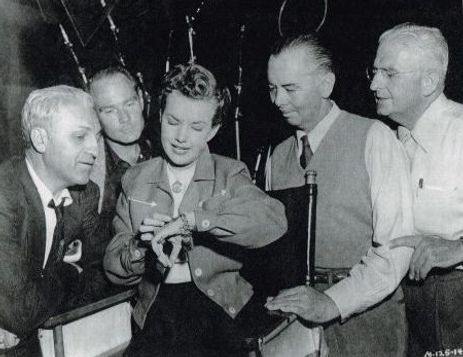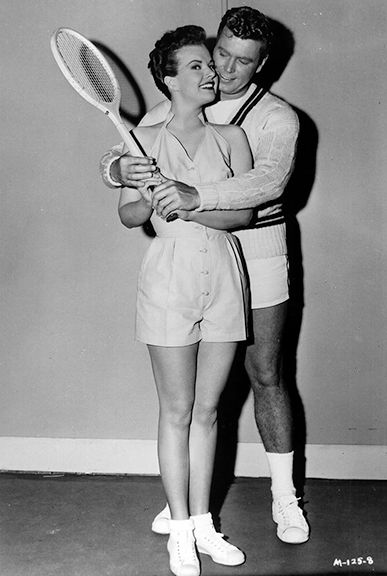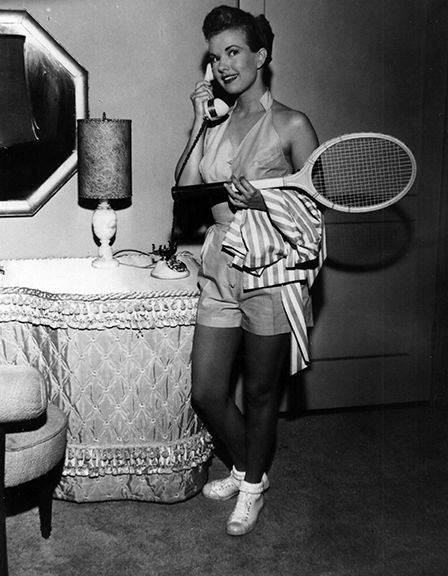 (Photos courtesy of Jon Ramsey)
To get Vern to go on a vacation, Margie tells him his butterfly collector client is at the spot she's chosen, and then has the hotel janitor pose as the man.
with: Joe Besser, Richard Crane, Gil Lamb, Jack Rice, Dian Fauntelle
---
126-MARGIE'S ELOPEMENT 5/25/55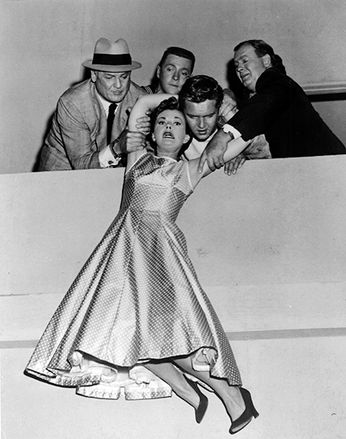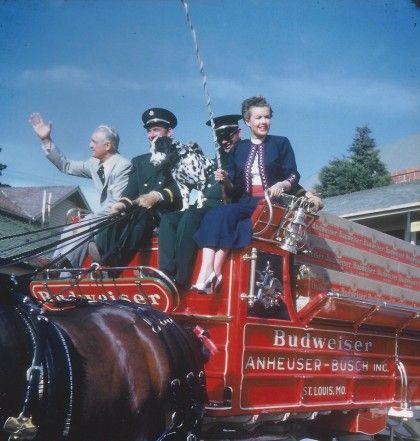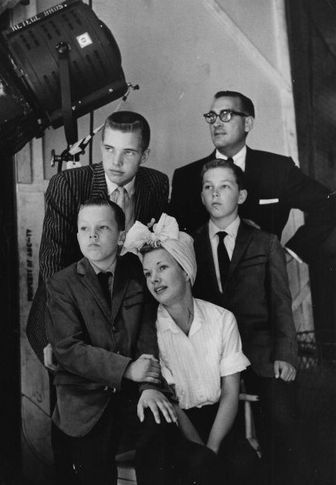 (Photos courtesy of Jon Ramsey)

Vem's new client, who has taken an apartment next door to the Albrights, is worried that his daughter's suitor is a fortune hunter. Unaware of this, Margie helps the young sailor elope with the girl, and Vern thinks it was Margie who eloped.
with: Nancy Hale, John Hustand, Jimmy Hayes, Joe Devlin, Ferris Taylor.
---
??? - MARGIE SAVES MONEY *
When Vern tries to impress his clients and boss with his frugality, Margie thinks he's gone broke. Hearing about a man who killed himself during the stock market crash, she gets a psychiatrist to observe Vern. For extra cash she rents a room to a wrestler and his wife, whom Vern thinks are prospective clients he wants to impress, and the doctor finds his behavior odd.
Lucious Lou: George Givot
Mrs. Lou: Valerie Vernon
Mr. Hartford: Charles Evans
Mrs. Hartford: Florence Lake
Prof. Nelson: Ryron Foulger
"Margie Saves Money" is a mysterious episode. It may be a retitled episode called " Insurance "
---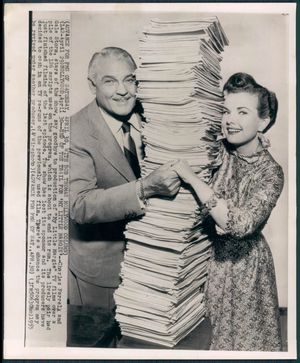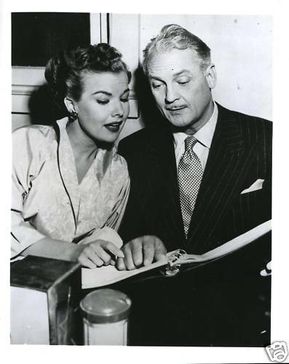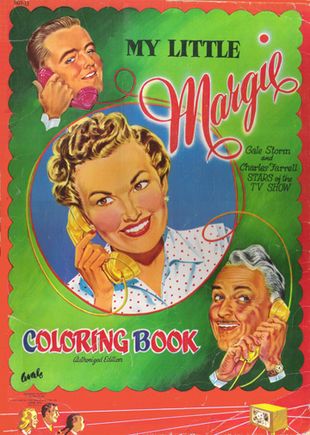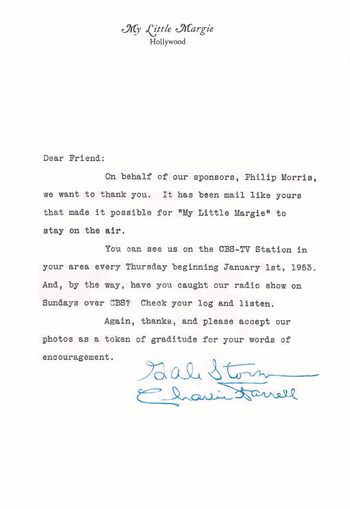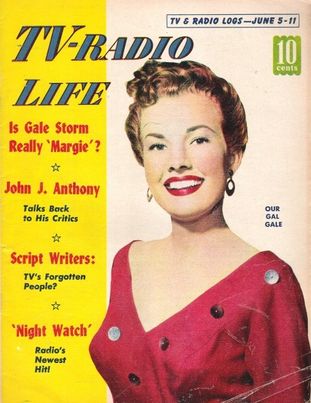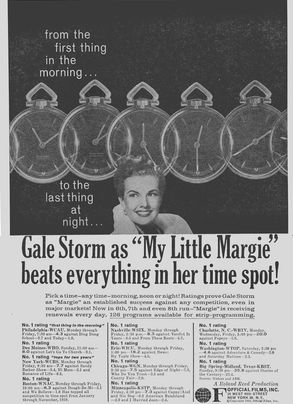 TV Radio Life Magazine cover                                           Full page ad in Variety January 27, 1960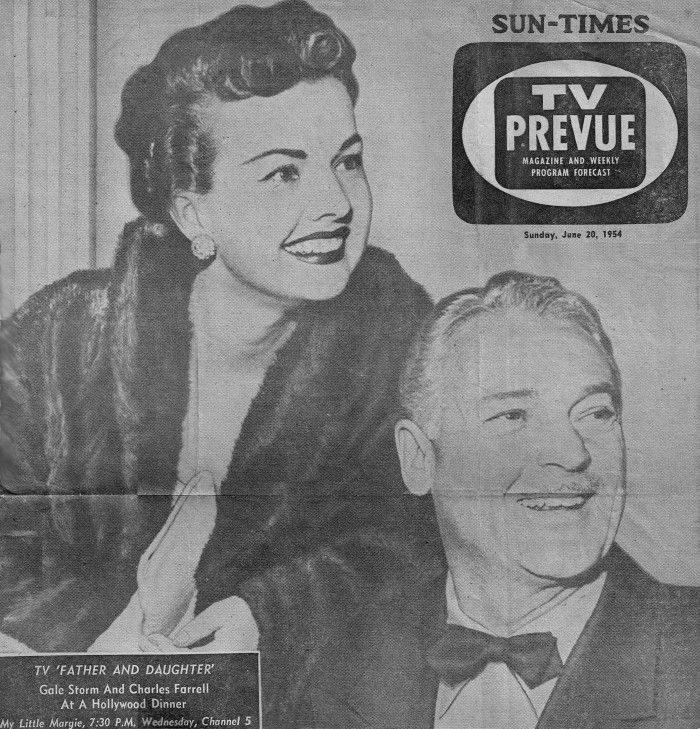 MY LITTLE MARGIE, TV series with Gale Storm. 126 episodes June 1952-July, 1953, September 1953-August, 1955
---
The My Little Margie Episode List compiled by Des Martin and Jon Ramsey: